There But for the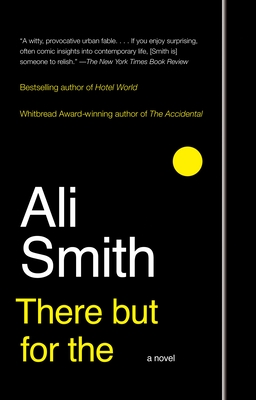 There But for the
Anchor Books, Paperback, 9780307275240, 236pp.
Publication Date: July 24, 2012
* Individual store prices may vary.
Buy at Local Store
Enter your zip code below to purchase from an indie close to you.
or
Buy Here
Description
When a dinner-party guest named Miles locks himself in an upstairs room and refuses to come out, he sets off a media frenzy. He also sets in motion a mesmerizing puzzle of a novel, one that harnesses acrobatic verbal playfulness to a truly affecting story.
Miles communicates only by cryptic notes slipped under the door. We see him through the eyes of four people who barely know him, ranging from a precocious child to a confused elderly woman. But while the characters wit and wordplay soar, their story remains profoundly grounded. As it probes our paradoxical need for both separation and true connection, There but for the balances cleverness with compassion, the surreal with the deeply, movingly real, in a way that only Ali Smith can.
About the Author
Ali Smith is the author of eight previous works of fiction, including the novel "Hotel World, " which was short-listed for both The Orange Prize and the Booker Prize and won the Encore Award and the Scottish Arts Council Book of the Year Award, and "The Accidental," which won the Whitbread Award and was short-listed for the Booker Prize and the Orange Prize. Her story collections include "Free Love," which won a Saltire Society First Book of the Year Award and a Scottish Arts Council Award, and "The Whole Story and Other Stories." Born in Inverness, Scotland, Smith lives in Cambridge, England.
Praise For There But for the…
Shortlisted for the James Tait Black Prize

A Best Book of the Year
The Washington Post
The Boston Globe

"A witty, provocative urban fable. . . . If you enjoy surprising, often comic insights into contemporary life, [Smith is] someone to relish." —The New York Times Book Review

"A beguiling ode to human connection shot through with existential wonder and virtuosic wordplay. If you fell for Jennifer Egan's A Visit From the Goon Squad, you'll appreciate Smith's formal twists and turns—and there's more where There came from." —Time Magazine

"Brilliant. . . . Both funny and moving—it succeeds because of Smith's extraordinary skill with ordinary language." —A.S. Byatt, The Guardian (UK)
 
"Weird and wonderful. . . . Beautifully elusive. . . . It is really about small stuff like life and death and the meaning of human existence, all told with sharp humor and real insight." —Entertainment Weekly

"A marvel. . . . Exceedingly clever. . . . [It] packs a wallop in part because it engages us to read more actively." —The Washington Post
 
"Quirky, intricately put together. . . . A book about loss and retention: about what we forget and what we remember, about the people who pass through our lives and what bits of them cling to our consciousness." —Charles McGrath, The New York Times
 
"Ambitious, rambunctious, and poetic. . . . Contains all the real, solid stuff of a novel. It satisfies, it enlightens, and there's a surge of wonderment and poignancy beneath the narrative that continually springs up." —The Philadelphia Inquirer
 
"By turns whimsical and subtly wrenching. . . . With her penchant for wordplay on full display, the author of The Accidental switches between the perspectives of four people whose lives have been peripherally touched by her gentle shut-in, a man who, like J.D. Salinger's Seymour Glass, has perhaps too much heart to survive comfortably in a hard world." —NPR, Five 2011 Books that Stick With You
 
"Sophisticated, playful…exhilarating. . . . Smith blasts a window open in our heads." —The Plain Dealer
 
"A story quite literally crying out to be heard. . . . It is with this word play, repetition, rhyme, and rhythm that Smith proves herself one of the 'cleverist'—a British author at the top of her game who combines eccentricity and originality in equal measure. . . . Here we have a novel, and a novelist, delighting in the joy of language itself." —The Daily Beast
 
"A virtuoso piece of writing, both funny and gripping. . . . Smith is a writer with a rich array of conventional strengths. . . . Her prose responds to the world with loving attentiveness." –The Times Literary Supplement (London)
 
"Exhilarating." —Marie Claire
 
"A marvel of a novel, sweeping in purpose (what is the meaning of life, of history, of our presence or our absence) and magnetic in both the presentation of its cast and characters and the unfolding of its deceptively simple plot. . . . The writing in There but for the is lovely, the imagery sharp and moving, and the flow unstoppable." —The Huffington Post
 
"There is a bewitching romanticism to Smith's world, where people truly connect and leave tender imprints on each other." —The Independent (London)
 
"There but for the will remind you what a joyful activity reading truly is. Nobody writes with more panache. You learn so much from an Ali Smith novel, you laugh so hard and are filled with such intellectual and spiritual nourishment, and all you want to do when you're finished is go read another one." —Sigrid Nunez
 
 
"In There but for the Ali Smith displays her usual fizz and artistry.  She always surprises, she never disappoints." —Kate Atkinson, author of Started Early, Took My Dog
 
"A playful yet erudite celebration of words. . . . Smith's prose is not just supple, it's acrobatic: one minute providing crisp realism—cocky teenagers, unspoken homophobia, university bureaucracy—the next a hypnotic stream-of-consciousness. Smith can make anything happen, which is why she is one of our most exciting writers today. . . . [Her] dizzying wordplay makes the real and surreal equally stimulating." —Lucy Beresford, The Daily Telegraph (London)