Retribution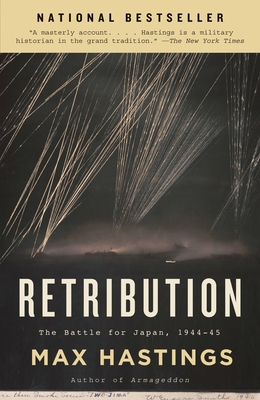 Retribution
The Battle for Japan, 1944-45
Vintage Books USA, Paperback, 9780307275363, 615pp.
Publication Date: March 10, 2009
* Individual store prices may vary.
Buy at Local Store
Enter your zip code below to purchase from an indie close to you.
or
Buy Here
Description
By the summer of 1944 it was clear that Japan's defeat was inevitable, but how the drive to victory would be achieved remained unclear. The ensuing drama--that ended in Japan's utter devastation--was acted out across the vast theater of Asia in massive clashes between army, air, and naval forces.
In recounting these extraordinary events, Max Hastings draws incisive portraits of MacArthur, Mao, Roosevelt, Churchill, Stalin, and other key figures of the war in the East. But he is equally adept in his portrayals of the ordinary soldiers and sailors caught in the bloodiest of campaigns.
With its piercing and convincing analysis, Retribution is a brilliant telling of an epic conflict from a master military historian at the height of his powers.
About the Author
Max Hastings is the author of "Overlord" and "Bomber Command" and the coauthor of "Battle for the Falklands." Editor of "The Daily Telegraph, " he lives in London, England.
Praise For Retribution…
"[A] masterly account of the climax of the conflict against Japan. . . . Hastings is a military historian in the grand tradition." —The New York Times Book Review"Compelling. . . . To the broad sweep of military events Hastings adds myriad human stories . . . and he does not hesitate to offer his own keen analysis along the way." —The Wall Street Journal"Through the imaginative power of his writing, we get an inkling . . . of what it must have been like to slog one's way up a cliff at Iwo Jima, or be firebombed in Tokyo." —The New York Review of Books"A triumph. . . . The key to the book's success lies not in its accessibility, nor in its vivid portraits of the key figures in the drama—although it has both—but in something else entirely: the author's supremely confident ambition." —The Sunday Times (London)"Hastings has another winner . . . This book is first-rate popular history, stiffened with a strongly stated point of view . . . A close-up and personal look at war as it affected real people, and how it felt to them at the time."—Harry Levins, St. Louis Post-Dispatch"Explosive, argumentative, intensely researched . . . Demands to be read. A book of stunning disclosures."—Tom Mackin, Sunday Star-Ledger"[A] masterful interpretive narrative . . . Hastings is both comprehensive and finely acute."—Booklist"Spectacular . . . Searingly powerful. Hastings makes important points about the war in the East that have been all too rarely heard." —Andrew Roberts, The Sunday Telegraph"Extraordinary . . . Anyone who believes that we're all living through a uniquely troubled time should read this . . . book." —Georgie Rose, The Sunday Herald"This is a book not only for military history buffs but for anyone who wants to understand what happened in half the world during one of the bloodiest periods of the blood-soaked 20th century."—The Spectator"Highly readable . . . An admirably balanced re-examination of the last phases of a conflict that it is not fashionable to remember."—Dan van der Vat, The Guardian"Engrossing . . . Its originality lies in the meticulousness of the author's research and the amazing witnesses he has found."—Murray Sayle, The Evening Standard"Hastings is . . . a master of the sort of detail that illuminates the human cost. It is the way he leaps so adeptly to and fro between the vast panorama and the tiny snapshot pictures that makes him such a readable historian."—Mail on Sunday