The Man Who Ate His Boots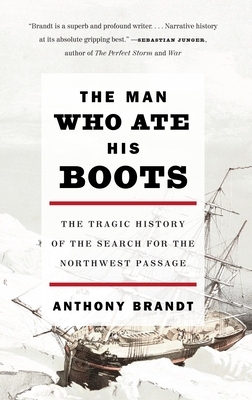 The Man Who Ate His Boots
The Tragic History of the Search for the Northwest Passage
Anchor Books, Paperback, 9780307276568, 464pp.
Publication Date: March 8, 2011
* Individual store prices may vary.
Buy at Local Store
Enter your zip code below to purchase from an indie close to you.
or
Buy Here
Description
After the triumphant end of the Napoleonic Wars in 1815, the British took it upon themselves to complete something they had been trying to do since the sixteenth century: find the fabled Northwest Passage. For the next thirty-five years the British Admiralty sent out expedition after expedition to probe the ice-bound waters of the Canadian Arctic in search of a route, and then, after 1845, to find Sir John Franklin, the Royal Navy hero who led the last of these Admiralty expeditions. Enthralling and often harrowing, "The Man Who Ate His Boots "captures the glory and the folly of this ultimately tragic enterprise.
About the Author
Anthony Brandt is an expert in the history of travel and adventure and is the book review editor for "Adventure" magazine. He has edited more than 20 books for National Geographic and is a contributor to "GQ, Esquire," the "New York Times Sunday Magazine," and other publications. His edited "Journals of Lewis and Clark" has sold nearly 100,000 copies in special markets and the trade.
Praise For The Man Who Ate His Boots…
"Exotic and thrilling. . . . One of those books that can keep a reader inside for an entire weekend."
—Los Angeles Times

"Thoughtful, compassionate and meticulously researched . . . offers readers a vivid, compelling, ultimately heartbreaking history of Arctic exploration."
—The Oregonian

"A fascinating, at times thrilling, narrative."
—The Seattle Times
 
"Brandt is a superb and profound writer who leads us through a tale of such hardship you feel as if you've been aboard ship with them. It's no small feat to use a bit of history to illuminate the future, but Brandt pulls it off. This is narrative history at its absolute gripping best."
—Sebastian Junger, author of The Perfect Storm and War

"[Brandt is a] powerful storyteller, vividly re-creating the most dramatic episodes of the nineteenth century."
—Washington Post
 
"A robust new history. . . . Brandt tells his story well. . . . [He] achieves a modern synthesis between the hagiography of the old days and the more recent historical revisionism."
—The New York Times Book Review
 
"Brandt is a well-tempered storyteller, both thoroughgoing and agile, who knows what to do with a tale of high color and noble folly."
—San Francisco Chronicle
 
"A rich and satisfying read, and a classic history of Arctic exploration."
—Laurence Bergreen, author of Marco Polo: From Venice to Xanadu
 
"Lively, mischievous, and dryly ironic . . . deeply satisfying fare."
—Arctic Book Review
 
"A well-researched account. . . . Brandt is at his best when he weaves in back stories of the politics and petty feuds that shaped much of the public perception."
—Willamette Week
 
"A splendid, gripping account of an astounding, unbelievable quest. . . . What Brandt brings to this mesmerizing tale is what only fine writing can deliver: fully realized sense impressions that make history come memorably alive, and an informed, sensitive analysis of historical events that puts them in larger context."
—The Independent (Hamptons)
 
"Anthony Brandt's account of the fatal quest for the Northwest Passage is fascinating, horrifying and inspiring. It is not just a great tale of heroic exploration, wonderfully told, but an epic voyage of discovery into the recesses of the human spirit."
—Piers Brendon, author of The Decline and Fall of the British Empire
 
"Brandt pens a colorful narrative full of gothic horrors, quiet daring, and petty personality clashes, and probes the social meaning of these odysseys. . . . The result is a gripping—and sometimes appalling—tale of heroism and hubris."
—Publishers Weekly