Vicksburg, 1863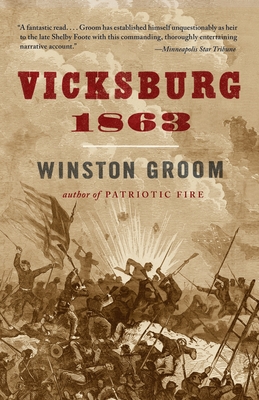 Vicksburg, 1863
Vintage Books USA, Paperback, 9780307276773, 482pp.
Publication Date: April 20, 2010
* Individual store prices may vary.
Buy Now
or
Shop Local
Enter your zip code below to purchase from an indie close to you.
Description
In this thrilling narrative history of the Civil War's most strategically important campaign, Winston Groom describes the bloody two-year grind that started when Ulysses S. Grant began taking a series of Confederate strongholds in 1861, climaxing with the siege of Vicksburg two years later. For Grant and the Union it was a crucial success that captured the Mississippi River, divided the South in half, and set the stage for eventual victory. Vicksburg, 1863 brings the battles and the protagonists of this struggle to life: we see Grant in all his grim determination, Sherman with his feistiness and talent for war, and Confederate leaders from Jefferson Davis to Joe Johnston to John Pemberton. It is an epic account by a masterful writer and historian.
About the Author
Winston Groom, a bestselling author, wrote the acclaimed Vietnam War novel "Better Times Than These", the prizewinning "As Summers Die", "Gone the Sun", and "Only. "He coauthored "Conversations with the Enemy", which was nominated for a 1984 Pulitzer Prize. His best known works are the #1 "New York Times "bestsellers "Forrest Gump "and "Gumpisms: The Wit and Wisdom of Forrest Gump". The phenomenal hit film "Forrest Gump "garnered six Academy Awards, including Best Picture and Best Actor. Groom is also the author of "Shrouds of Glory", an account of Confederate General John Bell Hood's decisive actions in the lost great campaign of the Civil War. He lives in Point Clear, Alabama.
Praise For Vicksburg, 1863…
"A fantastic read. . . . A serious cut above previous works on the subject. Reading Vicksburg 1863 is like spending a couple of evenings alone with Groom as he tells you a story dear to his heart. It is intimate, quirky, utterly fascinating and, ultimately, deeply personal. . . . Groom has established himself unquestionably as heir to the late Shelby Foote with this commanding, thoroughly entertaining narrative account."
—Minneapolis Star-Tribune

"Brilliantly described. . . . Rarely has the story of such a lengthy and complicated campaign been told with such clarity and grace. . . . Groom's book is full of such authentically rendered excitement. . . . He proves again that facts skillfully woven can be more moving than the products of the busiest imagination. . . . With Vicksburg, 1863, he has fully arrived as a narrative historian."
—The Washington Post

"Groom's mastery of plot and storytelling leaves him inordinately well-disposed to piece together the tangled mass of major battles and peashooter skirmishes . . . that made up the Vicksburg campaign. . . . "If Vicksburg seems like a very old story to tell, Groom's lively account has a frighteningly contemporary sheen."
—The Chicago Tribune
 
"Unique. . . . Offers fresh insights on the human costs of the war and what it meant to the nation. . . . Groom brings the novelist's touch to history, personalizing characters . . . in an easily relatable way for the average reader."
—The Associated Press

"A masterful telling of the pivotal Civil War siege and battle."
—New York Post
 
"Illuminating. . . . Groom can help any reader understand and appreciate that when North met South in combat the issues weren't one-dimensional and the outcome wasn't a foregone conclusion."
—The Vicksburg Post
 
"A galvanizing and harrowing account. . . . Relying on southern sensibilities, historical scrupulousness and a novelist's feel for a good yarn, Groom plunges into this cauldron with a presentation that gives full vent to the cost in human lives and the enormous stakes for both sides."
—The New Jersey Star-Ledger
 
"Groom's command of the military facts, and his extraordinary mixture of vignettes big and small, brings this distant, chaotic, and shockingly violent episode to life."
—The Weekly Standard
 
"With [Vicksburg, 1863] Groom attains the stratospheric narrative heights heretofore enjoyed by such popular-history masters as Bruce Catton, Shelby Foote and James M. McPherson. His pacing is so good, his attention to detail so riveting, and his flair for action writing so pitch-perfect that the reader is utterly absorbed and inexorably swept along. . . . There have been many books about Vicksburg, but none better than this."
—Mobile Press-Register (Alabama)
 
"Civil-war buffs will be most interested in Winston Groom's contribution to the contentious debate on whether General Joseph Johnston, the Confederate commander in the West, could and should have done more to relieve the defender of Vicksburg, General John Pemberton. Others will be struck more by the archaic nature of the Vicksburg campaign. The tactics of the besiegers and the sufferings of the besieged bring to mind medieval, or even Roman, times rather than mid-19th-century America."
—The Economist
 
"Winston Groom bids fair to assume the mantle of the late Shelby Foote as a most eloquent and moving storyteller of the Civil War. His prose is unbeatable . . . while his pen portraits of individuals are crisp and incisive. The feel and smell and hardship of soldiers and civilians alike in a siege are all here in Vicksburg, 1863."
—William C. Davis, author of Look Away! A History of the Confederate States of America
 
"An exciting, balanced account of what may have been the most decisive campaign of the Civil War. . . . It is all there—bravery and cowardice, competence and folly, fear and endurance, all with the constant, imponderable undertow of dumb luck, good and bad."
—Stephen Fox, author of Wolf of the Deep
 
"[Groom] has delivered another tour de force. . . . Beautifully written, he places us in the minds and hearts of the citizens and soldiers who lived the battles and endured the hardships of war in the besieged city. This is a must read!"
—Frank J. Williams, Chief Justice of the Rhode Island Supreme Court and founding Chair of The Lincoln Forum