Microcosm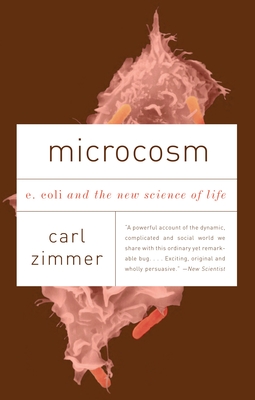 Microcosm
E. Coli and the New Science of Life
Vintage Books USA, Paperback, 9780307276865, 243pp.
Publication Date: July 14, 2009
* Individual store prices may vary.
Shop Local
Enter your zip code below to find indies closest to you.
Description
A Best Book of the Year"Seed Magazine "- "Granta Magazine "- "The Plain-Dealer"In this fascinating and utterly engaging book, Carl Zimmer traces "E. coli"'s pivotal role in the history of biology, from the discovery of DNA to the latest advances in biotechnology. He reveals the many surprising and alarming parallels between "E. coli"'s life and our own. And he describes how "E. coli "changes in real time, revealing billions of years of history encoded within its genome. "E. coli" is also the most engineered species on Earth, and as scientists retool this microbe to produce life-saving drugs and clean fuel, they are discovering just how far the definition of life can be stretched.
About the Author
Carl Zimmer is a columnist for the "New York Times, "writes for "National Geographic "and other magazines, and is the author of thirteen books, including "Parasite Rex", "Soul Made Flesh", and "Microcosm". His work has been anthologized in both "The Best American Science Writing "and "The Best American Science and Nature Writing "series. He is also a two-time winner of the American Association for the Advancement of Science s Science Journalism Award and winner of the National Academies Communication Award. He is a lecturer at Yale University, where he teaches writing about science and the environment.
Praise For Microcosm…
"A powerful account of the dynamic, complicated and social world we share with this ordinary yet remarkable bug. . . . Exciting, original, and wholly persuasive." —New Scientist

"Superb. . . . A quietly revolutionary book." —Boston Globe

"Creepy, mind-twisting, and delightful all at the same time" —Steven Johnson, author of The Invention of Air

"This award-winning science writer has turned out an illuminating biography of one of biology's most influential–and underappreciated–players." —Discover

"For readers who enjoy a seat at the revolution and a chance to ponder the 'supple little bugs' at the dawn of life, Microcosm is a bracing read. This timely book deserves shelf space near Lewis Thomas' classic Lives of a Cell." —Cleveland Plain-Dealer

"Engrossing. . . . Zimmer adroitly links the common heritage we share with E. coli and the emerging horizons of science." —The New York Times Book Review

"All in all, Microcosm is a phantasmagoric read that explains how our understanding of the nature of E. coli has helped to unravel the mysteries of our own nature and evolution. The book is impressive for the information it imparts and even more impressive for the ideas it provokes." —New England Journal of Medicine

"E. coli has provided answers that have reshaped our very definitions of life. Zimmer succeeds in engendering a healthy respect for the bug that lives inside us all." —Seed Magazine

"Engagingly written. . . . [Zimmer's] prose is vivid without being misleading–surely one of the hallmarks of good science writing. . . . We should be sure to heed the lessons of E. coli. Those little stinkers have been around a lot longer than we have, and they have some story to tell." —The New York Sun

"It's this simple. Carl Zimmer is one our very best science writers. If not the absolute best, bar none." —Scienceblogs.com

"[Microcosm] delivers what a science book should; it reveals the new and re-enchants the old." —Prospect Magazine

"[Zimmer is] an American science writer at the zenith of his profession. . . . [He] has woven a fascinating tapestry, intercalating the energy of world-changing scientific discovery with the fascinating complexity of a well-understood living organism. His work will be welcomed by the scientist and the science enthusiast." —The Journal of Clinical Investigation

"An educational tour-de-force. . . . [Zimmer] brings remarkable talents to popular science writing: ability to write succinct, lively prose; genius at applying familiar words to replace the jargon of scientific terms; intelligence to grasp complex ideas . . . and instincts of an investigative reporter. These talents are amply exhibited in Microcosm." —Microbe magazine