Million Little Pieces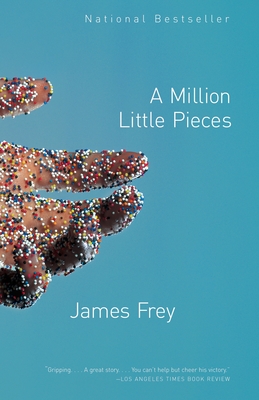 Million Little Pieces
Anchor Books, Paperback, 9780307276902, 430pp.
Publication Date: September 22, 2005
* Individual store prices may vary.
Buy at Local Store
Enter your zip code below to purchase from an indie close to you.
or
Buy Here
Description
At the age of 23, James Frey woke up on a plane to find his front teeth knocked out and his nose broken. He had no idea where the plane was headed nor any recollection of the past two weeks. An alcoholic for ten years and a crack addict for three, he checked into a treatment facility shortly after landing. There he was told he could either stop using or die before he reached age 24. This is Frey's acclaimed account of his six weeks in rehab.
About the Author
James Frey is originally from Cleveland. He is also the author of My Friend Leonard. He is married and lives in New York.
Praise For Million Little Pieces…
"Gripping.... A great story.... You can't help but cheer his victory." —Los Angeles Times Book Review

"James Frey's staggering recovery memoir could well be seen as the final word on the topic." —San Francisco Chronicle

"The most lacerating tale of drug addiction since William S. Burroughs' Junky." —The Boston Globe

"Frey's book sets itself apart ... spare, deadpan language belies the horror of what he's describing — a meltdown dispatched in telegrams." —The New York Times Book Review
"Anyone who has ever felt broken and wished for a better life will find inspiration in Frey's story." —People

"Ripping, gripping.... It's a staggeringly sober book whose stylistic tics are well-suited to its subject matter, and a finger in the eye of the culture of complaint.... Engrossing." —Philadelphia Inquirer

"A frenzied, electrifying description of the experience." —The New Yorker

"We finish A Million Little Pieces like miners lifted out of a collapsed shaft: exhausted, blackened, oxygen-starved, but alive, thrillingly, amazingly alive." —Minneapolis Star-Tribune

"One of the most compelling books of the year.... Incredibly bold.... Somehow accomplishes what three decades' worth of cheesy public service announcements and after-school specials have failed to do: depict hard-core drug addiction as the self-inflicted apocalypse that it is." —The New York Post

"Thoroughly engrossing.... Hard-bitten existentialism bristles on every page.... Frey's prose is muscular and tough, ideal for conveying extreme physical anguish and steely determination." —Entertainment Weekly

"Incredible.... Mesmerizing.... Heart-rending." —Atlanta Journal-Constitution

"A rising literary star ... has birthed a poetic account of his recovery. [A Million Little Pieces is] stark ... disturbing ... rife with raw emotion." —Chicago Sun-Times

"Frey will probably be hailed in turn as the voice of a generation." —Elle

"We can admire Frey for his fierceness, his extremity, his solitary virtue, the angry ethics of his barroom tribe, and his victory over his furies.... A compelling book." —New York

"An intimate, vivid and heartfelt memoir. Can Frey be the greatest writer of his generation? Maybe." —New York Press

"Incredible.... A ferociously compelling memoir." —The Plain Dealer

"Insistent as it is demanding.... A story that cuts to the nerve of addiction by clank-clank-clanking through the skull of the addicted.... A critical milestone in modern literature." —Orlando Weekly

"At once devastatingly bleak and heartbreakingly hopeful.... Frey somehow manages to make his step-by-step walk through recovery compelling." —Charlotte Observer

"A stark, direct and graphic documentation of the rehabilitation process.... The strength of the book comes from the truth of the experience." —The Oregonian

"A virtual addiction itself, viscerally affecting.... Compulsively readable." —City Paper (Washington, DC)

"Powerful ... haunting ... addictive.... A beautiful story of recovery and reconciliation." —Iowa City Press-Citizen

"An exhilarating read.... Frey's intense, punchy prose renders his experiences with electrifying immediacy." —Time Out New York

"Describes the hopelessness and the inability to stop with precision.... As anyone who has ever spent time in a rehab can testify ... he gets that down too." —St. Louis Post-Dispatch

"Frey comes on like the world's first recovering-addict hero.... [His] criticism of the twelve-step philosophy is provocative and his story undeniably compelling." —GQ

"[A] gruesomely absorbing account, told in stripped-down, staccato prose." —Details

"Frey has devised a rolling, pulsating style that really moves ... undeniably striking.... A fierce and honorable work that refuses to glamorize [the] author's addiction or his thorny personality.... A book that makes other recovery memoirs look, well, a little pussy-ass." —Salon