Spade & Archer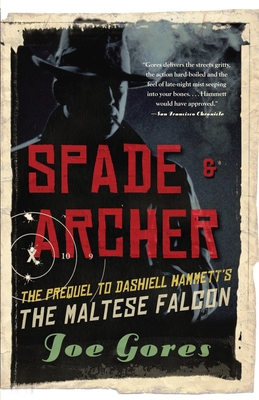 Spade & Archer
The Prequel to Dashiell Hammett's the Maltese Falcon
Vintage Crime/Black Lizard, Paperback, 9780307277060, 352pp.
Publication Date: March 9, 2010
* Individual store prices may vary.
Buy at Local Store
Enter your zip code below to purchase from an indie close to you.
or
Buy Here
Description
A wonderfully dark, pitch-perfect noir prequel to "The Maltese Falcon," featuring Dashiell Hammett's beloved detective, Sam Spade.
It's 1921 seven years before Sam Spade will solve the famous case of the Maltese Falcon. He's just set up his own agency in San Francisco and he gets off to a quick start, working cases (he doesn t do domestic) and hiring a bright young secretary named Effie Perrine. When he's hired by a prominent San Francisco banker to find his missing son, Spade gets the break he's been looking for. He spends the next few years dealing with booze runners, waterfront thugs, banking swindlers, gold smugglers, and bumbling cops. He brings in Miles Archer as a partner to help bolster the agency, though it was Archer who stole his girl while he was fighting in World War I. All along, Spade will tangle with an enigmatic villain who holds a long-standing grudge against Spade. And, of course, he ll fall in love though it won t turn out for the best. It never does with dames.
About the Author


Author of the DKA Files series, Joe Gores has won Edgar Awards for First Novel, Short Story, and Teleplay, and been nominated in the category of Best Novel. He lives in California.
Praise For Spade & Archer…
"Gores delivers the streets gritty, the action hard-boiled and the feel of late-night mist seeping into your bones. . . . Hammett would have approved." —San Francisco Chronicle

"A welcome addition to the Sam Spade legend." —Free Lance-Star 
 
"Gores is far and away the best candidate to pull off such a risky endeavor . . . [He] knows Falcon forward and backward . . . Spade & Archer [is] never less than entertaining." —Los Angeles Times
 
"A prequel that honors and enhances the legendary volume it enshrines. . . . This novel feels pre-aged more than dated—as vintage Hammett often does to today's readers. . . . This is a very fine novel. Respectful, but too mindful of the source to be reverent—Spade & Archer exalts Dashiell Hammett, codifies his life's work and decorously affirms the master's serious intent." —James Ellroy

"A respectable piece of work. . . . [Gores] captures Hammett's razor-sharp dialogue and his lovingly detailed portraits of the streets of San Francisco." —Washington Post Book World
 
"Gores's voice is a pleasure.  If it isn't seamless ventriloquism, it's the sound of a writer professing his love for the master who came before." —Newsday
 
"Absorbing. . . . Readers with an appetite for Hammett can feed it with this new novel . . . A fine re-imagining." —Cleveland Plain Dealer
 
"Gores does a bang-up job . . . [He] knits together a clever and appropriate back story for the iconic detective that makes for a nifty period potboiler all on its own." —Rocky Mountain News
 
"[Gores] is a master storyteller and fun to follow down the fog-bound streets of San Francisco. . . . [Spade & Archer] engages and flows with creepy atmosphere, crisp dialogue and multiple plots, one drawn from Hammett's Pinkerton days, spinning like plates on poles." —Dallas Morning News

"No one understands Dashiell Hammett better than Joe Gores, and no one but Joe Gores could have produced such a masterful and faithful rendering of the prequel to The Maltese Falcon. Spade & Archer stands on its own as a taut, engrossing existential crime saga set in San Francisco's vibrant 1920's, and as an evocation of Hammett's style and plots is a triumph. Gores's wondrous talent shines and the shadow it casts of Hammett is smiling." —James Grady

"Seventy-nine years after The Maltese Falcon was first published, the other (gum)shoe drops. It's called Spade & Archer and it's fabulous." —Michael Harvey

"It took guts for Joe Gores to attempt a prequel to one of the great American novels. Guts or nuts, had to be one or the other. Lesser writers have attempted to ape Hammett's style and come off like mannered tough guys wearing their big brothers' double-breasted suits, but Gores manages to be both true to Hammett's vision and true to his own considerable gifts. Spade & Archer is a triumph–intricately plotted, deft and strongly written, and perhaps most exciting, he shows us Sam Spade at the beginning of his career, deepening our appreciation of the character. I loved it." —Robert Ferrigno

"I was amazed at Joe Gore's Spade & Archer. He's got Hammett's style down, and the story he tells is every bit as engrossing as anything Hammett ever wrote. I adored it." —Joe R. Lansdale