The Use and Abuse of Literature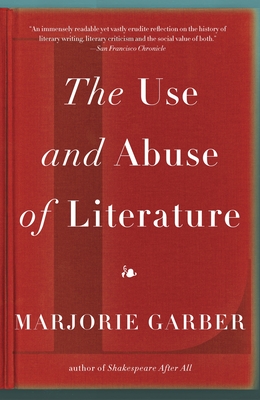 The Use and Abuse of Literature
Anchor Books, Paperback, 9780307277121, 336pp.
Publication Date: April 3, 2012
* Individual store prices may vary.
Buy at Local Store
Enter your zip code below to purchase from an indie close to you.
or
Not Currently Available for Direct Purchase
Description
In this deep and engaging meditation on the usefulness and uselessness of reading in the digital age, Harvard English professor Marjorie Garber aims to reclaim "literature" from the periphery of our personal, educational, and professional lives and restore it to the center, as a radical way of thinking.
 
But what is literature anyway, how has it been understood over time, and what is its relevance for us today? Who gets to decide what the word means? Why has literature been on the defensive since Plato? Does it have any use at all, other than serving as bourgeois or aristocratic accoutrements attesting to one's worldly sophistication and refinement of spirit? What are the boundaries that separate it from its "commercial" instance and from other more mundane kinds of writing? Is it, as most of us assume, good to read, much less study—and what would that mean?
Praise For The Use and Abuse of Literature…
"An immensely readable yet vastly erudite reflection on the history of literary writing, literary criticism and the social value of both." —The San Francisco Chronicle


"Erudite and stimulating. . . . Garber is warmly clarifying and acerbically entertaining as she convincingly defends the academic study of literature as an essential facet of culture. . . . A welcome, wise, and edifying call back to literature itself rather than the paper versus digital debate." —Booklist

"Garber claims for literature a sort of stem cell-like power to generate fresh and new imaginative experiences in those who read it" —Associated Press

"Garber seems to have read everything, and this book offers, in addition to seductive argument, a complete anthology of quotations and engagements with poets, playwrights, novelists, biographers and literary theorists. Her book is a testament not simply to Great Books but also to a great conversation between ourselves and the past and among ourselves as present readers. Why read? In the end, the answer to the question is as complex and compelling as 'why live?'" —San Francisco Chronicle
 
"If anyone is qualified to rescue literature from the threat of irrelevancy it's Garber. . . . She simply knows everything there is to know about the history and practice of literature and criticism." —Laura Kipnis, Wilson Quarterly Review
 
"A leisurely and learned ramble through dozens, if not hundreds, of texts and topics." —Boston Globe
 
"Garber argues convincingly . . . that literature is 'a status rather than a quality.' She provides elegant summaries of various reading methods that have gone in and out of academic fashion over the years, among them New Critical textual analysis, historicism and deconstruction, and she is sympathetic to each to varying degrees. Her final judgment . . . is that 'it is how the story means, rather than what it means, that is the literary question.' Garber is a sensitive guide to this how, explicating metaphor, allusion, self- reflection and other ways in which literary works go about meaning what they mean. Her own range of reference is astonishingly wide. . . . She provides an implicit proof of a point made explicitly in the book, that there need be no conflict between loving literature passionately and studying it academically." —The New York Times Book Review
 
"[Garber] succeeds brilliantly at demonstrating that true literary reading is the demanding task of asking questions, not of finding rules or answers. . . . Garber's erudition serves to educate general readers willing to embark on a moderately difficult trek with an authoritative guide." —Publishers Weekly, starred review
 
"Chockablock with examples and in-depth analysis, this can be savored by academics and lay readers alike." —Kirkus Reviews