The World Without You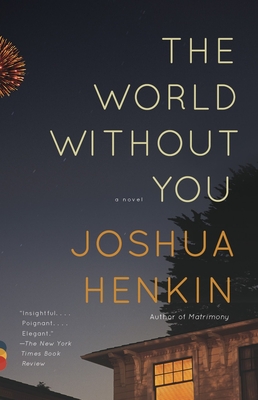 The World Without You
Vintage Books, Paperback, 9780307277183, 321pp.
Publication Date: April 9, 2013
* Individual store prices may vary.
Buy at Local Store
Enter your zip code below to purchase from an indie close to you.
or
Not Currently Available for Direct Purchase
Description
It's July 4, 2005, and the Frankel family is descending upon their beloved summer home in the Berkshires. They have gathered to memorialize Leo, the youngest of the four siblings and an intrepid journalist killed on that day in 2004, while on assignment in Iraq. But Leo's parents are adrift in a grief that's tearing apart their forty-year marriage, his sisters are struggling with their own difficulties, and his widow has arrived from California bearing a secret. Here award-winning writer Joshua Henkin unfolds this family story, as, over the course of three days, the Frankels contend with sibling rivalries and marital feuds, with volatile women and silent men and, ultimately, with the true meaning of family.
About the Author
Joshua Henkin is the author of the novels "Matrimony, " a "New York Times" Notable Book, and "Swimming Across the Hudson, " a "Los Angeles Times" Notable Book and "The World Without You, " winner of the 2012 Edward Lewis Wallant Award for Jewish American Fiction and a Finalist for the 2012 National Jewish Book Award. His short stories have been published widely, cited for distinction in "Best American Short Stories, " and broadcast on NPR's "Selected Shorts." He lives in Brooklyn, NY, and directs the MFA program in Fiction Writing at Brooklyn College.
Praise For The World Without You…
"Insightful. . . . Poignant. . . . Elegant."
—The New York Times Book Review

"A wonderful novel. . . . I just love it."
—Anne Lamott, The Miami Herald

"Moving." 
—O, The Oprah Magazine

"A keenly observed and compassionate novel. . . . Tenderness spills from these pages."
—Entertainment Weekly

"[A] densely detailed and touching portrait."
—People

"[Henkin] grounds his novel in both time and place, creating a living, breathing world. . . . Gorgeously written."
—The Boston Globe

"Few American novelists, living or dead, have ever been as good as Henkin at drawing people."
—Commentary Magazine

"Intimate and insightful. . . . Reminds us that families are icebergs, with nine-tenths of their emotions just below the surface, capable of wreaking havoc when struck."
—San Francisco Chronicle

"Witty, poignant, and heartfelt."
—Gary Shteyngart, author of Super Sad True Love Story

"In the course of [a] long weekend, old and new tensions . . . bubble to the surface. It could be the plot of a Chekhov play or a Woody Allen movie. But on this classic narrative scaffolding, Joshua Henkin develops a painfully contemporary situation. . . . The skill with which Henkin explores the points of view and personae of his ensemble cast is masterful."
—Newsday

"Moving."
—Vanity Fair

"Henkin is a writer of voluminous heart, humanity, and talent."
—Julia Glass, author of The Widower's Tale

"Masterful . . . . Here are Tanglewood concerts overheard, fireflies, skinny-dipping, an intense tennis game, fireworks, jalapeno-lime corn on the cob and white gazpacho. Henkin gets all the details just right. Think 'The Big Chill,' family style."
—The New York Jewish Week

"Pleasingly old-fashioned. . . . [A] warm-hearted novel."
—The Washington Post

"A triumph and an important novel about America."
—Yiyun Li, author of Gold Boy, Emerald Girl

"In 2005, if a novelist had published a book that hinged on the murder of a Jewish American journalist by Islamic terrorists in Iraq, it would have been read as a political novel, a war novel, a post-9/11 novel—and, of course, a roman a clef about Daniel Pearl. . . . Yet the passage of time has made it possible for Henkin to turn this headline-news premise into a book that is quiet, inward-turning, and largely apolitical. . . . Henkin is a novelist of distinguished gifts."
—Tablet

"An immeasurably moving masterpiece."
—Heidi Julavits, author of The Vanishers

"Henkin takes no sides in his novel. He simply presents his characters as they are, as they think, as they feel, how they interact and lets it all reveal whatever it may. . . . A novel for mature readers—those who like fiction providing insight into how people actually live."
—The Philadelphia Inquirer

"[Resembles] Richard Ford's luminescent novel The Sportswriter. . . . Wonderful. . . . Powerful."
—The Rumpus

"The American family in crisis has long represented rich source material for writers, from Hawthorne to Morrison. In his deeply felt new novel, Joshua Henkin offers his contemporary contribution. . . . [Characters] leap uncensored off the page as powerful and fully realized human beings, rather than types. . . . Heartfelt."
—The Miami Herald

"Marvelous on the solitudes that exist even within the strongest and most compassionate of families."
—Jim Shepard, author of You Think That's Bad

 "Gives us a welcome portrait of the repercussions of faraway wars on people who usually consider themselves to be spectators. . . . Compassionate and beguiling."
—NPR Books

 "Point this one out to contemporary fiction fans of Jonathan Franzen's The Corrections, or the works of Rick Moody, Richard Russo, Philip Roth, and John Updike."
—Library Journal