In the Place of Justice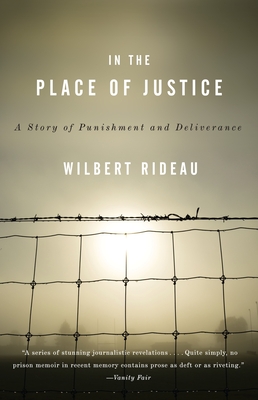 In the Place of Justice
A Story of Punishment and Redemption
Vintage Books, Paperback, 9780307277305, 366pp.
Publication Date: May 3, 2011
* Individual store prices may vary.
Buy at Local Store
Enter your zip code below to purchase from an indie close to you.
or
Buy Here
Description
Wilbert Rideau, an award-winning journalist who spent forty-four years in prison, delivers a remarkable memoir of crime, punishment, and ultimate triumph.
After killing a bank teller in a moment of panic during a botched robbery, Wilbert Rideau was sentenced to death at the age of nineteen. He spent several years on death row at Angola before his sentence was commuted to life, where, as editor of the prison newsmagazine "The Angolite," he undertook a mission to expose and reformLouisiana's iniquitousjustice system from the inside. Vivid, incisive, and compassionate, this is a detailed account of prison life and a man who accepted responsibility for his actions and worked to redeem himself. It is a story about not giving up; finding love in unexpected places; the power of kindness; and the ability to do good, no matter where you are.
About the Author
Ron Wikberg, associate editor of The Angolite, was convicted of murder in 1969. He began writing for the magazine in 1971 and joined the staff in 1987. He was paroled in 1992. Wilbert Rideau has been the editor-in-chief of The Angolite since 1975. An eighth-grade dropout, he was convicted of murder in 1961 and spent eleven years on death row at Angola, where he taught himself to write. He has been the subject of segments on 20/20, Nightline, and National Public Radio.
Praise For In the Place of Justice…
"Incisive . . . As emotional, as any words I've read in a long time."—Dwight Garner, The New York Times
 
"Riveting . . . Amazing . . . The picture of prison life painted by Rideau isn't the one portrayed in many movies. . . . Now he has provided a wonderful chance to share his remarkable life."—Associated Press
 
"A masterpiece in the realm of autobiographies." –Anniston Star
 
"Fascinating and inspiring . . . This book is a gift to all of us in so many ways."—BookPage
 
"Rideau comes across as truthful, remorseful, and straightforward . . . In the Place of Justice is remarkably even-handed and generous."—Palm Beach Arts Paper
 
"Searing, suspenseful, stomach-churning and soul-stirring. . . . A sobering indictment of the criminal justice and penal systems in Louisiana over the past half century—and testimony to the triumph of the human spirit."—Tulsa World
 "A series of stunning journalistic revelations . . . Quite simply, no prison memoir in recent memory contains prose as deft or as riveting."—Vanity Fair
 "A richly detailed [and] all too rare look at life behind bars."—The New York Review of Books
"Perhaps no book written by an inmate has ever conveyed so much factual and emotional information about day-to-day prison life."--San Francisco Chronicle
 
"Candid . . . Rideau is the rarest of American commodities—a man who exited a penitentiary in better shape than when he arrived."—The New York Times Book Review