Your Inner Fish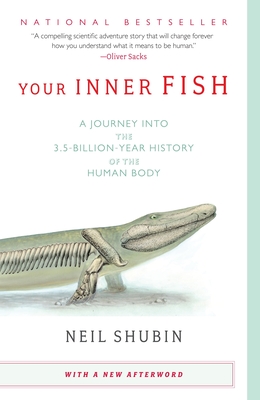 Your Inner Fish
A Journey Into the 3.5-Billion-Year History of the Human Body
Vintage, Paperback, 9780307277459, 256pp.
Publication Date: January 6, 2009
* Individual store prices may vary.
Buy at Local Store
Enter your zip code below to purchase from an indie close to you.
or
Buy Here
Description
Neil Shubin, the paleontologist and professor of anatomy who co-discovered Tiktaalik, the "fish with hands," tells the story of our bodies as you've never heard it before. The basis for the PBS series.
By examining fossils and DNA, he shows us that our hands actually resemble fish fins, our heads are organized like long-extinct jawless fish, and major parts of our genomes look and function like those of worms and bacteria.
Your Inner Fish
makes us look at ourselves and our world in an illuminating new light. This is science writing at its finest--enlightening, accessible and told with irresistible enthusiasm.
About the Author
Neil Shubin is the author of the best-selling Your Inner Fish, which was chosen by the National Academy of Sciences as the best book of the year in 2009. Trained at Columbia, Harvard, and the University of California at Berkeley, Shubin is associate dean of biological sciences at the University of Chicago. In 2011 he was elected to the National Academy of Sciences. www.neilshubin.com
Praise For Your Inner Fish…
"A compelling scientific adventure story that will change forever how you understand what it means to be human." —Oliver Sacks"Magisterial. . . . If you want to understand the evolutionary history of man and other animals, and read no other account this year, read this splendid monograph." —Financial Times"Wonderful. . . . A remarkably readable trip through the deep history of our own bodies." —The Boston Globe "[Shubin's] simple, passionate writing may turn more than a few high-school students into aspiring biologists." —Nature"Lively. . . . Join him and learn to love your body for what it really is: a jury-rigged fish." —Discover "Remarkably enthusiastic. . . . Shubin presents his arguments creatively and concisely, tackling sometimes profound questions about origins and evolution directly, even humorously." —San Diego Union-Tribune"Shubin's hand, transformed from what was once a fishy fin, provides a powerful example of what evolution is capable of. . . . A deft synthesis." —New Scientist"A delightful introduction to our skeletal structure, viscera and other vital parts. . . . [Shubin] is a warm and disarming guide." —Los Angeles Times"With infectious enthusiasm, unfailing clarity, and laugh-out-loud humor, Neil Shubin has created a book on paleontology, genetics, genomics, and anatomy that is almost impossible to put down. In telling the story of why we are who we are, Shubin does more than show us our inner fish; he awakens and excites the inner scientist in us all." —Pauline Chen, author of Final Exam"The antievolution crowd is always asking where the missing links in the descent of man are. Well, paleontologist Shubin actually discovered one. . . . A crackerjack comparative anatomist, he uses his find to launch a voyage of discovery about the evolutionary evidence we can readily see at hand. . . . Shubin relays all this exciting evidence and reasoning so clearly that no general-interest library should be without this book." —Booklist (starred review)"A skillful writer, paleontologist Shubin conveys infectious enthusiasm. . . . Even readers with only a layperson's knowledge of evolution will learn marvelous things about the unity of all organisms since the beginning of life." —Kirkus Reviews (starred review)"Fish paleontologist Shubin illuminates the subject of evolution with humor and clarity in this compelling look at how the human body evolved into its present state. . . . Shubin moves smoothly through the anatomical spectrum. . . . [He] excels at explaining the science, making each discovery an adventure." —Publishers Weekly"I was hooked from the first chapter of Your Inner Fish. Creationists will want this book banned because it presents irrefutable evidence for a transitional creature that set the stage for the journey from sea to land. This engaging book combines the excitement of discovery with the rigors of great scholarship to provide a convincing case of evolution from fish to man." —Don Johanson, director, Institute of Human Origins; discoverer of "Lucy""In this extraordinary book, Neil Shubin takes us on an epic expedition to arctic wastelands, where his team discovered amazing new fossil evidence of creatures that bridge the gap between fish and land-living animals. . . .With clarity and wit, Shubin shows us how exciting it is to be in the new age of discovery in evolutionary biology." —Mike Novacek, author of Terra: Our 100 Million Year Ecosystem and the Threats That Now Put It at Risk"Cleverly weaving together adventures in paleontology with very accessible science, Neil Shubin reveals the many surprisingly deep connections between our anatomy and that of fish, reptiles, and other creatures. You will never look at your body in the same way again--examine, embrace, and exalt Your Inner Fish!"—Sean Carroll, author of The Making of Fittest and Endless Forms Most Beautiful"If you thought paleontology was all about Jurassic Park, take a look at this eye-opening book. Shubin takes us back 375 million years, to a time when a strange fish-like creature swam (or crawled) in shallow streams. Come along on this thrilling paleontological journey and learn how living things--including you--got to be what they are."—Richard Ellis, author of Encyclopedia of the Sea"The human story didn't start with the first bipeds; it began literally billions of years ago. In this easy-reading volume, Shubin shows us how to discover that long and fascinating history in the structure of our own bodies while weaving in a charming account of his own scientific journey. This is the ideal book for anyone who wants to explore beyond the usual anthropocentric account of human origins."—Ian Tattersall, curator, American Museum of Natural History