1493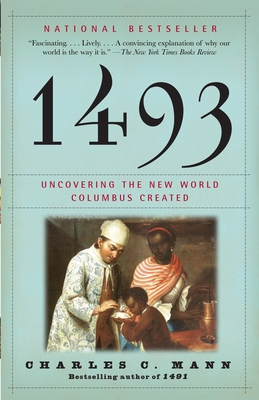 1493
Uncovering the New World Columbus Created
Vintage, Paperback, 9780307278241, 720pp.
Publication Date: July 24, 2012
* Individual store prices may vary.
Buy at Local Store
Enter your zip code below to purchase from an indie close to you.
or
Buy Here
Description
A deeply engaging new history of how European settlements in the post-Colombian Americas shaped the world, from the bestselling author of 1491. Presenting the latest research by biologists, anthropologists, archaeologists, and historians, Mann shows how the post-Columbian network of ecological and economic exchange fostered the rise of Europe, devastated imperial China, convulsed Africa, and for two centuries made Mexico City—where Asia, Europe, and the new frontier of the Americas dynamically interacted—the center of the world. In this history, Mann uncovers the germ of today's fiercest political disputes, from immigration to trade policy to culture wars. In 1493, Mann has again given readers an eye-opening scientific interpretation of our past, unequaled in its authority and fascination.
About the Author
Charles C. Mannis the author of "1491", whichwon the U.S. National Academy of Sciences Keck award for the best book of the year. A correspondent for "The Atlantic Monthly", "Science", and" Wired", he has covered the intersection of science, technology, and commerce for many newspapers and magazines here and abroad, includingthe "New York Times", "Vanity Fair, "the"Washington Post, " and more. In addition to "1491", he was the co-author offour other non-fiction books.He is now working on a companion volume to "1491." His website is www.charlesmann.org.
Praise For 1493…
A New York Times Notable Book
A TIME Magazine Best Book of the Year
A Washington Post Notable Book

"Fascinating. . . . Lively. . . . A convincing explanation of why our world is the way it is."
—The New York Times Book Review 

"Even the wisest readers will find many surprises here. . . . Like 1491, Mann's sequel will change worldviews."
—San Francisco Chronicle 
 
"Exemplary in its union of meaningful fact with good storytelling, 1493 ranges across continents and centuries to explain how the world we inhabit came to be."
—The Washington Post
 
"Engaging . . . Mann deftly illuminates contradictions on a human scale: the blind violence and terror at Jamestown, the cruel exploitation of labor in the silver mines of Bolivia, the awe felt by Europeans upon first seeing a rubber ball bounce."
—The New Yorker

"Revelatory."
—Lev Grossman, Time Magazine
 
"Compelling and eye-opening."
—Publishers Weekly Top 100 Books of 2011
 
"A book to celebrate. . . A bracingly persuasive counternarrative to the prevailing mythology about the historical significance of the 'discovery' of America. . . 1493 is rich in detail, analytically expansive and impossible to summarize. . . [Mann's book] deserves a prominent place among that very rare class of books that can make a difference in how we see the world, although it is neither a polemic nor a work of advocacy. Thoughtful, learned and respectful of its subject matter, 1493 is a splendid achievement."
—The Oregonian
 
"Despite his scope, Mann remains grounded in fascinating details. . . . Such technical insights enhance a very human story, told in lively and accessible prose."
—Cleveland Plain-Dealer
 
"Mann's excitement never flags as he tells his breathtaking story. . . There is grandeur in this view of the past that looks afresh at the different parts of the world and the parts each played in shaping it."
—Financial Times
 
"A muscular, densely documented follow-up [to Mann's 1491]. . . Like its predecessor, 1493 runs to more than 400 pages, but it moves at a gallop. . . As a historian Mann should be admired not just for his broad scope and restless intelligence but for his biological sensitivity. At every point of his tale he keeps foremost in his mind the effect of humans' activities on the broader environment they inhabit."
—The Wall Street Journal
 
"Evenhandedness, a sense of wonder, the gift of turning a phrase. . . Mann loves the world and adopts it as his own."
—Science
 
"Charles C. Mann glories in reality, immersing his reader in complexity. . . . The worn clichés crumble as readers gain introductions to the freshest of the systems of analysis gendered in the first post-Columbian millennium."
—Alfred W. Crosby, author of The Columbian Exchange
 
"In the wake of his groundbreaking book 1491 Charles Mann has once again produced a brilliant and riveting work that will forever change the way we see the world. Mann shows how the ecological collision of Europe and the Americas transformed virtually every aspect of human history. Beautifully written, and packed with startling research, 1493 is a monumental achievement."
—David Grann, author of The Lost City of Z
 
"[1493] is readable and well-written, based on his usual broad research, travels and interviews. A fascinating and important topic, admirably told."
—John Hemming, author of Tree of Rivers
 
"Fascinating. . . Convincing. . . A spellbinding account of how an unplanned collision of unfamiliar animals, vegetables, minerals and diseases produced unforeseen wealth, misery, social upheaval and the modern world."
—Kirkus Reviews, starred review
 
"A fascinating survey. . . A lucid historical panorama that's studded with entertaining studies of Chinese pirate fleets, courtly tobacco rituals, and the bloody feud between Jamestown colonists and the Indians who fed and fought them, to name a few. Brilliantly assembling colorful details into big-picture insights, Mann's fresh challenge to Eurocentric histories puts interdependence at the origin of modernity."
—Publishers Weekly, starred review
 
"Charles Mann expertly shows how the complex, interconnected ecological and economic consequences of the European discovery of the Americas shaped many unexpected aspects of the modern world. This is an example of the best kind of history book: one that changes the way you look at the world, even as it informs and entertains."
—Tom Standage, author of A History of the World in Six Glasses
 
"A landmark book. . . Entrancingly provocative, 1493 bristles with illuminations, insights and surprises."
—Shelf Awareness
 
"Fascinating. . . Engaging and well-written. . . Information and insight abound on every page. This dazzling display of erudition, theory and insight will help readers to view history in a fresh way."
—BookPage
 
"Spirited. . . One thing is indisputable: Mann is definitely global in his outlook and tribal in his thinking. . . Mann's taxonomy of the ecological, political, religious, economic, anthropological and mystical melds together in an intriguing whole cloth."
—The Star-Ledger
 
"Mann has managed the difficult trick of telling a complicated story in engaging and clear prose while refusing to reduce its ambiguities to slogans. He is not a professional historian, but most professionals could learn a lot from the deft way he does this. . . 1493 is thoroughly researched and up-to-date, combining scholarship from fields as varied as world history, immunology, and economics, but Mann wears his learning lightly. He serves up one arresting detail after another, always in vivid language. Most impressive of all, he manages to turn plants, germs, insects and excrement into the lead actors in his drama while still parading before us an unforgettable cast of human characters. He makes even the most unpromising-sounding subjects fascinating. I, for one, will never look at a piece of rubber in quite the same way now. . . The Columbian Exchange has shaped everything about the modern world. It brought us the plants we tend in our gardens and the pests that eat them. And as it accelerates in the 21st century, it may take both away again. If you want to understand why, read 1493."
—The New York Times Book Review
 
"Mann is trying to do much more than punch holes in conventional wisdom; he's trying to piece together an elaborate, alternative history that describes profound changes in the world since the original voyage of Columbus. What's most surprising is that he manages to do this in such an engaging way. He writes with an incredibly dry wit."
—Austin American-Statesman
 
"Mann's book is jammed with facts and factoids, trivia and moments of great insight that take on power as they accumulate."
—The Washington Post
 
"Although many have written about the impact of Europeans on the New World, few have told the worldwide story in a manner accessible to lay readers as effectively as Mann does here."
—Library Journal
 
"The chief strength of Mann's richly associative books lies in their ability to reveal new patterns among seemingly disparate pieces of accepted knowledge. They're stuffed with forehead-slapping 'aha' moments. . . If Mann were to work his way methodically through the odd-numbered years of history, he could be expected to publish a book about the global impact of the Great Recession sometime in the middle of the next millennium. If it's as good as 1493, it would be worth the wait."
—Richmond Times-Dispatch
 
"None of us could travel with Columbus in 1492. But that's OK, because in 1493 we can take an even more exhilarating ride. This powerful rethinking of the origins and consequences of globalization is so illuminating, it's scary."
—Carl Safina, author of A Sea In Flames and The View From Lazy Point
 
"Almost mind-boggling in its scope, enthusiasm and erudition. . . Almost every page of 1493 contains some extraordinarily provocative argument or arrestingly bizarre detail. . . Ranging freely across time and space, Mann's book is full of compelling stories. . . A tremendously provocative, learned and surprising read."
—The Times of London

Friday, Jul 27, 2012
When Columbus crossed the Atlantic in 1492, his journey prompted the exchange of not only information but also food, animals, insects, plants and disease between the continents. In a new book, Charles C. Mann describes the aftermath of Columbus' arrival in the Americas. More at NPR.org