The Killer of Little Shepherds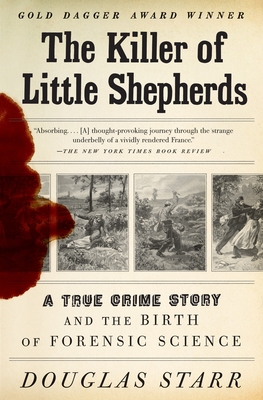 The Killer of Little Shepherds
A True Crime Story and the Birth of Forensic Science
Vintage Books, Paperback, 9780307279088, 300pp.
Publication Date: November 1, 2011
* Individual store prices may vary.
Shop Local
Enter your zip code below to find indies closest to you.
Description
Winner of the Gold Dagger Award

A fascinating true crime story that details the rise of modern forensics and the development of modern criminal investigation.
 
At the end of the nineteenth century, serial murderer Joseph Vacher terrorized the French countryside, eluding authorities for years, and murdering twice as many victims as Jack The Ripper. Here, Douglas Starr revisits Vacher's infamous crime wave, interweaving the story of the two men who eventually stopped him—prosecutor Emile Fourquet and Dr. Alexandre Lacassagne, the era's most renowned criminologist. In dramatic detail, Starr shows how Lacassagne and his colleagues were developing forensic science as we know it. Building to a gripping courtroom denouement, The Killer of Little Shepherds is a riveting contribution to the history of criminal justice.
About the Author
Douglas Starr is an Associate Professor of Journalism and Codirector of the Graduate program in Science Journalism at Boston University. A former newspaper reporter and field biologist, he has written on the environment, medicine, and science for a variety of publications including "Smithsonian, Audubon, " and "Sports Illustrated". Starr lives near Boston with his wife and two sons.
Praise For The Killer of Little Shepherds…
"Chilling . . . An exemplar of historical true-crime nonfiction."
            -Mark Dunkelman, Favorite Books of 2010, The Providence Journal
 
"Absorbing . . . Starr's thought-provoking journey, through the strange underbelly of a vividly rendered France, lingers in the reader's memory."
            -Elyssa East, The New York Times Book Review (Editor's Choice)
 
"Engrossing and carefully researched."
            -The New Yorker
 
"A- . . . Gripping, almost novelistic . . . Like an episode of CSI: 19th-Century France."
            -Tina Jordan, Entertainment Weekly
 
"Riveting."
            -Laura Spinney, Nature
 
"Gripping . . . Starr's description of the legal, medical and even philosophical questions around Vacher's responsibility are strikingly current."
            -Drew DeSilver, The Seattle Times
 
"The perfect true-crime book to curl up with on an autumn night."
            -Doug Childers, Richmond Times-Dispatch
 
"Riveting, yet cerebral . . . Besides focusing on Joseph Vacher, also known as the Killer of Little Shepherds, Starr explains and expands on the fascinating achievements of those studying the criminal world."
            -Elizabeth Humphrey, San Francisco Book Review
 
"A gripping book that alternately appalls and fascinates."
            -Mark Dunkelman, Providence Journal
 
"Superior . . . This book is sensational and swift. But its real strength is the ability to show the history and progress of forensic science and its effect on the criminal justice system . . . This book reads like fiction and fascinates with fact."
            -Bethany Latham, Historical Novel Review
 
"Lively . . . With drama and stunning detail, Starr documents one of the earliest examples of criminal profiling, Vacher's murders, his arrest, and the twists and turns of the trial that followed. The Killer of Little Shepherds is an important contribution to the history of criminal justice. It is crisply written, meticulously researched, and rich in historical detail."
            -Larry Cox, Tucson Citizen
 
"Douglas Starr's riveting, sophisticated book provides the distance and perspective needed to facilitate systematic but critical thinking about forensic science."
            -Stanley J. Morse, PsycCritiques
 
"Fascinating . . . Compelling . . . Written with the dramatic tension of a good novel and the impeccable detail of a well-researched history."
            -Erika Engelhaupt, ScienceNews
 
"Deft . . . Admirable . . . Riveting . . . The Killer of Little Shepherds is deeply rooted in historical sources and subtle context, but Starr also has a journalist's flair for the colorful detail."
            -John Williams, The Second Pass
 
"Graceful and accessible . . . The granddaddy of all true crime stories."
            -David Walton, Louisville Courier-Journal
 
"Expert . . . You'll be richly rewarded . . . A good book that will keep you reading."
            -The Crime Segments blog
 
 "Eloquent . . . Starr creates tension worthy of a thriller."
            -Starred review, Publishers Weekly
 
"Starr's heavy immersion into forensics and investigative procedure makes interesting reading . . . [A] well-documented mix of forensic science, narrative nonfiction, and criminal psychology."
            -Kirkus