The Shadow Factory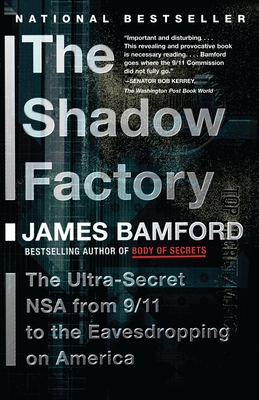 The Shadow Factory
The Ultra-Secret NSA from 9/11 to the Eavesdropping on America
Anchor Books, Paperback, 9780307279392, 395pp.
Publication Date: July 14, 2009
* Individual store prices may vary.
Buy at Local Store
Enter your zip code below to purchase from an indie close to you.
or
Buy Here
Description
James Bamford has been the preeminent expert on the National Security Agency since his reporting revealed the agency's existence in the 1980s. Now Bamford describes the transformation of the NSA since 9/11, as the agency increasingly turns its high-tech ears on the American public.
"The Shadow Factory" reconstructs how the NSA missed a chance to thwart the 9/11 hijackers and details how this mistake has led to a heightening of domestic surveillance. In disturbing detail, Bamford describes exactly how every American's data is being mined and what is being done with it. Any reader who thinks America's liberties are being protected by Congress will be shocked and appalled at what is revealed here.
About the Author
James Bamford has been a professional in the information technology industry since 1978. Mr. Bamford s exposure to CRM began in 1998. He has managed multiple projects and engagements using several CRM products throughout the past nine years. James has been certified as a PMP from PMI, and has over fourteen years of project management consulting experience with IBM, Cap Gemini America, Deloitte & Touche, LLP, Siebel Systems, Rapidigm, and his current employer. His project management experience covers multiple industries such as Public Sector, Insurance, Manufacturing, Transportation, Financial, Pharmaceutical, Consumer Goods, Retail, High Technology, and Oil & Gas. James holds a Certified Siebel Consultant certification from Siebel Systems, as well as a CPIM certification from APICS. His Masters in Engineering Administration degree was earned from George Washington University. He also holds BS degrees in business and computer science that were acquired from Virginia Tech and the University of Pittsburgh, respectively. Mr. Bamford is currently employed as a Senior Project Manager with Eagle Creek Software Services, and services clients throughout the world. He lives with his family near Cleveland, Ohio.
Praise For The Shadow Factory…
A Washington Post Notable Book

"Important and disturbing. . . . This revealing and provocative book is necessary reading . . . Bamford goes where the 9/11 Commission did not fully go."
—Senator Bob Kerrey, The Washington Post Book World

"Fascinating. . . . Bamford has distilled a troubling chapter in American history."
—Bloomberg News

"At its core and at its best, Bamford's book is a schematic diagram tracing the obsessions and excesses of the Bush administration after 9/11. . . . There have been glimpses inside the NSA before, but until now no one has published a comprehensive and detailed report on the agency. . . . Bamford has emerged with everything except the combination to the director's safe."
—The New York Times Book Review

"Engaging. . . . Chilling. . . . Bamford is able to link disparate facts and paint a picture of utter, compounded failure—failure to find the NSA's terrorist targets and failure to protect American citizens' communications from becoming tangled in a dragnet."
—The San Francisco Chronicle

"The bad news in Bamford's fascinating new study of the NSA is that Big Brother really is watching. The worse news . . . is that Big Brother often listens in on the wrong people and sometimes fails to recognize critical information. . . . Bamford convincingly argues that the agency . . . broke the law and spied on Americans and nearly got away with it."
—The Baltimore Sun