The Forever War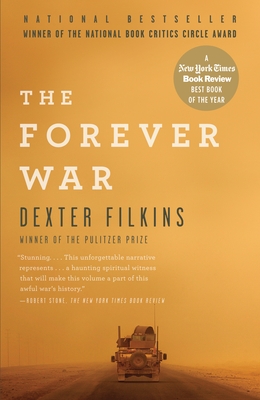 The Forever War
Vintage Books USA, Paperback, 9780307279446, 368pp.
Publication Date: June 2, 2009
* Individual store prices may vary.
Buy at Local Store
Enter your zip code below to purchase from an indie close to you.
or
Buy Here
Description
National Bestseller
One of the Best Books of the Year:
"New York Times," "Washington Post," "Los Angeles Times," "USA Today," "Boston Globe," and "Time"
An instant classic of war reporting, The Forever War is the definitive account of America's conflict with Islamic fundamentalism and a searing exploration of its human costs. Through the eyes of Filkins, a foreign correspondent for the New York Times, we witness the rise of the Taliban in the 1990s, the aftermath of the attack on New York on September 11th, and the American wars in Afghanistan and Iraq. Filkins is the only American journalist to have reported on all these events, and his experiences are conveyed in a riveting narrative filled with unforgettable characters and astonishing scenes.
Brilliant and fearless, The Forever War is not just about America's wars after 9/11, but about the nature of war itself.
About the Author
Dexter Filkins, a foreign correspondent for "The New York Times, "has worked in Afghanistan and Pakistan, and, from 2003 to 2006, in Iraq. He has been a Pulitzer Prize finalist and has received a George Polk Award and two Overseas Press Club awards. In 2007-2008 he was a fellow at the Carr Center for Human Rights Policy at Harvard's John F. Kennedy School of Government. He lives in New York City.
Praise For The Forever War…
"Stunning. . . . This unforgettable narrative represents . . . a haunting spiritual witness that will make this volume a part of this awful war's history." —Robert Stone, The New York Times Book Review
"Filkins makes us see, with almost hallucinogenic immediacy, the true human meaning and consequences of the "war on terror." —The New York Times
"Unflinching. . . . Filkins confronts the absurdity of war head-on. . . . This is a page-turner, and one of the most astounding books yet written about the war in Iraq." —Time
"Thanks to one reporter's heroic act of witness and brilliant recitation of what he saw, we can see the war¬ as it is, and for ourselves." —Los Angeles Times
"Not since Michael Herr in Dispatches . . . has a reporter written as vividly about combat as Filkins does from Afghanistan and Iraq." —USA Today 10 Best Books of 2008
"The Forever War . . . achieves a gripping, raw immediacy." —The Boston Globe's Year's Best Books
"Splendid." —Washington Post Book World Best Nonfiction of 2008
"Dexter Filkins's The Forever War is the best piece of war journalism I've ever read. He paints a portrait of war that is so nuanced, so filled with absurdities and heartbreak and unexpected heroes and villains, that it makes most of what we see and hear about Iraq and Afghanistan seem shrill and two-dimensional by comparison. And yet, as tragic as the events he describes are, the book manages to be a thing of towering beauty." —Dave Eggers, Guardian Best Books of the Year
"The Forever War is already a classic–it has the timeless feel of all great war literature. Dexter Filkins's combination of courage and sensitivity is so rare that books like his come along only once every major war. This one is ours." —George Packer, author of The Assassins' Gate: America in Iraq
"Dexter Filkins is the preeminent war correspondent of my generation, fearless, compassionate, and brutally honest. The Forever War is his astonishing story. It is one of the best books about war that I have ever read. It will stay with me forever." —Jeffrey Goldberg, author of Prisoners: A Muslim and a Jew Across the Middle East Divide
"Dexter Filkins has seen the rise of the Taliban in Afghanistan; he has stood in the ruins of the World Trade Center; he has been in the heat of battle in Iraq; indeed, no one else has been closer to the action than this courageous and thoughtful observer. This is a sensational book in the best sense." —Lawrence Wright, author of The Looming Tower: Al-Qaeda and the Road to 9/11
"Stunning ... it is not facetious to speak of work like that of Dexter Filkins as defining the 'culture' of a war...This unforgettable narrative [represents] ... a haunting spiritual witness that will make this volume a part of this awful war's history." —Robert Stone, on the front page of The New York Times Book Review
"Dexter Filkins's The Forever War, brutally intimate, compassionate, often poetic accounts of the battle against Islamic fundamentalism, is destined to become a classic." —Vanity Fair
"Extraordinary. . . . if what Michael Herr brought back from Vietnam in Dispatches was a sort of Jackson Pollock–streaks of blood, trickles of dread, splattershot of hard rock and harder drugs–The Forever War is like a pointillist Seurat, a neo-Impressionist juxtaposition of spots of pure color with black holes and open wounds." —John Leonard, Harper's
"The definitive–and heartbreakingly humanizing–report from the front lines in Iraq and Afghanistan. . . . The Forever War [is] about all wars, everywhere–and a book that will be read fifty years from now." —Andrew Corsello, GQ
"Dexter Filkins is one of war writings' modern marvels, a writer of tremendous gifts and appropriate grit to go where others will not." —Henry C. Jackson, Associated Press
"The best war reportage you are apt to read in a lifetime." —Joseph C. Goulden, The Washington Times
"Unflinching. . . . Filkins confronts the absurdity of war head-on. . . . This is a page-turner, and one of the most astounding books yet written about the war in Iraq. . . . Filkins doesn't lecture, he just reports, in great and perfect detail." —Gilbert Cruz, Time
"[Filkins is] an almost absurdly brave war correspondent . . . his brilliant, sad, unique book . . . may be the most readable book about Iraq. It's certainly one of the most artful. . . . We're the better for it." —Hilary Frey, The New York Observer
"Brilliant. . . . The Forever War . . . deserves to be ranked as a classic . . . and is likely to be regarded as the definitive account of how the wars in Afghanistan and Iraq were experienced by those who actually waged them. . . . Thanks to one reporter's heroic act of witness and brilliant recitation of what he saw, we can see the war–as it is, and for ourselves." —Tim Rutten, Los Angeles Times
"A kaleidoscope of images and intensity. . . . It is written in finely honed bursts of vibrant color that capture the peculiar culture of the war. . . . It is a raw and riveting account . . . his honesty in portraying the war implicitly exposes the hollowness of the platitudes used in Washington to defend it." —Chris Hedges, Philadelphia Inquirer
"Splendid. . . . it shines as a work of literature, illuminating the human cost of war." —Bing West, The Washington Post
"Rich with details both grotesque and sublime. . . . The Forever War is a masterpiece of nuance." —Matthew B. Stannard, The San Francisco Chronicle
"Gut-wrenching and touching. . . . Mr. Filkins's stories are those of a writer willing to endure hardship, danger and anguish to paint an accurate picture of war for the American public. . . . His prose is as blunt as it is powerful." —Lee H. Hamilton, The New York Times
"Filkins . . . is a courageous reporter and an original writer. . . . The narrative holds together through the power of his writing. . . . The Forever War is an astonishingly good book." —Evan Wright, LA Weekly
"Addictive. . . . [Filkins is] a master of the moment, of the concrete, of texture; where others try to explain, he wants you to know what being there feels like. . . . I couldn't put this book down." —Craig Seligman, Bloomberg
"Dexter Filkins . . . is well on his way to becoming the preeminent war reporter of this tumultuous era. . . . His understated prose offers a stiletto-sharp account of places he's gone and people he's met." —John Marshall, Seattle Post Intelligencer
"Wonderfully written and carefully researched. . . . Filkins's meticulous attention to detail and his bravery . . . [are] evident on every page . . . The Forever War . . . serves as a powerful lesson in what it takes to cover the complexities of war . . . [Dexter Filkins] has put himself in the middle of this madness to deliver a stunning and illuminating story." —Chuck Leddy, Christian Science Monitor
"[Filkins is] the real deal, a reporter's reporter . . . his brave and stunning new book . . . pulses with prose so lean–whipsawing between brutality and beauty–that it takes your breath away." —Paul Grondahl, Times Union
"A chilling and ethereal narrative of loss and the promise of loss." —Jim Chiavelli, The Boston Globe
"Phenomenal. . . . The Forever War makes the war in Iraq so real, so haunting, that you'll want to sleep with the book next to your bed and read it in every spare moment until the last page. It does what a great book about war, loss, politics, and sacrifice should–it moves, shocks, entertains, educates, and inspires. The Forever War is peerless–a classic." —Genvieve Long, The Epoch Times