The Fox Effect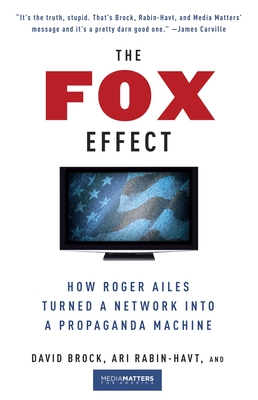 The Fox Effect
How Roger Ailes Turned a Network Into a Propaganda Machine
Anchor Books, Paperback, 9780307279583, 329pp.
Publication Date: February 21, 2012
* Individual store prices may vary.
Buy at Local Store
Enter your zip code below to purchase from an indie close to you.
or
Buy Here
Description
Based on the meticulous research of the news watchdog organization Media Matters for America, David Brock and Ari Rabin-Havt show how Fox News, under its president Roger Ailes, changed from a right-leaning news network into a partisan advocate for the Republican Party.

The Fox Effect follows the career of Ailes from his early work as a television producer and media consultant for Richard Nixon, Ronald Reagan, and George H. W. Bush. Consequently, when he was hired in 1996 as the president of Rupert Murdoch's flagship conservative cable news network, Ailes had little journalism experience, but brought to the job the mindset of a political operative. As Brock and Rabin-Havt demonstrate through numerous examples, Ailes used his extraordinary power and influence to spread a partisan political agenda that is at odds with long-established, widely held standards of fairness and objectivity in news reporting.

Featuring transcripts of leaked audio and memos from Fox News reporters and executives, The Fox Effect is a damning indictment of how the network's news coverage and commentators have biased reporting, drummed up marginal stories, and even consciously manipulated established facts in their efforts to attack the Obama administration.
About the Author
David Brock's hard-hitting journalism has cast him as "the Bob Woodward of the right' according to the "Washington Post". He is a writer for the "American Spectator" and the bestselling author of The Real Anita Hill (Free Press, 1993). He lives in Washington, D.C.


Praise For The Fox Effect…
"It's the truth, stupid. That's Brock, Rabin-Havt and Media Matters' message and it's a pretty darn good one."
—James Carville
 
"Media Matters tells the truth–and then spreads the truth far and wide. They are a leading and effective voice in combating misinformation. This latest book, by founder David Brock, makes clear the threat that incendiary journalism poses to our democracy."
—Nancy Pelosi
 
"This pointed study of modern politics is both a must-read and a cautionary tale."
—Senator John F. Kerry  

"Think of any conservative-media scandal of the past few years. . . and it's a good bet that a Media Matters researcher flagged the offending clip, uploaded it to the group's website, and got the party started."
—New York Magazine 

"Fox News has created a generation of woefully (and objectively) misinformed ideological sycophants to pursue its radical agenda. It's no accident. Now David Brock and Ari Rabin-Havt show that no matter how unethical and dishonest you think Fox News is, the reality is that they're much, much worse."
—Markos Moulitsas, publisher, Daily Kos