The Downhill Lie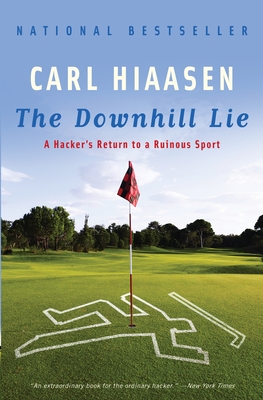 The Downhill Lie
A Hacker's Return to a Ruinous Sport
Vintage Books USA, Paperback, 9780307280459, 207pp.
Publication Date: May 5, 2009
* Individual store prices may vary.
Buy Now
or
Shop Local
Enter your zip code below to purchase from an indie close to you.
Description
Bestselling author Carl Hiaasen wisely quit golfing in 1973. But some ambitions refuse to die, and as the years passed and the memories of slices and hooks faded, it dawned on Carl that there might be one thing in life he could do better in middle age than he could as a youth. So gradually he ventured back to the rolling, frustrating green hills of the golf course, where he ultimately—and foolishly—agreed to compete in a country-club tournament against players who can actually hit the ball. Filled with harrowing divots, deadly doglegs, and excruciating sandtraps, The Downhill Lie is a hilarious chronicle of mis-adventure that will have you rolling with laughter.
About the Author
Carl Hiaasen (b. 1953) is the "New York Times "bestselling and award-winning author of more than twenty adult and young adult novels and nonfiction titles, including the novels "Strip Tease "(1993) and "Skinny Dip "(2004), as well as the mystery-thrillers "Powder Burn "(1981), "Trap Line" (1982), and "A Death in China "(1984), which were cowritten with fellow "Miami Herald "journalist Bill Montalbano (1941 1998). Hiaasen is best known for his satirical writing and dark humor, much of which is directed at various social and political issues in his home state of Florida. He is an award-winning columnist for the "Miami Herald", and lives in Vero Beach.
Praise For The Downhill Lie…
"An extraordinary book for the ordinary hacker."—The New York Times "With biting humor and painfully honest self-humiliation, Hiaasen describes his 1-1/2-year journey into one of Dante's inner circles of hell."—The Christian Science Monitor"A cleverly written, witty and sometimes wistful look at golf, marriage, human nature and life."—The Tampa Tribune"Hiaasen's hilarious misadventures on the golf course are all too familiar to anyone who has ever flailed at the ball in futile attempts to conquer a sport that mercilessly strips us of our dignity."—The New York Times Book Review"The foibles and embarrassments, as well as the joys, of casual and tournament golf ring true....Golfers should love this book."—Rocky Mountain News"Memoir is new territory for him, but Hiaasen is Hiaasen. Fans of his bizarro novels will find his irony and sense of humor remain unaffected on the links." —The Florida Times-Union"A return by Hiaasen to his best with the sport of golf providing the venue for his unique wit and biting humor.... You'll have many laugh-out-loud moments.... If you've never read Carl Hiaasen... if you have read him before, this is a wonderful return to the magic (albeit voodoo) that is Carl Hiaasen." —Decatur Daily"…[Hiaasen's] insights into the insane lengths a golfer will go to in hopes of a lower score are always entertaining. If you've been bitten by the golf bug, you'll appreciate every moment of Hiaasen's magnificent obsession. If you haven't, read The Downhill Lie and laugh at those of us who have."—Howard Shirley, Bookpage"Golfers in general tend to be self-critical, but Mr. Hiaasen is a self-lacerator. He doesn't curse or throw his clubs, but he sighs a lot and asks existential questions like, "Why do we do this?" and "Why are we out here?" He plays the way you imagine Samuel Beckett might have played. He can't go on, but he goes on."—Charles McGrath, New York Times"His analysis of his lessons, hapless rounds and gimmicky golf equipment is hilarious, and his vivid descriptions are vintage Hiaasen . . . With the satirically skilled Hiaasen, who rarely breaks 90 on the links, this narrative is an enjoyable ride." —Publishers Weekly "It has taken Carl Hiaasen to capture the essence of a game that, like the bagpipes and the kilt, was invented by the Irish and given to the Scots as a joke. Carl's dementia is kind of exquisite. He lampoons the most banal aspects of stodgy blue-blooded American country-club life. The simple act of buying a set of clubs gets the full Hiaasen treatment, and the guilt-ridden angst of the triangular love-hate relationship between himself, his drop-dead beautiful Greek wife, and the drop-dead-you-rotten-bastard Scotty Cameron putter she bought him, is alone worth the price of one for yourself and another for Father's Day."—David Feherty