Jerusalem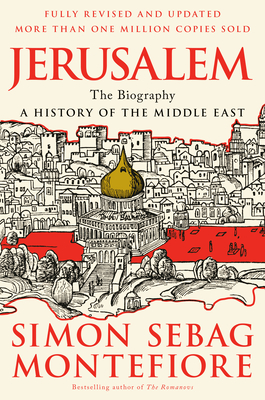 Jerusalem
The Biography
Vintage Books, Paperback, 9780307280503, 650pp.
Publication Date: September 18, 2012
* Individual store prices may vary.
Buy at Local Store
Enter your zip code below to purchase from an indie close to you.
or
Buy Here
Description
Jerusalem is the universal city, the capital of two peoples, the shrine of three faiths; it is the prize of empires, the site of Judgment Day and the battlefield of today's clash of civilizations. From King David to the 21st century, from the birth of Judaism, Christianity, and Islam to the Israel-Palestine conflict, this is the epic history of three thousand years of faith, slaughter, fanaticism, and coexistence. In this masterful narrative, Simon Sebag Montefiorebrings the holy city to life, through the people who created and destroyed it fromHerod, Cleopatra and Nero to Churchill, Rasputin and Truman and draws on the latest scholarship, his own family history, and a lifetime of study to show that the story of Jerusalem is truly the story of the world.
About the Author
Simon Sebag Montefiore read history at Cambridge University. His books are international bestsellers, and have been published in more than thirty-five languages. "Young Stalin" won the "Los Angeles Times" Book Prize for Biography, the Costa Biography Prize (UK), and Le Grand Prix de Biographie (France). He is a Fellow of the Royal Society of Literature and is married to the novelist Santa Montefiore with whom he has two children.
Praise For Jerusalem…
Jewish Book Council Book of the Year

"Spectacular. [Montefiore] really tells you what the life of the city has been like and why it means so much. You fall in love with the city. It's a treasure. It's a wonderful book."
—Bill Clinton, #1 Holiday Book Pick on the Today show

"Magnificent. . . Montefiore barely misses a trick or a character in taking us through the city's story with compelling, breathless tension."
—Wall Street Journal
 
"Impossible to put down. . . . Vastly enjoyable."
—New York Times Book Review
 
"A powerful achievement. . . . At once a scholarly record and an exuberantly written popular tour de force."
—New York Review of Books
 
"Magisterial. . . . As a writer, Montefiore has an elegant turn of phrase and an unerring ear for the anecdote that will cut to the heart of a story. . . . A joy to read."
—The Economist

"Already a classic. Jerusalem is an extraordinary achievement, written with imagination and energy. . . . Simon Sebag Montefiore tells this modern story with clarity and admirable impartiality. . . . Read this book."
—Financial Times 

"Montefiore's towering biography of the city relates in fascinating, horrific and sometimes comical detail the wars to annexe its symbolic sanctity and the daily lives of its inhabitants. This monument of scholarly research is also a compelling story: of human foibles, lust, bravery and chicanery."
—The Times of London

"Densely textured. . . . Montefiore embraces Jerusalem's paradoxes in his chronological account, which seeks to avoid hindsight and disclaims a political agenda. He succeeds admirably in remaining evenhanded, a particularly notable achievement."
—Los Angeles Times

"A memorable and distinguished history of a city where 'the truth is much less important than the myth'. . . . Splendidly evoked."
—Richmond Times-Dispatch
 
"Magnificent. . . . A spectacular book for general readers. . . . This is a book about the ages, for the ages."
—Wichita Eagle
 
"Sweeping and absorbing. . . . Montefiore is a master of colorful and telling details and anecdotes. . . . His account is admirably dispassionate and balanced."
—Washington Post Book World

"In his stunningly comprehensive history, Simon Sebag Montefiore covers 3,000-plus years of the Earth's most fiercely contested piece of geography. . . . Not only has Montefiore delivered a piece of superb scholarship, he has done so in an extremely easy-to-read style. The author tells the history of the complex relationships that existed between long-dead peoples in a manner that makes them seem human and understandable. . . . Meticulously researched."
—The Newark Star-Ledger
 
"Few historians have demonstrated the vision, mastery, and boldness necessary to publish on a subject so vast and in such detail as Montefiore. . . . A marvelous panorama."
—Library Journal
 
"This is an essential book for those who wish to understand a city that remains a nexus of world affairs. . . . Although his Jewish family has strong links to the city, Montefiore scrupulously sustains balance and objectivity. . . . Beautifully written, absorbing."
—Booklist (starred)
 
"A panoramic narrative of Jerusalem, organized chronologically and delivered with magisterial flair. Spanning eras from King David to modern Israel with rich anecdotes and vivid detail, this exceptional volume portrays the personalities and worldviews of the dynasties and families that shaped the city throughout its 3,000-year history."
—Publishers Weekly (starred)
 
"An essential text, bathed in blood, lit with faint hope. . . . The author sees Jerusalem not just as the setting for some of history's most savage violence but a microcosm of our world. . . . The story is horribly complex, and Montefiore struggles mightily to make everything clear as well as compelling."
—Kirkus Reviews (starred)
 
"Four thousand years of history absolutely romped through—a masterwork."
—The Evening Standard (UK)
 
"Immensely readable. . . . Montefiore is that rarest of things: a historian who writes great, weighty tomes that read like the best thrillers. . . . [He] has a visceral understanding of what makes history worth reading. [Montefiore] manages to bring people who have been dead for two millennia alive again and make them breathe, and he has insight into the mind of psychopathic tyrants that makes you wish he were working for the U.S. secretary of state."
—Newsweek