Being Shelley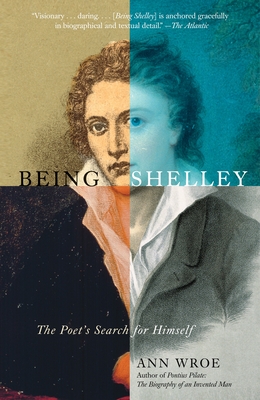 Being Shelley
The Poet's Search for Himself
Vintage Books USA, Paperback, 9780307280527, 452pp.
Publication Date: November 11, 2008
* Individual store prices may vary.
Buy at Local Store
Enter your zip code below to purchase from an indie close to you.
or
Not Currently Available for Direct Purchase
Description
From Ann Wroe, a biographer of the first rank, comes a startlingly original look at one of the greatest poets in the Western tradition. Being Shelley aims to turn the poet's life inside out: rather than tracing the external events of his life, she tracks the inner journey of a spirit struggling to create. In her quest to understand the radically unconventional Shelley, Wroe pursues the questions that consumed the poet himself. Shelley sought to free and empower the entire human race; his revolution was meant to shatter illusions, shock men and women with new visions, find true love and liberty and take everyone with him. Now, for the first time, this passionate quest is put at the center of his life. The result is a Shelley who has never been seen in biography before.
About the Author
Ann Wroe is the author of Pontius Pilate, a finalist for the samuel Johnson Prize, A Fool and His Money, and The Perfect Prince. She received her doctorate in medieval history from Oxford and is a senior editor at The Economist. She lives in London with her husband and their three sons.
Praise For Being Shelley…
"Intensely imaginative. . . . A biography that reads like poetry itself. . . . Wroe manages to get inside Shelley's head." —Providence Journal"If you are a fan of Percy Bysshe Shelley, you will love Anne Wroe's Being Shelley. . . . Her approach topples conventions. . . . She climbs inside his head." —The Plain Dealer"An extraordinary feat of scholarship. . . . A risky but singularly exhilarating book." —Richard Holmes, The Guardian"Visionary . . . daring . . . [Being Shelley] is anchored gracefully in biographical and textual detail." —The Atlantic"Enthrallingly readable. . . . A magnificent book from an extraordinarily intuitive and gifted writer. . . . The biographer's achievement is on a par with that of her subject, which is no mean accomplishment indeed."—Georgia Review "Daringly experimental. . . . Wroe delivers Shelley's imaginative and creative life in all its perplexing brilliance."—Booklist (starred review)