Gregor and the Curse of the Warmbloods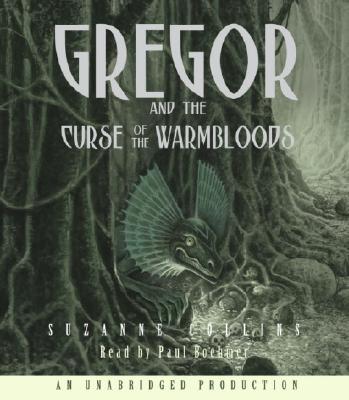 Gregor and the Curse of the Warmbloods
Listening Library, Compact Disc, 9780307282675, 7pp.
Publication Date: December 13, 2005
* Individual store prices may vary.
Buy at Local Store
Enter your zip code below to purchase from an indie close to you.
or
Not Currently Available for Direct Purchase
Description
Rich in suspense and brimming with adventure, the "New York Times"-bestselling Underland Chronicles unfold the fate of the Underland and the great warrior, Gregor. Suzanne Collins is also the author of the bestselling Hunger Games trilogy.
PRAISE FOR "Gregor and the Curse of the Warmbloods
"
"Kirkus Reviews "Editor's Choice, 2003
NY Public Library 100 Titles for Reading and Sharing
"Gregor's luminous, supremely absorbing quest takes place in a strange underground land of giant cockroaches, rideable bats, and violet-eyed humans.... Creature depictions are soulful and the plot is riveting....Wonderful."
-"Kirkus Reviews, "starred review
"Collins does a grand job of world-building, with a fine economy of words.... Unlike Gregor, who cannot wait to leave, readers will likely find the Underland] to be a fantastically engaging place."
-"Publishers Weekly, "starred review
" An] exceptional debut novel, a well-written, fast-moving, action-packed fantasy... S]ure to be a solid hit with young fantasy fans."
-"Booklist, "starred review
Book Two left off with Gregor reading the Prophecy of Blood: a prophecy that calls for Gregor and Boots to return to the Underland to help ward off a deadly plague. But this time, Gregor's mother refuses to let him return to the Underland . . . until the rat Ripred assures the family that Gregor and Boots are just needed for a short meeting, which the crawlers will attend only if their "princess" Boots is present. Gregor's mom finally relents, on the condition that she go with them. The Underland plague is spreading, and when one of Gregor's family is stricken, he begins to understand his role in the Prophecy of Blood, and must summon all his power to end the biological warfare that threatens the warmblooded creatures of the Underland. Fans of Suzanne Collins's acclaimed fantasy series will find more suspense and action than ever in this thrilling third saga.
About the Author
Suzanne Collins is the author of the groundbreaking Hunger Games trilogy for young adults: The Hunger Games, Catching Fire, and Mockingjay. She is also the author of the picture book Year of the Jungle, a Publishers Weekly best book of the year, and the New York Times bestselling Underland Chronicles series for middle grade readers, which started with Gregor the Overlander. Suzanne lives with her family in Connecticut. You can find her online at suzannecollinsbooks.com.

Paul Boehmer is a seasoned actor who has appeared on Broadway, film, and television, including "The Thomas Crown Affair" and "All My Children". Coinciding with another of his passions, sci-fi, Paul has been cast in various roles in many episodes of "Star Trek".