Rule #1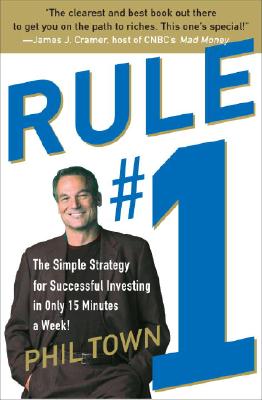 Rule #1
The Simple Strategy for Successful Investing in Only 15 Minutes a Week!
Crown Publishing Group (NY), Hardcover, 9780307336132, 308pp.
Publication Date: March 21, 2006
* Individual store prices may vary.
Buy at Local Store
Enter your zip code below to purchase from an indie close to you.
or
Buy Here
Description
Before I became Phil Town, teacher of investing principles to more than 500,000 people a year, I was a lot like you: someone who viewed individual stock investing as way too hard to do successfully. As a guy who barely made a living as a river guide, I considered the whole process pretty impenetrable, and I was convinced that to do it right you had to make it a full-time job. Me, I was more interested in having full-time fun.
So I was tempted to do what you re probably doing right now: letting some mutual fund manager worry about growing your nest egg. Let me tell you why that decision could one day make you absolutely miserable.
The fact is, because of natural market cycles, the mutual fund industry is likely to soon be facing twenty years of flat returns. That means that if you ve got your nest egg tucked away in funds especially the type found in most 401ks your egg won t get much bigger than it is now. Translation: Get ready for a retirement filled with lots of cold cuts, plenty of quality TV-watching time, and a place to live that's too small to accommodate your visiting kids.
In this book I ll show you how I turned $1,000 into $1 million in only five years, and then proceeded to make many millions more. I came to investing as a person who wasn t great at math, possessed zero extra cash, and wanted a life not an extra three hours of work to do every day.
Fortunately, I was introduced to The Rule.
Rule #1, as famed investor Warren Buffett will tell you, is don t lose money. Through an intriguing process that I ll clarify in this book, not losing money results in making more money than you ever imagined. What it comes down to is buying shares of companies only when the numbers and the intangibles are on your side. If that sounds too good to be true, it's because the mind-set I ll be introducing you to leads not to bets but to certainties. Believe me, if there were anything genius-level about this, I d still be a river guide collecting unemployment much of the year.
Part of the secret is thinking of yourself as a business owner rather than a stock investor. Part is taking advantage of today's new Internet tools, which drastically reduce the homework factor. (We re talking a few minutes, tops.) Part is knowing the only five numbers that really count in valuing a potential investment. And part maybe the most important part is using the risk-free "Rule #1" approach to consistently pay a mere 50 cents to buy a dollar's worth of a business.
What I won t waste your time with is fluff: a lot of vague parables reminding you of what you already know and leaving you exactly where you started. This is the real deal, folks: a start-to-finish, one-baby-step-at-a-time approach that will allow you to retire ten years sooner than you planned, with more creature comforts than you ever imagined.

Also available as a Random House AudioBook and eBook.
About the Author
He isn t your typical Wall Street guy. An ex-Green Beret and former river guide, Phil Town is a self-made millionaire several times over and America s most widely sought-after speaker on investing. In his new book, RULE #1, he describes the Rule #1 personal financial strategy in detail so that anyone, even first-time investors, can get and stay rich.

Phil Town is the classic Everyman, albeit one whose education and resources were more limited than most. An average high school student, he completed college on his fourth try. Of his early working years, he says he mostly got dirty for a living, taking on jobs such as digging ditches and pumping gas. Town spent three and a half years in the Army. He returned from the Vietnam War and found a job in the States as a river guide.

Drifting through California, Utah, and Idaho, he subsisted at poverty level, combining his wages from the guiding season and unemployment. He wore black leathers, sported a goatee, lived in a teepee in the woods near Flagstaff, Arizona, and drove around in a really loud black Harley Davidson.

In the early 80s, Town s life changed radically. He was guiding trustees from the educational program Outward Bound down the nastiest rapid on the Grand Canyon s Colorado River, when his split-second decisions

saved a boatload of people from a whitewater disaster. A grateful and financially astute client returned the favor by guiding Town into serious, successful investing using the first rule of investing as ascribed to by Warren Buffett: Don t lose money. Within five years, Town had built a borrowed $1,000 into $1 million. His fortunes improved radically, and rapidly, from then on.

Phil Town appears regularly on the same dais as Rudy Giuliani, Jimmy Carter, and Colin Powell as part of the Get Motivated touring success seminar. He speaks to more than 500,000 people annually about Rule #1.

Town lives in Jackson Hole, Wyoming."
Praise For Rule #1…
"Town's investment guide is manna from heaven… engaging and accessible… Town's ability to break down that philosophy into a detailed, step-by-step program that can be understood by any reader with basic math skills is unique… will leave readers feeling empowered and ready to manage their money themselves." —Publishers Weekly (starred review)

"Extraordinarily readable…provides investors with surefire tools to outperform costly advisors. Follow Town's simple, time-tested precepts, and even unsophisticated investors will leave most mutual fund managers in the dust." —Arthur Levitt, author of Take on the Street and former Chairman of the Securities and Exchange Commission

"A really smart, homework-driven read that tells you precisely how to do it. Rule #1 may be the clearest and best book out there to get you on the path to riches. This one's special!" —James J. Cramer, host of CNBC's "Mad Money" and Markets Commentator, thestreet.com

"Rule #1 is an investment Bible for our time. In fun, easy-to-understand words, Phil Town tells you how to buy quality stocks at a discount." —Rich Karlgaard, publisher, Forbes magazine, and author of LIFE 2.0

"For the individual investor, Rule No. 1 should be, 'Read Rule #1.' This book debunks a lot of myths in the market and provides pearls of common-sense wisdom…Indeed, Rule #1 rules." —Gene Marcial, Senior Writer, Business Week

"Rule #1's common-sense, pragmatic approach is money in the bank.  This step-by-step guide is methodically researched and terrifically accessible … Can you really beat the mutual fund mangers and so-called experts at their own game?  Hell yes!" —Jonathan Hoenig, Portfolio Manager, Capitalistpig Hedge Fund, and regular contributor to Fox News Channel

"Rule #1 is probably one of the most inclusive, no nonsense, fundamental books about investing in the stock market I've ever read. This book is a must-read for everyone; from beginner students of the market to super know-it-alls." —Danielle Hughes, President and CEO, Divine Capital Markets LLC

"A refreshing departure from those boring investing books… If you're tired of being shut out of how exactly the rich guys on Wall Street make money, this important book will teach you how to run with the bulls. It's priceless." —Elizabeth MacDonald, Senior Editor at Forbes Magazine; regular, "Forbes on Fox"