And a Bottle of Rum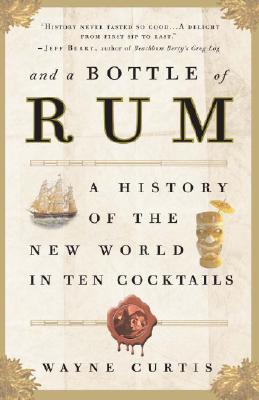 And a Bottle of Rum
A History of the New World in Ten Cocktails
Three Rivers Press (CA), Paperback, 9780307338624, 299pp.
Publication Date: June 5, 2007
* Individual store prices may vary.
Buy Now
or
Shop Local
Enter your zip code below to purchase from an indie close to you.
Description
One spirit, Ten cocktails, and Four Centuries of American History
"And a Bottle of Rum" tells the raucously entertaining story of America as seen through the bottom of a drinking glass. With a chapter for each of ten cocktails from the grog sailors drank on the high seas in the 1700s to the mojitos of modern club hoppers Wayne Curtis reveals that the homely spirit once distilled from the industrial waste of the exploding sugar trade has managed to infiltrate every stratum of New World society.
Curtis takes us from the taverns of the American colonies, where rum delivered both a cheap wallop and cash for the Revolution, to the plundering pirate ships off the coast of Central America, to the watering holes of pre-Castro Cuba, and to the kitsch-laden tiki bars of 1950s America. Here are sugar barons and their armies conquering the Caribbean, Paul Revere stopping for a nip during his famous ride, Prohibitionists marching against demon rum, Hemingway fattening his liver with Havana daiquiris, and today's bartenders reviving old favorites like Planter's Punch. In an age of microbrewed beer and single-malt whiskeys, rum once the swill of the common man has found its way into the tasting rooms of the most discriminating drinkers.
Awash with local color and wry humor, "And a Bottle of Rum" is an affectionate toast to this most American of liquors, a chameleon spirit that has been constantly reinvented over the centuries by tavern keepers, bootleggers, lounge lizards, and marketing gurus. Complete with cocktail recipes for would-be epicurean time-travelers, this is history at its most intoxicating.
"From the Hardcover edition.
About the Author
Wayne Curtis is the author of six novels, and many essays and short stories. He has contributed to such publications as the "Globe and Mail", the "National Post", the "Montreal Gazette, Fly Fisherman, Quill & Quire", and "Outdoor Canada". Winner of the David Adams Richards Award for short fiction, his stories have appeared in literary journals, been dramatized for CBC Radio, and filmed for CBC. He has been Writer-in-Residence at Berton House in Dawson City and Havana's prestigious Instituto Superior de Arte. In 2005 he was awarded an honorary doctorate from St. Thomas University in Fredericton. A native of Blackville, New Brunswick, Wayne caught his first salmon at the age of 8. He is an avid fly fisherman and spends half of each year on the Miramichi River where he finds time to work as a guide as well as write.
Praise For And a Bottle of Rum…
Toasts to And a Bottle of Rum

"And a Bottle of Rum is a fascinating tale of cultural metamorphosis, tracing rum's remarkable journey from colonial rotgut to SoHo cocktail. A book with as many revelations about American history as about this archetypally American drink." —Jack Turner, author of Spice: The History of a Temptation

"History never tasted so good. What Herbert Asbury did for the gangs of New York, Wayne Curtis does for rum: The profiteers who traded it, the pirates who raided it, the underclass who guzzled it, the mixologists who exalted it, and the corporations who homogenized it—Curtis tells their tale with style and sweep in a tour de force of social history, urban anthropology, and cocktail 'alcohology.' A delight from first sip to last." —Jeff Berry, author of Beachbum Berry's Grog Log, Intoxica!, and Taboo Table

"And a Bottle of Rum reveals the facts behind rum's colorful history while telling a great story of rebellion and rumbustion!" —Dale DeGroff, author of The Craft of the Cocktail

"Wayne Curtis breaks fascinating new ground in this very palatable history of the world-through-rum-colored glasses. The writing shows what makes modern journalism so great: clean, succinct, inclusive smoothness—not unlike great rum—and Curtis is a virtuoso at it." —Ted "Dr. Cocktail" Haigh, author of Vintage Spirits and Forgotten Cocktails