Biography of the Dollar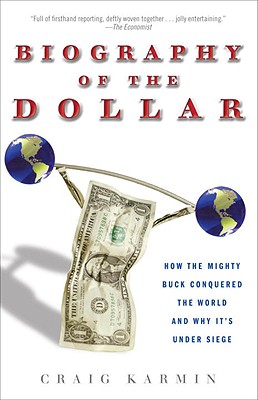 Biography of the Dollar
How the Mighty Buck Conquered the World and Why It's Under Siege
Three Rivers Press (CA), Paperback, 9780307339874, 265pp.
Publication Date: April 7, 2009
* Individual store prices may vary.
Buy at Local Store
Enter your zip code below to purchase from an indie close to you.
or
Not Currently Available for Direct Purchase
Description
A remarkable historical, political, and economic
examination of the dollar. Booklist
Craig Karmin's in-depth biography of the dollar examines the power of the Federal Reserve, the inner sanctums of foreign central banks that stockpile currency, and the little-known circles of foreign exchange traders who determine a currency's worth. It's a surprisingly entertaining and informative social history of the currency that makes the world economy go round, says Kirkus Reviews.
An incredible book that should be required reading for anyone whose future depends on understanding how the dollar is valued and manipulated." Timothy Ferriss, #1 New York Times bestselling author of The 4-Hour Workweek

An indispensible guide to understanding the way both the U.S. and the world economies work and the dollar's role in keeping the economic skids greased." Ram Charan, coauthor of Execution: The Discipline of Getting Things Done and The Game-Changer

It's hard to imagine a more entertaining book on such a vital subject. Bloomberg.com
Craig Karmin's fortuitously timed Biography of the Dollar argues that the greenback's recent plunge is more than just a market tumble. Portfolio

About the Author
CRAIG KARMIN is a reporter for The Wall Street Journal s Money & Investing section, where he covers the foreign stock markets, the currency market, and institutional investors such as pension funds and endowments"
Praise For Biography of the Dollar…
"For decades the dollar has reigned supreme, so much so that many take it as part of the natural order. But we're in an era of rapid change and the dollar is not immune. Craig Karmin's Biography of the Dollar is an indispensable guide to understanding the way both the U.S. and the world economies work and the dollar's role in keeping the economic skids greased. Karmin's great skill is his ability to take what in lesser hands would seem like complex and opaque ideas and make them transparent, understandable and relevant, whether you are an entrepreneur, work in a Fortune 500 company or simply trying to understand what in the world is going on."
—Ram Charan, author of Know-How and co-author of Execution: The Discipline of Getting Things Done

"After 50 pages, I was able to hold my own discussing currency trading with a vice president at JP Morgan Chase. This is an incredible book that should be required reading for anyone whose future depends on understanding how the dollar is valued and manipulated. Whether you work in finance, travel internationally, or simply haven't been taught why the dollar rises or falls in relation to other currencies, read Biography of the Dollar now—or suffer the consequences."
—Timothy Ferriss, #1 New York Times bestselling author of The 4-Hour Workweek