First Into Nagasaki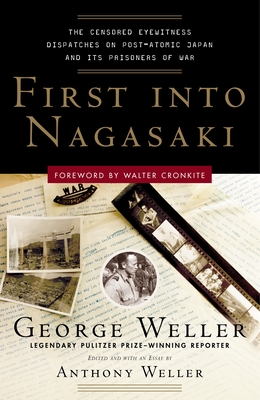 First Into Nagasaki
The Censored Eyewitness Dispatches on Post-Atomic Japan and Its Prisoners of War
Three Rivers Press (CA), Paperback, 9780307342027, 320pp.
Publication Date: December 31, 2007
* Individual store prices may vary.
Buy at Local Store
Enter your zip code below to purchase from an indie close to you.
or
Buy Here
Description
Lost for more than half a century, Pulitzer Prize-winning journalist George Weller's legendary dispatches from post-atomic-bomb Nagasaki were discovered after his death by his son, Anthony Weller. Here, this historic body of work is published for the first time.
About the Author
GEORGE WELLER was born in Boston and graduated from Harvard in 1929. As an admired but penniless young novelist, he began reporting on Greece and the Balkans for the New York Times in the 1930s, then made his name covering the war for the Chicago Daily News. He won a 1943 Pulitzer Prize for his story of an emergency appendectomy on a submarine in enemy waters. Throughout a long career Weller reported from five continents; he was a Nieman Fellow in 1947 and also won a 1954 George Polk Award. His work includes two highly praised WWII books, Singapore Is Silent and Bases Overseas. He died at his home in Italy, aged 95. ANTHONY WELLER, George Weller s son, is the author of three novels The Garden of the Peacocks, The Polish Lover, and The Siege of Salt Cove and a memoir of India and Pakistan called Days and Nights on the Grand Trunk Road. He has traveled widely for numerous magazines and is also a much-recorded jazz and classical guitarist. From the Hardcover edition."
Praise For First Into Nagasaki…
"This is an important book—important and gripping. For the first time in print we can read the details of the nuclear bombardment of Nagasaki, Japan, as written by the first American reporter on the terrible scene. . . [George Weller's] reports, so long delayed but now salvaged by his son, at last have saved our history from the military censorship that would have preferred to have time to sanitize the ghastly details . . . Also delayed by MacArthur's censorship were Weller's dispatches from his visits to American prison camps [w]here he uncovered the Japanese military's savage treatment of their American prisoners . . . There is so much in this volume that we never knew or have long forgotten. This volume of the last generation's history is an important reminder, a warning to inspire civilian vigilance."
—Walter Cronkite, from the Foreword

"Unearthed at last after six decades, George Weller's daring reportage from the ruins of Nagasaki has made an unforgettable and momentous book. From the remains of a scorched, fractured city to the unfathomable tragedy of Allied POWs in Japanese custody, he channeled his five senses straight to the page, giving eloquent testimony to the martyrs, American and Japanese alike, who were trapped in the Pacific war's bloody fun-house."
—James D. Hornfischer, author of Ship of Ghosts and The Last Stand of the Tin Can Sailors

"A powerful set of historical documents . . . [Anthony Weller's] intelligent concluding essay provides the framework for his father's raw copy."
—Wall Street Journal

"An invaluable historical resource for those seeking the truth...Weller, impersonating a colonel, sneaked into Nagasaki and brazenly demanded the help of Japanese military authorities...Weller interviewed eyewitnesses, survivors, doctors, and imprisoned Allied POWs and wrote a brilliant series of reports...These exceptionally important eyewitness accounts, collected and organized by a tireless war reporter dedicated to making the horrible truth known to the American public...vividly relate the everyday inhumanity of the Pacific war. Despite the sanitizing impulses of U.S. military censors, George Weller's words continue to speak eloquently about the horrors of war across a gap of sixty years."
—Boston Globe

"One of the great foreign correspondents of the twentieth century. Gutsy and enterprising . . . Weller wrote with a literary flair."—Chicago Sun-Times