Spanking the Donkey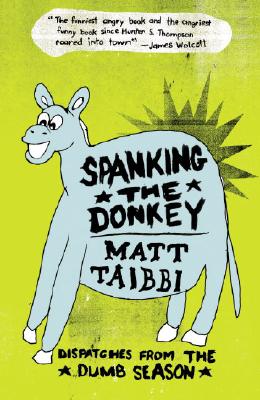 Spanking the Donkey
Dispatches from the Dumb Season
Three Rivers Press (CA), Paperback, 9780307345714, 347pp.
Publication Date: August 22, 2006
* Individual store prices may vary.
Buy at Local Store
Enter your zip code below to purchase from an indie close to you.
or
Not Currently Available for Direct Purchase
Description
The 2004 Election Was a Circus, and Matt Taibbi enjoyed a Front-Row Seat.
As a correspondent for the "New York Press," "The Nation," and" Rolling Stone," Matt Taibbi scoured the political landscape for hard-hitting news stories. But the closer he got to the politicians, the more pompous and vapid they appeared. How could he write anything meaningful about these puffed-up martinets, much less vote for them? Nevertheless, Taibbi forged on and continued his responsibilities as a serious campaign reporter though not without frequent bouts of blind panic, drug use, and donning a gorilla suit.
"Spanking the Donkey" indicts the surreal irrelevance of today's mainstream politics with barbed wit and caustic intelligence. Follow Taibbi as he covers the primary for the 2004 presidential election, joining him for a spot on John Kerry's campaign plane, face-to-face encounters with John Edwards's pancake makeup, enough Howard Dean press conferences to memorize the good doctor's stump speech by heart, and just to spice things up a two-month stint working undercover in a Republican campaign office in Orlando, Florida. Brimming with uncensored opinions and total truth, Taibbi captures the real American political mind; as a patron at Flo's Bar in Manchester, New Hampshire, eloquently puts it: They all suck . . . who's running?
Gonzo journalist Matt Taibbi will do anything . . . to bring political reporting back to life. "Spanking the Donkey" is all the more necessary in the aftermath of an election that harnessed enough liberal outrage to light the Vegas strip, cost more than a billion dollars, absorbed hundreds of hours we will never get back, and achieved absolutely nothing. "Salon

About the Author
MATT TAIBBI is a roving national reporter for "Rolling Stone" and a columnist for rollingstone.com. He's the author of "Spanking the Donkey, "a collection of his writings about the 2004 election. He lives in New York City.

W. David Rees is a former Principal Lecturer in Management at the University of Westminster. He has extensive consultancy experience in the UK and overseas, both in the private and public sectors. He is a Chartered Fellow of the Chartered Institute of Personnel Development and is a member of the Advisory Conciliation and Arbitration Service's panel of independent arbitrators.
Praise For Spanking the Donkey…
"The funniest angry book and the angriest funny book since Hunter S. Thompson roared into town." —James Wolcott

"Catch one of the funniest and most honest American political journalists argue that the electoral system is seriously, seriously busted." —Philadelphia City Paper

"Taibbi may be the only political writer in America that matters." —Hartford Advocate