The Splendid Table's, How to Eat Supper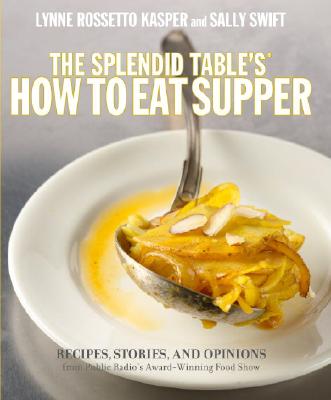 The Splendid Table's, How to Eat Supper
Recipes, Stories, and Opinions from Public Radio's Award-Winning Food Show
Clarkson Potter Publishers, Hardcover, 9780307346711, 338pp.
Publication Date: April 8, 2008
* Individual store prices may vary.
Buy at Local Store
Enter your zip code below to purchase from an indie close to you.
or
Buy Here
Description
Just when you thought the last thing the world needed was another book on weeknight cooking, along comes an entirely fresh take on the subject. As they do on their weekly show, host Lynne Rossetto Kasper and producer Sally Swift approach their topic with attitude and originality, making "The Splendid Table's How to Eat Supper" one of the most engaging cookbooks of this or any other year.
As loyal listeners know, Lynne and Sally share an unrelenting curiosity about everything to do with food. Their show, The Splendid Table, looks at the role food plays in our lives inspiring us, making us laugh, nourishing us, and opening us up to the world around us. Now they have compiled all the most trenchant tips, never-fail recipes, and everyday culinary know-how from the program in "How to Eat Supper," a kitchen companion unlike any other.
This is no mere cookbook. Like the show, this book goes far beyond the recipe, introducing the people and stories that are shaping America's changing sense of food. We don t eat, shop, or cook as we used to. Our relationship with food has intensified, become more controversial, richer, more pleasurable, and sometimes more puzzling. "How to Eat Supper" gives voice to rarely heard perspectives on food from the quirky to the political, from the grassroots to the scholarly, from the highbrow to the humble and shows the essential role breaking bread together plays in our world.
"How to Eat Supper" takes you through a plethora of inviting recipes simple enough to ensure success even if you ve never cooked before. And if you are experienced in the kitchen, you ll find challenging new concepts and dishes to spark your imagination.
About the Author
Lynne Rossetto Kasper is host of the nationally broadcast radio show "The Splendid Table with Lynne Rossetto Kasper, " Public Radio's food program and winner of the 1998 James Beard Award For Best National Radio Show on Food Her first book, "The Splendid Table Recipes from Emilia-Romagna, the Heartland of Northern Italian Food, " is the only winner of both the James Beard and Julia Child/IACP Cookbook-of-the-Year Awards as well as the Julia Child Best First Book Award.

Sally Swift lives in Brattleboro, Vermont. Born in 1913, she has been riding since she was eight years old.