American Lightning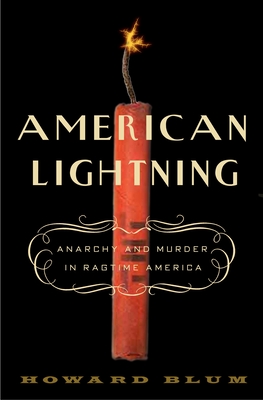 American Lightning
Terror, Mystery, and the Birth of Hollywood
Three Rivers Press (CA), Paperback, 9780307346957, 339pp.
Publication Date: October 6, 2009
* Individual store prices may vary.
Buy at Local Store
Enter your zip code below to purchase from an indie close to you.
or
Buy Here
Description
In this masterpiece of narrative history, acclaimed author Howard Blum evokes the original "crime of the century" and an aftermath even more dramatic than the crime itself-a seminal episode in America's history that would spark national debate and draw into its orbit master sleuth William J. Burns, crusading lawyer Clarence Darrow, and industry-shaping filmmaker D. W. Griffith.
"Hugely engaging . . . has tremendous verve . . . American Lightning throws valuable new light on an episode that seems, for us today, particularly pertinent. Terrorism happened here." -Los Angeles Times
"A fast-moving, skillfully constructed account . . . Blum's style is cinematic." -Chicago Sun-Times
"Compelling . . . a tense detective story." -Seattle Times
"A thumping-good drumroll of narrative history . . . the cross-country manhunt reads like a great mystery novel . . . Blum blows the dust off a page of America's own incendiary past and brings it to pulsating life." -Dallas Morning News

About the Author
HOWARD BLUM is the author of eight previous books, including the national bestsellers Wanted!, The Gold of Exodus, and Gangland. Currently a contributing editor at Vanity Fair, Blum was also a reporter at the New York Times, where he won numerous journalism awards and was twice nominated for the Pulitzer Prize for his investigative reporting. From the Hardcover edition.
Praise For American Lightning…
"Extraordinary…[reads] like a horseless-carriage episode of '24.'"
—Wall Street Journal

"An absorbing, novel-like narrative…masterfully crafted…Blum's dedication to digging for facts and adhering to journalistic principles in reporting this entangled and multifaceted tale l00 years after the fact raises comparisons to Truman Capote's diligence in writing IN COLD BLOOD…AMERICAN LIGHTNING is a must-read."
—USA Today

"Hugely engaging…has tremendous verve…AMERICAN LIGHTNING throws valuable new light on an episode that seems, for us today, particularly pertinent. Terrorism happened here."
—Los Angeles Times

"A fast-moving, skillfully constructed account…Blum's style is cinematic."
—Chicago Sun-Times

"Compelling…a tense detective story."
—The Seattle Times

"A thumping-good drum roll of narrative history…the cross-country manhunt reads like a great mystery novel…Blum blows the dust off a page of America's own incendiary past and brings it to pulsating life."
—Dallas Morning News

"Blum's engaging prose makes this scandal — with its O.J.-trial-like impact — come alive."
—Details

"In an approach reminiscent of Truman Capote's IN COLD BLOOD, Blum paints is characters in all their grandeur and tragedy, making them — and their era — come alive. Blum's prose is tight, his speculations unfailingly sound and his research extensive — all adding up to an absorbing and masterful true crime narrative."
—Publishers Weekly (Starred Review)

"The author's eye for scene-setting and subtle explication perfectly mimics a Griffith-style camera. Blum is at his best when exploring the motivations, the genius and the deep flaws of his three principals, men who occupied the same room only once in their lives, but who are memorably linked in this book. Unfailingly entertaining."
—Kirkus Reviews (Starred Review)

"Completely riveting…Blum chronicles the trial and its aftermath, building suspense with an astonishing cast of characters."
—Booklist (Starred Review)

"Master detective William Burns on one side and famed attorney Clarence Darrow on the other…A riveting account of 20th century homegrown political terrorism."
—Library Journal

"An unforgettable tale of murder, deceit, celebrity, media manipulation, and film as propaganda, when the bombing of the Los Angeles Times building exposed the deadly 'national dynamite plot' by trade unionists to terrorize America with one-hundred bombings in a doomed attempt to force capitalism to its knees. The relentless pursuit, capture, trial, and punishment of the bombers made a national hero of America's Sherlock Holmes, master detective Billy Burns, and entangled crusading defense lawyer Clarence Darrow in a reckless, nearly career-ending scheme to bribe witnesses and jurors and throttle justice. Gripping, surprising, often thrilling, AMERICAN LIGHTNING ranks among the most riveting works of narrative history."
—James L. Swanson, author of the Edgar Award-winning New York Times bestseller MANHUNT: THE 12-DAY CHASE FOR LINCOLN'S KILLER

"This is a wonderful story, with a cast of characters out of a Cecil B. DeMille epic, told in a style that is lucid, lyrical, even electric. Narrative history at its very best."
—Joseph J. Ellis, Pulitzer Prize winning author of FOUNDING BROTHERS and AMERICAN CREATION

"In AMERICAN LIGHTNING Howard Blum brings to life the tragic bombing of the Los Angeles Times in l910. Writing with narrative verve and finely-honed detective instincts, Blum fleshes out the real story behind this hideous act of domestic terrorism. Highly recommended!"
—Douglas Brinkley, New York Times bestselling author of THE GREAT DELUGE and TOUR OF DUTY and Professor of History, Rice University
 
"Howard Blum has given us a fascinating--and hugely entertaining--glimpse into early 20th-century America. The burgeoning labor movement, the dawn of the movies, bomb-toting anarchists, 'the crime of the century,' gimlet-eyed private detectives, Clarence Darrow,  you name it and it's here. And--eat your hearts out, novelists--it's all true."
—John Steele Gordon, author of EMPIRE OF WEALTH: THE EPIC HISTORY OF AMERICAN ECONOMIC POWER

"As good a true-crime tale as you could hope to find, well-researched, vivid, irresistible."
—Andrew Solomon, author of the National Book Award-winning THE NOONDAY DEMON

"Howard Blum has performed a literary miracle. He has brought back to vivid and relevant life a forgotten act of terrorism in America's past — and made it as suspenseful and crowded with unforgettable characters as any novel I have ever read."
—Thomas Fleming, New York Times bestselling author of THE OFFICERS' WIVES, TIME AND TIDE and THE PERILS OF PEACE

"AMERICAN LIGHTNING strikes at the soul of Los Angeles the way RAGTIME revealed turn-of-the-century New York. Like E. L. Doctorow, Howard Blum has captured a time and a place through masterful manipulation of true events, weaving an intricate tale of class war and intrigue that harks back to an era when L.A. was little more than a pueblo, frontier justice still prevailed and a fabulous cast of real-life characters dragged the future metropolis kicking and screaming into the 20th Century."
—Dennis McDougal, New York Times bestselling author of THE LAST MOGUL: LEW WASSERMAN, MCA, AND THE HIDDEN HISTORY OF HOLLYWOOD and PRIVILEGED SON: OTIS CHANDLER AND THE RISE AND FALL OF THE LA TIMES DYNASTY