The Good Teen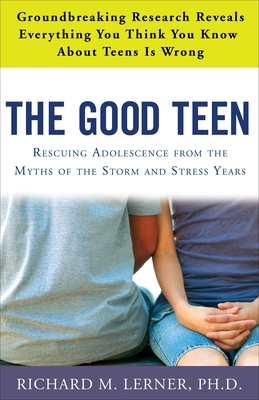 The Good Teen
Rescuing Adolescence from the Myths of the Storm and Stress Years
Three Rivers Press (CA), Paperback, 9780307347589, 257pp.
Publication Date: August 5, 2008
* Individual store prices may vary.
Buy Now
or
Shop Local
Enter your zip code below to purchase from an indie close to you.
Description
Who says the teen years have to be terrible?
Although the word teenager has become synonymous with trouble, the evidence is clear: Adolescents have gotten a bad rap--and this according to a landmark eight-year study of 4,000 teens from twenty-five states. In "The Good Teen," acclaimed researcher Richard M. Lerner sets the record straight. The book:
- Explores the academic origins of "the troubled teen," dismantling old myths and redefining normal adolescence
- Presents the five characteristics of teen behavior that are proven to fuel positive development--Competence, Confidence, Connection, Character, and Caring--and specific ways parents can foster them
- Envisions our children as resources to be developed, not problems to be fixed
- Clearly shows parents what to do when things really go wrong--all teens, no matter how troubled they seem, can be helped
- Encourages new thinking, new public policies, and new programs that focus on the strengths of teens
"There is no one in America today who understands teenagers better than Richard Lerner." --William Damon, author of "The Moral Child," professor
of education, and director of the Stanford Center on Adolescence, Stanford University.
About the Author
Richard M. Lerner is the Bergstrom Chair in Applied Developmental Science and the Director of the Applied Developmental Science Institute in the Eliot-Pearson Department of Child Development at Tufts University. A developmental psychologist, Lerner received a Ph.D. in 1971 from the City University of New York. He has been a fellow at the Center for Advanced Study in the Behavioral Sciences and is a fellow of the American Association for the Advancement of Science, American Psychological Association, and American Psychological Society. Prior to joining Tufts University, he held administrative posts at Michigan State University, Pennsylvania State University, and Boston College, where he was the Anita L. Brennan Professor of Education and the Director of the Center for Child, Family, and Community Partnerships. In 1994-95, he held the Tyner Eminent Scholar Chair in the Human Sciences at Florida State University. He is author or editor of 55 books and more than 360 scholarly articles and chapters. He edited Volume 1 ("Theoretical Models of Human Development") for the fifth edition of the "Handbook of Child Psychology". He is the founding editor of the "Journal of Research on Adolescence" and "Applied Developmental Science". He is known for his theory of, and research about, relations between life-span human development and contextual or ecological change. Lerner has done foundational studies of adolescents' relations with their peer, family, school, and community contexts and is a leader in the study of public policies and community-based programs aimed at the promotion of positive youth development. With Sage, he authored "America's Youth in Crisis: Challenges and Options for Programs and Policies" (1995), co-edited the four-volume "Handbook of Applied Developmental Science", and is co-editing the two-volume "Encyclopedia of Applied Developmental Science".

Israeloff, a former contributing editor of Parents magazine who writes regularly on family and psychological issues.
Praise For The Good Teen…
"The most prolific developmental psychologist of our era has distilled his decades of insight into The Good Teen, a very accessible analysis of adolescence as it deserves to be understood."
--Graham Spanier, President, Penn State University

"With unchallengeable research and analysis, Dr. Richard Lerner's terrific and very important book, The Good Teen, totally refutes and rejects the fear and demonization of teenagers so prevalent in America today--and shows us how we must recognize the treasure that teens are and work to develop fully their great potential, for the teens themselves and for our society."
--Former U. S. Senator Fred Harris, Chair of the Board of Trustees of the Milton S. Eisenhower Foundation.

"There is no one in America today who understands teenagers better than Richard Lerner. The Good Teen overflows with gem-like insights based on Lerner's own groundbreaking research, his "positive youth" perspective, and his own experience as a caring and successful parent. Readers will find lots of useful advice about questions that arise everyday in contemporary family life. "
--William Damon, author of The Moral Child, Professor of Education, and Director, Stanford Center on Adolescence, Stanford University

"This outstanding book, written by one of the nation's leading authorities on adolescent development, is a critical read for all interested in youth. It merges scholarship with anecdote to produce a volume that is as informative as it is engaging. For any parent, youth worker, educator or health professional as well, The Good Teen provides valuable insights that debunk the myth that this is an age of storm and stress."
--Robert Wm. Blum MD, MPH, PhD, William H. Gates Sr. Professor and Chair Department of Population, Family and Reproductive Health, Johns Hopkins Bloomberg School of Public Health

"At a time when poverty, inequality and school segregation are increasing in a country with over 2 million incarcerated, the moral and political imperative of The Good Teen is to direct Richard Lerner's wisdom and research into a national youth investment policy for the truly disadvantaged that is resourced to scale."
--Alan Curtis, Ph.D., President and CEO, Eisenhower Foundation