A Good and Happy Child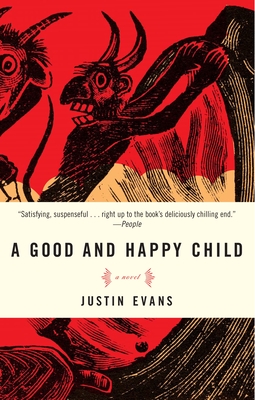 A Good and Happy Child
Broadway Books, Paperback, 9780307351289, 336pp.
Publication Date: April 22, 2008
* Individual store prices may vary.
Buy at Local Store
Enter your zip code below to purchase from an indie close to you.
or
Buy Here
Description
A Washington Post Best Book of 2007
Beautifully written and perfectly structured. . . . This novel is much more than The Omen for the latte generation, and Evans cleverly subverts expectations at every turn. Washington Post
In the smart and suspenseful A Good and Happy Child, a psychological thriller in the tradition of Donna Tartt's The Secret History with shades of The Exorcist, a young man reexamines his childhood memories of strange visions and erratic behavior to answer disturbing questions that continue to haunt him and his new family.
A] satisfying, suspenseful first novel. . . . Young George's intriguing story unbalances the reader right up to the book's deliciously chilling end.
People
A scary, grown-up ghost story that combines Southern gothic with more than a twist of The Exorcist. . . . Combine s] mind-bending storytelling with excellent prose.
Portland Tribune
Think Rosemary's Baby plus . . . told in the kind of prose that mesmerizes, sweeping the reader along so fast that there's no time to ask questions.
Hartford Courant
A] dazzling debut . . . part psychological thriller, part horror story.
Chicago Tribune
Relat es] his otherworldly suspense story with the cool, calm eye of a skeptic.
Entertainment Weekly (A )
About the Author
JUSTIN EVANS is a strategy and business development executive in New York City, where he lives with his wife and their two children. This is his first novel.
Praise For A Good and Happy Child…
"Evans exorcises the demons of adolescence in his smart psychological thriller."
—Vogue

"[A] satisfying, suspenseful first novel. . . . Young George's intriguing story unbalances the reader right up to the book's deliciously chilling end."
—People

"A psychological thriller that keeps the reader on edge until the last page. . . . A haunting story."
—Kirkus Reviews (starred review)

"This stunning novel marks the debut of a serious talent. Evans manages to take a familiar concept and infuse it with psychological depth and riveting suspense. . . . Evans subtly evokes terror and anxiety with effective understatement. The intelligence and humanity of this thriller should help launch it onto bestseller lists."
—Publishers Weekly (starred review)

"This debut novel grips readers from the first chapter. . . . Evans delivers a creepy and entertaining story full of perfectly written characters."
—Library Journal (starred review)

"This is an edgy, compelling read–more unnerving than scary–that will slide it hooks deep inside and throttle you more than a few times before it's all over."
—Booklist

"A Good and Happy Child is a rare achievement--a literary horror story that's deeply intelligent, beautifully written, and seriously chilling. If Justin Evans's provocative and creepy first novel doesn't keep you awake at night, you must be taking some pretty strong medication."
—Tom Perrotta, author of Little Children

"Relating his otherworldly suspense story with the cool, calm eye of a skeptic, Evans makes the propulsive final chapter all the more horrifying."
—Entertainment Weekly

"A Good and Happy Child unsettles the imagination with its twisting path into a private hell. Evans's story tingles with psychological suspense as it explores the subterranean world where faith meets fear, reminding us how hard it is to rid ourselves of our demons."
—Keith Donohue, author of The Stolen Child

"Everyone has a little demon inside them. And some darkness. But it's the revelation that makes A Good and Happy Child so incredibly scary and unnerving. Man, did this get under my skin in the very best way. Get ready to face your demon."
—Brad Meltzer, author of The Book of Fate

"Don't be surprised if you find yourself sleeping with the lights on."
—Parade

"A scary, grown-up ghost story that combines Southern gothic with more than a twist of The Exorcist."
—Portland Tribune

"A first novel about which there is a justified buzz, its entertaining malevolence reminiscent of another fat first book, Donna Tartt's The Secret History."
—Houston Chronicle

"Think 'Rosemary's Baby'-plus . . . told in the kind of prose that mesmerizes."
—Harford Courant

"Beautifully written and perfectly structured. The result is a literary thriller of the first order."
—Washington Post

"[A] dazzling debut."
—Chicago Tribune