Blindsided by a Diaper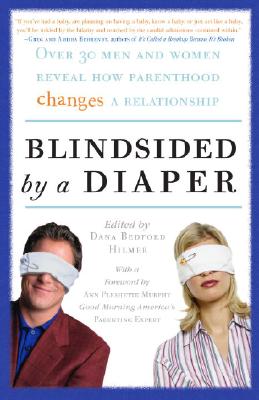 Blindsided by a Diaper
Over 30 Men and Women Reveal How Parenthood Changes a Relationship
Three Rivers Press, Paperback, 9780307351340, 336pp.
Publication Date: June 19, 2007
* Individual store prices may vary.
Buy at Local Store
Enter your zip code below to purchase from an indie close to you.
or
Not Currently Available for Direct Purchase
Description
It used to be just the two of you. Now you have a baby, or maybe even a few kids, and the luxury of time—to frolic, talk, romance, and simply hang out—is gone, replaced by a big dose of chaos and the demands of little people who rule your home with small, adorable iron fists.

Parenthood brings changes to your relationship, changes that are at once profound, beautiful, irrevocable, and scary. These changes knock you off balance, forcing even the most secure couples to go back to the basics in figuring out how to define a new version of "we."

In Blindsided by a Diaper, some of today's most popular writers dare to tell what it's really like for couples in the trenches of the parenting experience. They boldly reveal intimate aspects of their relationships, sharing the choices they've made, the joy and frustrations they've experienced, the trials and tribulations of their sex lives, the lessons they have learned, and how their lives together as parents may or may not be what they were expecting. The writers have quite literally invited you inside their bedrooms, their minds, and their lives as parents.
About the Author
Dana Bedford Hilmer is a writer and editor who worked in New York magazine publishing for twelve years. She lives in Connecticut with her husband and three young sons.
Praise For Blindsided by a Diaper…
"If you've had a baby, are planning on having a baby, know a baby or just act like a baby you'll be tickled by the hilarity and touched by the candid admissions contained within. We loved Blindsided by a Diaper and related to it like only new parents can."
-Greg and Amiira Behrendt, authors of It's Called a Breakup Because It's Broken and It's Just a F***ing Date

"Most books about parenthood misguidedly focus on children. This savvy collection recognizes what PARENTS need — camaraderie, wisdom, humor and most of all, the knowledge that we are not alone in this crazy, chaotic new world."
-Leslie Morgan Steiner, Mommy Wars editor and washingtonpost.com columnist for "On Balance," the #1 mommy blog on the web

"The stories in this collection are thrillingly honest, laugh out loud funny, and heartbreakingly poignant. It's a must for couples who didn't see it coming and need to know they're not alone."
-Brett Paesel, author, Mommies Who Drink: Sex, Drugs, and Other Distant Memories of an Ordinary Mom

"To sleep, or to sleep with you — that is the question we never thought we'd be asking. For a new generation of sleepless, sexless parents, Blindsided by a Diaper shines a light inside the American bedroom and genuinely illuminates the state of our unions."
-Ian Kerner, Ph.D., Sex therapist and author of She Comes First

"This terrific collection of "what-it's-like-for-me accounts will stand a treasured source of reassurance, insight, laughter, and hope to new parents in the very thick of it."
-Harriet Lerner, Ph.D., author of The Dance of Anger and The Mother Dance