Agent Zigzag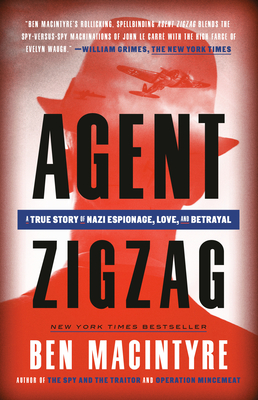 Agent Zigzag
A True Story of Nazi Espionage, Love, and Betrayal
Three Rivers Press (CA), Paperback, 9780307353412, 364pp.
Publication Date: August 12, 2008
* Individual store prices may vary.
Buy at Local Store
Enter your zip code below to purchase from an indie close to you.
or
Buy Here
Description
"NEW YORK TIMES" BESTSELLING AUTHOR OF "A SPY AMONG FRIENDS
"
A "New York Times" Notable Book of the Year
A "Washington Post" Best Book of 2007
One of the Top 10 Best Books of 2007 ("Entertainment Weekly")
"New York Times" Best of the Year Round-Up
"New York Times" Editors Choice
Eddie Chapman was a charming criminal, a con man, and a philanderer. He was also one of the most remarkable double agents Britain has ever produced. Inside the traitor was a man of loyalty; inside the villain was a hero. The problem for Chapman, his spymasters, and his lovers was to know where one persona ended and the other began. Based on recently declassified files, "Agent Zigzag" tells Chapman's full story for the first time. It's a gripping tale of loyalty, love, treachery, espionage, and the thin and shifting line between fidelity and betrayal.
About the Author
Ben Macintyre is the author of several books, most recently "The Englishman's Daughter "(FSG, 2002). A senior writer and columnist for "The Times" of London, he was the newspaper's correspondent in New York, Paris, and Washington D.C. He now lives in London.
Praise For Agent Zigzag…
"Macintyre is the more graceful writer; Agent Zigzag has a clarity and shape that make it the more fluid account… I would give a personal nod to Macintyre's as the better book… A review cannot possibly convey the sheer fun of this story… or the fascinating moral complexities."
—New York Times Book Review

"[Agent Zigzag's] incredible wartime adventures, recounted in Ben Macintyre's rollicking, spellbinding Agent Zigzag blend the spy-versus-spy machinations of John le Carré with the high farce of Evelyn Waugh."
—The New York Times

"Chapman's story has been told in fragments in the past, but only when MI5 declassified his files was it possible to present it in all its richness and complexity. Macintyre tells it to perfection, with endless insights into the horror and absurdity of war….Eddie Chapman was a patriot, in his fashion, and this excellent book finally does him justice."
—The Washington Post Book World

"Fact sounds like fast-moving fiction in this espionage saga of a man who was probably the most improbable double agent to emerge in World War II. ... The author has written an enormously fascinating book about an enormously fascinating man. The late Eddie Chapman would have been delighted to at last capture the limelight denied him by the restrictions of his wartime profession. The question now is, who will make the movie and who will play the lead? Too bad Errol Flynn is dead."
—Washington Times

"[R]ichly descriptive, marvelously illuminating, and just plain brilliant….One could not think of a better subject for Macintyre's curious mind than the man whom British intelligence dubbed Agent Zigzag in December 1942…. [A] plot - impossible and pointless to summarize - that is as briskly paced and suspenseful as any novel's. Macintyre's diligent research and access to once-secret files combine here with his gift of empathetic imagination and inspired re-creation. He writes with brio and a festive spirit and has quite simply created a masterpiece."
—The Boston Globe

"Superb. Meticulously researched, splendidly told, immensely entertaining and often very moving."
—John le Carré

"Macintyre [relates] his compellingly cinematic spy thriller with verve."
—Entertainment Weekly (an "EW Pick")

"Agent Zigzag is a true-history thriller, a real spy story superbly written. It belongs to my favorite genre: the 'Friday night book'–start it then, because you will want to stay with it all weekend."
—Alan Furst

"A portrait of a man who double-crossed not only the Nazis, but just about every other principle and person he encountered. In doing so, Eddie Chapman made all thriller writers' jobs harder, because this spy tale trumps any fiction."
—Men's Journal

"One of the most extraordinary stories of the Second World War."
—William Boyd, The Sunday Telegraph

"This is the most amazing book, full of fascinating and hair-raising true-life adventures…and beautifully told. For anyone interested in the Second World War, spying, romance, skullduggery or the hidden chambers of the human mind, it would be impossible to recommend it too highly."
—The Mail on Sunday

"Speaking as a former MI6 officer, take it from me: there are very few books which give you a genuine picture of what it feels like to be a spy. This is one…. an enthralling war story."
—The Daily Express

"Macintyre tells Chapman's tale in a perfect pitch: with the Boys' Own thrills of Rider Haggard, the verve of George MacDonald Fraser and Carl Hiassen's mordant humor. . . . Hugely entertaining."
—The [London] Observer

"If Ben Macintyre had presented this story as a novel, it would have been denounced as far too unlikely: yet every word of it is true. Moreover he has that enviable gift, the inability to write a dull sentence. An enthralling book results from the opening up of once deadly secret files."
—The Spectator

"Splendidly vivid. . . . There are endless delightful twists to the tale."
—Max Hastings, The [London] Sunday Times

"Ben Macintyre's rollicking, thriller-paced account…is a Boy's Own adventure par excellence and a gripping psychological case study of a man 'torn between patriotism and egotism.'"
—Time Out

"Macintyre succeeds in bringing Chapman vividly to life. It is unlikely that a more engaging study of espionage and deception will be published this year."
—The Times

"A preternaturally talented liar and pretty good safecracker becomes a "spy prodigy" working concurrently for Britain's MI5 and the Nazi's Abwehr.

London Times newsman and popular historian Macintyre (The Man Who Would be King: The First American in Afghanistan, 2004, etc) reports on the life and crimes of the late Eddie Chapman using interviews, newly released secret files and, cautiously, the English spy's less-reliable memoirs. Just launching his criminal career when World War II began, the dashing adventurer was jailed in the Channel Island Jersey. Volunteering his services to the occupying Fatherland, he was taken to France and schooled in the dark arts of espionage and the wicked devices of spies by the likes of convivial headmaster Herr von Gröning and spymaster Oberleutnant Praetorius. Then the new German agent signed a formal espionage contract (under which his expected rewards were to be subjected to income tax). Dropped in England's green and pleasant land to commit sabotage, he instead reported directly to His Majesty's secret service. There they called their man 'Agent ZigZag.' The Germans had named him "Fritzchen." Little Fritz, with the help of a magician, fooled his Nazi handlers into believing he had wrecked an aircraft factory. After a crafty return to Germany, he made another parachute drop home to report on an anti-sub device and the accuracy of the new V-1 flying bomb. The energetic adventurer from a lower stratum of British society was being run by Oxbridge gentlemen and by aristocrats of Deutschland at the same time. Or perhaps he was running them. Adorning his exploits were several beautiful women and an Iron Cross. It is a remarkable cloak-and-dagger procedural and a fine tale of unusual wartime employment….

One of the great true spy stories of World War II, vividly rendered."
—Kirkus