The Orgasmic Diet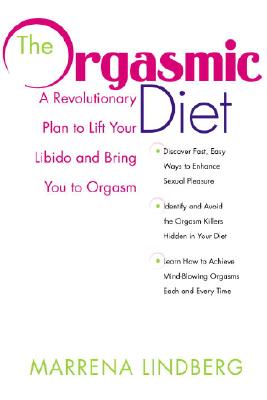 The Orgasmic Diet
A Revolutionary Plan to Lift Your Libido and Bring You to Orgasm
Three Rivers Press (CA), Paperback, 9780307353436, 197pp.
Publication Date: January 8, 2008
* Individual store prices may vary.
Buy at Local Store
Enter your zip code below to purchase from an indie close to you.
or
Not Currently Available for Direct Purchase
Description
Follow this simple plan to have the best sex of your life
For the millions of women unable to reach orgasm or for those who want to take their sex lives to a whole new level, here is an easy-to-follow diet and exercise plan proven to increase libido and bring women to orgasm every time they have sex. Safe, healthy, and holistic, The Orgasmic Diet includes four simple parts:
A diet low in carbohydrates that avoids orgasm killers like refined sugar and caffeine
High doses of fish oil, which has numerous health benefits
Internal exercises that go far beyond Kegels
Maintenance of serotonin and dopamine levels for healthy brain function and mind-blowing sex
Unlike other female sexual dysfunction books out there, which focus on psychological issues or new positions to try, The Orgasmic Diet is the first-ever scientifically supported nutritional and exercise method to improve female libido and orgasmic ability. It will change your sex life forever.
About the Author
MARRENA LINDBERG spent two years working with doctors in the field of female sexuality to understand sexual dysfunction and to prepare for clinical trials of The Orgasmic Diet program.
Praise For The Orgasmic Diet…
"At first, I wondered why my heart was pounding, and my mind racing with naughty thoughts...Then it hit me - the diet was working! The results of this delicious diet snuck up on me but were most definitely welcome. Easy to follow and lots of fun, this is one eating plan you'll have no trouble sticking to. Even without following every tenet, I was aroused around the clock. Lindberg's road map to sexual bliss is a simple alternative for those looking to rev up their libidos."
-Rachel Kramer Bussel, Penthouse contributing editor and former Village Voice sex columnist

"Finally a diet we'll all want to try. How great is this? Nourish your body and libido at the same time. Believe me, I read about sex all day long and I couldn't put this book down. I read it cover to cover because I wanted all the information goodies packed inside. Her researched work is sound and oh so simple to follow. For the first time in my life, I'm going to try a diet!"
- Lou Paget, author of The Big O and Orgasms: How to Have Them, Give Them, and Keep Them Coming

"Marrena's approach to sex and orgasm is fresh and original, and her book is sprinkled with wisdom and fresh ideas.  Upon finishing it, I upped my does of fish oil, and lowered my caffeine.  Time will tell if the orgasmic diet makes me more orgasmic, but it's certain to increase my energy and improve my health.  So I have nothing to lose, and possibly more pleasure to gain. The word 'diet' can be such a turn off, but after reading this book, "diet" sounds very sexy and fun!"
-Annie Sprinkle, Ph.D., Sex educator and author of Dr. Sprinkle's Spectacular Sex.

"The Orgasmic Diet not only attests to the power of good health, but the importance of sexual fulfillment. Lindberg, who can make herself climax 40 times a day, is not only the personification of a mind/body connection, but one who deserves serious attention. For obvious reasons, I'm flexing my PC muscles and popping fish oil pills as I type this."
-Kristina Grish, contributing editor, Women's Health and Marie Claire magazine

"The Orgasmic Diet is a fun, inspiring and original book based on the simple realization that ecstatic and orgasmic states can be generated through the food you eat. The quality of the food, the ingredients, provide the basic alchemy which generates "prana" or energy. The more energy we have, the better sex is ! I recommend an orgasmic diet for a great love life !
-Margot Anand, author The Art of EveryDay Ecstasy and The Art of Sexual Ecstasy

"The Orgasmic Diet is a really a revolutionary book filled with easy to follow advice on how to ignite your sex life by following a unique diet consisting of high-grade fish oil, dark chocolate and vitamins, combined with specific exercises to enhance pelvic floor strength.  The diet and exercises can increase libido, arousal, and orgasmic potential. Many women discussed the positive effects of the diet on the Bulletin Board on my web site. They say it works for them!"
 -Dr. Jennifer Berman, medical director, founder of bermansexualhealth.com, and co-author of For Women Only and Secrets of the Sexually Satisfied Woman

"We always knew food and sex was a great combination, and The Orgasmic Diet proves that a little bit of what you fancy really does do you good. More than ever, this proves that you are what you eat! Mind you, you'll never look at soy sauce in the same way again..."
- Alex Williams, Tantric sexpert and author of Kitchen Kama Sutra

"I read Lindberg's book in one sitting and can't wait to try the complete plan for myself. My partner and I already share a square of dark chocolate before bed, leaving us with a sweet taste in our mouths and a smile on our lips. With Lindberg's Orgasmic Diet, women everywhere will reap the sexual benefits of eating high-quality foods. This is one diet worth indulging in."
- Martha Hopkins, author of The New InterCourses: an Aphrodisiac Cookbook

"Although I do not separate clitoral and vaginal orgasms because I want both kinds of stimulation, and I'd never give up my vibrator, I'm all for Kegels, a balanced diet, exercise, fish oil and dark chocolate."
-Betty Dodson, PhD, Author of Sex for One and Orgasms for Two