Carbon Shift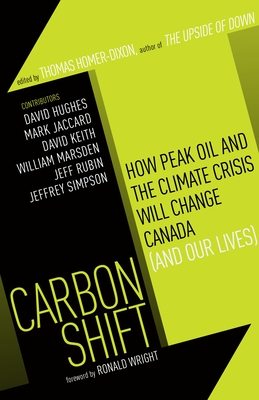 Carbon Shift
How Peak Oil and the Climate Crisis Will Change Canada (and Our Lives)
Vintage Books Canada, Paperback, 9780307357199, 230pp.
Publication Date: April 13, 2010
* Individual store prices may vary.
Buy at Local Store
Enter your zip code below to purchase from an indie close to you.
or
Buy Here
Description
"We are now so abusing the Earth that it may rise and move back to the hot state it was in fifty-five million years ago, and if it does, most of us, and our descendants, will die."
-James Lovelock, leading climate expert and author of The Revenge of Gaia

"I don't see why people are so worried about global warming destroying the planet - peak oil will take care of that."
-Matthew Simmons, energy investment banker and author of Twilight in the Desert: The Coming Saudi Oil Shock and the World Economy

The twin crises of climate change and peaking oil production are converging on us. If they are not to cook the planet and topple our civilization, we will need informed and decisive policies, clear-sighted innovation, and a lucid understanding of what is at stake. We will need to know where we stand, and which direction we should start out in. These are the questions Carbon Shift addresses.

Thomas Homer-Dixon, author of The Ingenuity Gap and The Upside of Down, argues that the two problems are really one: a carbon problem. We depend on carbon energy to fuel our complex economies and societies, and at the same time this very carbon is fatally contaminating our atmosphere. To solve one of these problems will require solving the other at the same time. In other words, we still have a chance to tackle two monumental challenges with one innovative solution: clean, low-carbon energy.

Carbon Shift brings together six of Canada's world-class experts to explore the question of where we stand now, and where we might be headed. It explores the economics, the geology, the politics, and the science of the predicament we find ourselves in. And it gives each expert the chance to address what they think are the most important facets of the complex problem before us.

There are no experts in Canada better positioned to explain the world that awaits us just beyond the horizon, and no better guide to that future than this collection of their thoughts. Densely packed with information, but accessibly written and powerfully timely, Carbon Shift will be an indispensable handbook to the difficult choices that lie ahead.

David Hughes is a former senior geoscientist with the Geological Survey of Canada

David Keith is Canada Research Chair in Energy and the Environment, University of Calgary

Jeff Rubin is Chief Economist, Chief Strategist and Managing Director, CIBC World Markets

Mark Jaccard is professor of environmental economics in the School of Resource and Environmental Management at Simon Fraser University and a member of the Intergovernmental Panel on Climate Change (IPCC)

William Marsden is an investigative reporter and author of Stupid to the Last Drop: How Alberta Is Bringing Environmental Armageddon to Canada (And Doesn't Seem to Care)

Jeffrey Simpson is a Globe and Mail national columnist and author, with Mark Jaccard, of Hot Air: Meeting Canada's Climate Change Challenge

With a foreword by Ronald Wright, author of A Short History of Progress and What is America?
About the Author
Thomas Homer-Dixon, or "Tad" as he is known to his friends and colleagues, is Director of the Center for the Study of Peace and Conflict at the University of Toronto, and Associate Professor in the Department of Political Science at the University of Toronto. He was born in Victoria, British Columbia, in 1956 and grew up in a rural area outside the city. After studying for two years at the University of Victoria in the late-1970s, he moved to Ottawa, where in 1980 he received his B.A. in Political Science from Carleton University. He then founded a national student organization that encouraged debate on the ethical implications of scientific research, and he traveled widely overseas.
In 1983, he began graduate work in Political Science at MIT in Cambridge, Massachusetts, where he studied international relations, defense and arms control policy, and conflict theory. He also read widely in social psychology, cognitive science, artificial intelligence, philosophy of mind and language, and environmental science. After completing his Ph.D. in 1989, he moved to the University of Toronto and, in the subsequent eight years, led several international research projects examining the links between environmental stress and violence in developing countries. In recent years, his research has focused on how societies adapt to complex economic, ecological, and technological change.
Besides The Ingenuity Gap, his books include Environment, Scarcity, and Violence (Princeton University Press, 1999) and, coedited with Jessica Blitt, Ecoviolence: Links among Environment, Population, and Security (Rowman & Littlefield, 1998). Dr. Homer-Dixon has been invited to speak about his research at Yale, Harvard, Princeton, and Cornell Universities, UC Berkeley, MIT, West Point, Oxford and Cambridge Universities, the World Economic Forum in Davos, Switzerland, and the Council on Foreign Relations in New York. He twice briefed Al Gore during his tenure as Vice President of the United States.



Ronald Wright's critically acclaimed first novel, "A Scientific Romance", was a "New York Times "Notable Book. His nonfiction includes "Stolen Continents", an award-winning history of the Americas, and "Time Among the Maya". He lives in Port Hope, Ontario.
Praise For Carbon Shift…
"Homer-Dixon clearly sets the scene. He correctly argues that cheap oil has undermined our economic models, and business as usual is no longer an option."
–Andrew Nikiforuk, The Globe and Mail

"And that's why the brief collection of essays in Carbon Shift really matters. Edited by Thomas Homer-Dixon, an intellectual straight shooter, the book offers six distinct point of views about Canada's troublesome twins: climate change and peak oil and their central role in Canada's discordant future."
–Andrew Nikiforuk, The Globe and Mail

"This book works because it's a set of essays by six people from different backgrounds: two oil experts, two economists, and two from newspapers. Oil has a lot of angles (if a liquid can have angles), and it's a relief to see someone making an attempt to bring this variety."
–Tom Spears, The Ottawa Citizen