Crawling from the Wreckage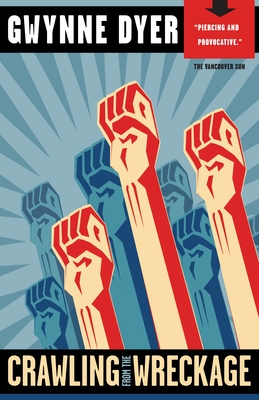 Crawling from the Wreckage
Vintage Books Canada, Paperback, 9780307358929, 359pp.
Publication Date: August 9, 2011
* Individual store prices may vary.
Buy at Local Store
Enter your zip code below to purchase from an indie close to you.
or
Not Currently Available for Direct Purchase
Description
Gwynne Dyer is cheering up. Sure, the past decade has had more than its share of stupid wars, obsessions about terrorism, denial about climate change, rapacious turbo-capitalism, and lies, lies, lies. But signs of progress actually do abound. While the world is far from perfect as we embark on a fresh decade, Dyer believes that the "sense of sliding out of control towards ten different kinds of disaster has gone." When things go wrong it's always easy to pin blame but singling out the forces that lead to positive change can be trickier.
In this illuminating collection of columns from the last five years, Gwynne Dyer ferrets out the signs of hope without overlooking the issues that remain seemingly intractable. Mining the events of recent history, Dyer contextualizes the recent past and anticipates what the future might have in store. This journalist's beat is global: from Africa to South America, from Europe to the Middle East, and any other region with a political pulse.
Acerbic and iconoclastic, Dyer has never been afraid to call em like he sees em and we are all the better for his trademark candour and the breadth of his knowledge and expertise. For anyone seeking to understand the larger forces that shape our society and our world, "Crawling from the Wreckage" makes for necessary reading.
About the Author
Gwynne Dyer has worked as a freelance journalist, columnist, broadcaster, filmmaker, and lecturer on international affairs for more than twenty years but he was originally trained as an historian. Born in Newfoundland in 1943, he earned degrees from Canadian, American, and British universities, finishing with a Ph.D. in Military and Middle Eastern History from the University of London. He went on to serve in three navies and to hold academic appointments at the Royal Military Academy Sandhurst and at Oxford University. Since 1973, he has written a twice-weekly column on current events that is published in more than 175 newspapers worldwide and translated into more than a dozen languages. Dyer is the author of the award-winning book "War, " "Ignorant Armies, "and "Future: Tense". He lives in London, England.
Praise For Crawling from the Wreckage…
"It is his clear-eyed realism, coupled with an apparently encyclopedic knowledge of international affairs, that makes [Dyer's] commentary so bracing. . . . His analysis is pointed and refreshing."
 — Steven W. Beattie, Quill & Quire
 
"Piercing and provocative."
 — The Vancouver Sun
 
"Smart, at times pithy, and always witty . . . Dyer's collection has something for everyone."
 — Winnipeg Free Press