Hell Before Breakfast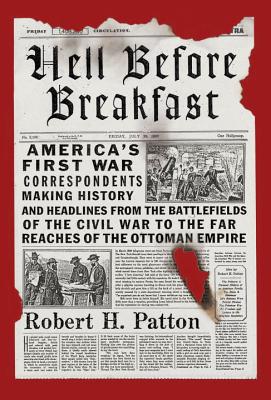 Hell Before Breakfast
America's First War Correspondents Making History and Headlines, from the Battlefields of the Civil War to the Far Rea
Pantheon Books, Hardcover, 9780307377210, 345pp.
Publication Date: April 29, 2014
* Individual store prices may vary.
Buy at Local Store
Enter your zip code below to purchase from an indie close to you.
or
Not Currently Available for Direct Purchase
Description
The first war correspondent, William H. Russell of "The Times "of London, described himself and his profession as the miserable parent of a luckless tribe. Others saw it differently: the war correspondent became the stuff of dreams and an urgent romantic calling. . . .
Now, Robert H. Patton, acclaimed historian, author of "The Pattons" ( Exceptional "The Washington Post;" Truly remarkable John S. Eisenhower) and "Patriot Pirates" ( Soul-stirring as good as reading a Patrick O Brian novel, except that every word is true Michael Korda), rediscovers and celebrates, in "Hell Before Breakfast, "America's first war correspondents, forgotten today but legends in their time. Here are the men who, between 1850 and 1914, and particularly during America's Civil War and the Spanish-American War, led the most romantic and thrilling of lives on the edgiest frontiers of time and space, where empires fell and dynasties flourished; they were correspondents who saw the world, broke the story, were making the news during the years when newspapers made available the most foreign of landscapes and their circulation wars were revolutionizing contemporary life, shaping global events, and creating history.
Patton writes of the decades of lightning progress and high adventure, when America was emerging as a great power and the monarchies of Europe battled for dominance through a series of brief, bloody imperial wars; when the newly discovered electric telegraph enabled these extraordinary first-person dispatches to be splashed across the daily newspapers then proliferating on both sides of the Atlantic.
Through the eyes (and minds) of American adventurers, soldiers, and artists-turned-correspondents Mark Twain and the painter John Millet among them we see what they saw and what they brought to life: the Civil War, the Austro-Prussian War, the Franco-Prussian War, the Russo-Turkish War. Patton writes about "New York Herald "reporter Henry Stanley, who led a caravan from the Tanzanian coast into the uncharted cannibal country and, after a 236-day trek, discovered the long lost and presumed dead Dr. David Livingstone . . . about Archibald Forbes of the London "Daily News" bringing to life in his dispatches the frantic assembly of barricades along Paris streets as royalists and Communists fought with bayonets following the Prussian invasion.
Here are the fearless young correspondents, among them Henry Villard of Bavaria, a journalist who covered the Civil War and ended up a financial titan, head of the Northern Pacific Railway and an early investor in the company that would ultimately become General Electric; and George Smalley, chief war correspondent of the "New York Tribune, " who watched for twenty-four hours as the Union Army of the Potomac and the Confederate Army of Northern Virginia fought in the cornfields and woodlands around Antietam Creek.
These correspondents were at center stage and, through their on-the-spot reporting, became legends in their time. Their intrepid spirit and sense of adventure inspired generations of storytellers, explorers, artists, writers, statesmen and politicians, and even moviemakers from Rudyard Kipling and Winston Churchill to Theodore Roosevelt, D. W. Griffith, and Cecil B. DeMille men whose adolescence was shaped during this spectacular age of war correspondence.
About the Author
ROBERT H. PATTON holds degrees in literature and journalism from Brown University and Northwestern University. He worked as a Capitol Hill reporter, a commercial fisherman, and a real estate developer before publishing his family memoir, "The Pattons, " to wide acclaim in 1994. He lived in Louisiana before settling in Darien, CT, with his wife.
Praise For Hell Before Breakfast…
Praise for Robert H. Patton's
 
HELL BEFORE BREAKFAST
 
"Patton follows a dozen of the 19th century's best war correspondents, from the battlefields of the Civil War to the deserts of Central Asia.  The portraits -- of American, French, German, Russian and Turkish men and officers -- are sharply drawn, and some of the scoops, like the 'Bulgarian Horrors' of 1876 still send a chill up the spine."
 
-Geoffrey Wawro, author of A Mad Catastrophe and Director, University of North Texas Military History Center.
 
"Epic…splendidly written…Patton has once again proven that he is a gifted writer with a keen eye for chronicling their tales in a way that is both entertaining and insightful."
 
-Carlo D'Este, author of Patton: A Genius For War andWarlord: A Life of Churchill at War, 1874-1945
 
"A fascinating cast of characters…Patton details major conflagrations and social and technological changes amid the gore of war and the prose of reporters of another era."
                                                                   -Booklist