Little Boy Blues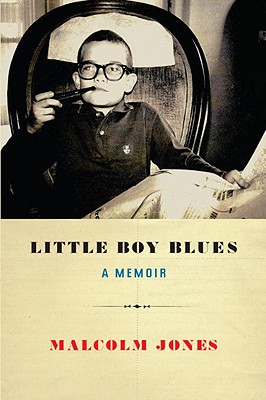 Little Boy Blues
A Memoir
Pantheon, Hardcover, 9780307377722, 240pp.
Publication Date: January 12, 2010
* Individual store prices may vary.
Not Currently Available for Direct Purchase
or
Shop Local
Enter your zip code below to purchase from an indie close to you.
Description
From one of our most astute cultural observers, a piercing memoir about a family's breakup and the need simultaneously to embrace and distance ourselves from the people and events that shape us.
 
North Carolina in the 1950s and 1960s:  A child surrounded mostly by grandparents, aunts, and uncles born in the previous century, Malcolm Jones finds himself underfoot in a disintegrating marriage. His father is charming but careless about steady work, often gone from home and often drunk. His mother, a schoolteacher and faded Southern belle, clings to the past while hungering for respectability and stability. Jones vividly describes their faltering marriage as it plays out against larger cracks in society: the convulsions of desegregation and a popular culture that threatens the church-centered life of his family. He also recalls idyllic times and the ordinary, easy moments of an otherwise fraught childhood: discovering an old Victrola, attending a marionette show—experiences that offer a portal to other worlds.
 
Richly evoking a time and place with rare depth of feeling and a penetrating, often bittersweet candor, Malcolm Jones gives us the fundamental stories of a life—where he comes from, who he was, who he has become.
About the Author
Malcolm Jones has written features, reviews, and essays for Newsweek's culture section since 1989. Prior to that he was a newspaper reporter in North Carolina and Florida. He lives with his family in the Hudson River Valley.
Praise For Little Boy Blues…
"Malcolm Jones, longtime book critic for Newsweek, tells of his childhood in North Carolina not only in great detail, but with poignancy and gentle humor." –USA Today

"A diffuse, evocative portrait of a child navigating a judgmental family ruled by Southern-fried traditions." –Entertainment Weekly

"Insightful, interesting and telling in its details…tells in clear, perceptive prose of the time and place in which he found himself."—Journal Book


"Told with affection…There is an abundance of comic relief in those finely drawn characters, and self-pity is mercifully absent." –The Post and Courier

"A delightful, moving and often unsettling book…He makes you laugh, he makes you cry, he makes you see and feel. Buy and read Little Boy Blues." –The Washington Times

"Warmly elegant…Jones retrieves elusive memories—of his emotionally stranded mother; his alcoholic, mostly absent father; his devout, 'casually racist' aunt and uncle—and creates a rich tapestry of Southern life." –Oprah Magazine

"Fragrant with wistfulness and poignant with regret." –Kirkus 

"Warmly elegant…Jones retrieves elusive memories—of his emotionally stranded mother; his alcoholic, mostly absent father; his devout, 'casually racist' aunt and uncle—and creates a rich tapestry of Southern life." –Oprah Magazine 
 
"Malcolm Jones describes his Southern childhood without bathos and with elegant restraint, reminding me a little of the delayed and muffled detonations in Joyce's "The Dead." Little Boy Blues is a quiet accretion of quiet things that add up to something all the more powerful by not having been larded up with drama. In unaffected but perfectly tuned prose he describes his helplessness and loneliness of growing up with an alcoholic, often absent father, and a distracted, increasingly distraught mother. There is an endearing guilelessness to his descriptions of the racial upheaval of that time and place—North Carolina in the 50's—and an authenticity to his dead-on details: the tin-lined drink cases with the soda pop submerged in icy water, the holes in the floorboards of the Plymouth, the candies melted into one rock hard lump in the parlor, and heartbreak in the realization that T.E. Lawrence was right: 'The trick…is not minding that it hurts.'" –Sally Mann
 
"With affectionate regard, Little Boy Blues captures the minutiae of a world far removed—Mason jars with lightning bugs, the delivery of a piano, the caustics of Christian catechism. Jones chronicles one family's sleepwalk out of the Eisenhower era into the fast forward jump-cut dynamics of an integrated South. This is a story epic in its intimacies." –Van Dyke Parks
 
"Little Boy Blues is an extraordinary memoir with the compelling intimacy and frankness of a late-night conversation. In a narrative that is singularly clear and forthright, Malcolm Jones makes the reader feel the powerful bond that grows between his mother and her son during the frequent absences of his handsome, charming, and childish father. He makes us feel the disturbing thrill of finding in old family photographs truths that they were never intended to record, even truths that they were intended to hide. He takes us to live for a while in the place and time of his childhood, to see it as he saw it, and to feel it as he felt it. He makes us experience with him his discovery that his childhood was something different from what he thought it was, and we feel with him the sadness that comes when childhood's illusions fall away. His portrait of his mother and his account of the way that she came to rely more and more on her young son are vivid, heartfelt, and heartbreaking. Among the many, many strengths of Little Boy Blues is the way Jones balances two views of his past: the naive experiences of the boy who lived it and the deep perceptions of the man that boy has become. It is a wonderful book."  –Eric Kraft
 
"Malcolm Jones's memoir is beautifully written and heartfelt.  His clear-eyed view of growing up in the South and his honest look at the complexities of familial love will leave few readers unmoved."  –George Pelecanos

"A delightful, moving and often unsettling book…We are lulled almost into inattention by the graceful prose and the marvelous observations and insights…Malcolm Jones is a fine writer. He makes you laugh, he makes you cry, he makes you see and feel." –The Washington Times
 
"With a touch as light as the scent of face powder hanging in his mother's bedroom, Malcolm Jones, a cultural critic for Newsweek, examines scenes from his own childhood, obscured by a miasma of Southern decorum and disappointment." –The Seattle Times
 
"Evocative prose." –Newsweek