Eddie Signwriter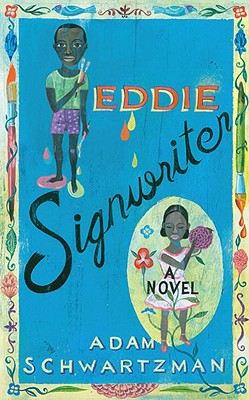 Eddie Signwriter
Pantheon, Hardcover, 9780307378736, 304pp.
Publication Date: March 23, 2010
* Individual store prices may vary.
Buy at Local Store
Enter your zip code below to purchase from an indie close to you.
or
Not Currently Available for Direct Purchase
Description
A stunning debut novel—its power and prose evocative of such diverse writers as Faulkner, Ondaatje, Nabokov, and Coetzee–about a young African's international odyssey of self-discovery.

Kwasi Edward Michael Dankwa—Eddie Signwriter to his clients—is a twenty-year-old painter of murals and billboards in the city of Accra, Ghana, who is buffeted by forces beyond his control and understanding as he is swept up by the passions and machinations of others. Struggling with a forbidden relationship, banished from school, held responsible for the death of a notable woman in the community, Eddie flees overland to Senegal and then, illegally, to France, determined to find a new life for himself among the immigrant communities of Paris.
 
Following him across magnificently rendered African lands into the precincts of Paris, Eddie Signwriter gives us a spellbinding tale of rootlessness and desire, of disgrace and redemption, of politics both personal and global, of art and love. Empathic, wise, deeply humane, and luminously written, it heralds Adam Schwartzman as a writer of great promise.
About the Author
Adam Schwartzman was born in Johannesburg in 1973. After completing degrees in English literature and development studies at Oxford University, he held positions in the South African National Treasury, the World Bank, and the International Finance Corporation. He is the author of three books of poetry--"The Good Life, The Dirty Life, and Other Stories; Merrie Afrika!;" and "Book of Stones"--as well as the anthology "Ten South African Poets." "Eddie Signwriter" is his first novel. He lives in Istanbul, Turkey, with his wife and daughter.
Praise For Eddie Signwriter…
"The South African poet, Adam Schwartzman's first novel, Eddie Signwriter, can be read as a creative response to . . . anonymous African desperation, especially in its rich evocation of the lives of . . . West and North Africans who have to France as apart of illegal immigration's 'flesh machine.' . . . Schwartzman's grand theme is the tyranny of chance:  the way a small act can unleash much larger consequences . . .  Schwartzman writes superbly." 
—The New York Times Book Review
  
"Each twist in this ambitious, accomplished novel plays with the trickery of resolution: the evanescent often resurfaces, while the seemingly permanent vanishes without warning.  Eddie Signwriter is a book of fleeting hours. Nostalgic scenes of blossoming love between Eddie and Celeste hearken to the brief, sun-spangled summers of Nabokov's Ada, where another forbidden affair took root; they also recall Hawthorne's dim forest in The Scarlet Letter, whose clandestine companions linger for 'another, and another, and, after all, another moment.'"
—Los Angeles Times

"This powerful bildungsroman, rendered with exquisite lyricism from multiple viewpoints, lightly circles about protagonist Kwasi Edward Michael Dankoh, aka Eddie Signwriter, before focusing on his experiences. Living in Ghana, teenage Eddie is in love with Celeste, but a scandal forces him to flee first to Senegal and then, illegally, to Paris. Full of tantalizing questions that are answered in due course, this novel succeeds on many levels. Superficially, it is a love story, but it is also a story of the abuse of innocence and the attendant consequences for young lives. On another level it is a mystery, solved after dark secrets are revealed. It's also a story about the perils of undocumented African workers in France. At the root, however, this work ingeniously illustrates the purpose of art, showing its function and value beyond mere decoration. As Eddie Signwriter paints, he incorporates the struggles of his life into his work. Engaging characters and evocative descriptions make this novel truly unforgettable.

"VERDICT Subtle, captivating, and beautiful, this outstanding novel is recommended for fans of multifaceted writing, as well as those interested in African life. It's Stuart O'Nan's Last Night at the Lobster meets Chimamanda Ngozi Adichie's Half of a Yellow Sun."
—Library Journal (starred review)

"Schwartzman's debut novel bears testament to his background as a poet, as lush description and bright, playful prose chronicles the travails of Kwasi Edward Michael Dankwa, aka Eddie Signwriter. . . . This wide-ranging and gorgeously written novel has a huge heart, and Kwasi's quest for identity is as sad as it is uplifting."
—Publishers Weekly