Falling Upwards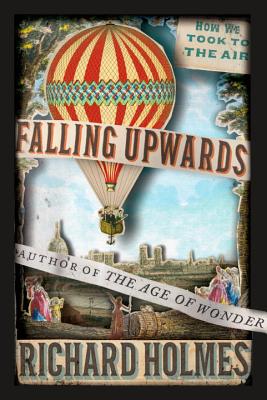 Falling Upwards
How We Took to the Air
Pantheon Books, Hardcover, 9780307379665, 404pp.
Publication Date: October 29, 2013
* Individual store prices may vary.
Buy at Local Store
Enter your zip code below to purchase from an indie close to you.
or
Not Currently Available for Direct Purchase
Description
**"Kirkus" Best Books of the Year (2013)**
**"Time Magazine" 10 Top Nonfiction Books of 2013**
**"The New Republic" Best Books of 2013**
In this heart-lifting chronicle, Richard Holmes, author of the best-selling "The Age of Wonder," follows the pioneer generation of balloon aeronauts, the daring and enigmatic men and women who risked their lives to take to the air (or fall into the sky). Why they did it, what their contemporaries thought of them, and how their flights revealed the secrets of our planet is a compelling adventure that only Holmes could tell.
His accounts of the early Anglo-French balloon rivalries, the crazy firework flights of the beautiful Sophie Blanchard, the long-distance voyages of the American entrepreneur John Wise and French photographer Felix Nadar are dramatic and exhilarating. Holmes documents as well the balloons used to observe the horrors of modern battle during the Civil War (including a flight taken by George Armstrong Custer); the legendary tale of at least sixty-seven manned balloons that escaped from Paris (the first successful civilian airlift in history) during the Prussian siege of 1870-71; the high-altitude exploits of James Glaisher (who rose) seven miles above the earth without oxygen, helping to establish the new science of meteorology); and how Mary Shelley, Edgar Allan Poe, and Jules Verne felt the imaginative impact of flight and allowed it to soar in their work.
A seamless fusion of history, art, science, biography, and the metaphysics of flights, "Falling Upwards" explores the interplay between technology and imagination. And through the strange allure of these great balloonists, it offers a masterly portrait of human endeavor, recklessness, and vision.
(With 24 pages of color illustrations, and black-and-white illustrations throughout.)
About the Author
Richard Holmes was one of Britain s most distinguished and eminent military historians and broadcasters. He was the author of many best-selling and widely acclaimed books including Redcoat, Tommy, Marlborough and Wellington, and famous for his BBC series. He served in the Territorial Army, and was Colonel of the Princess of Wales s Royal Regiment from 1999 to 2007. Richard Holmes died suddenly in April 2011 from pneumonia. He had been suffering from non-Hodgkins Lymphoma.
Praise For Falling Upwards…
**Kirkus Best Books of the Year (2013)**
**Time Magazine Top 10 Nonfiction Books of 2013**
**The New Republic Best Books of 2013**

"Holmes has written a book that is as compulsively digestible as the Internet, and yet it is rounder and warmer, and packed with more facts and obscure stories than you would learn if you combed the Web for months. Holmes's writing is a carnival of historical delights; at every turn there is a surprise, all adding up to a whole…. 'Falling Upwards' sneaks the trajectory of mankind into under three hundred and fifty pages, which you can read in short dashes. You may not notice it at the time, but what he is doing is changing the game." —Rachel Syme, The New Yorker

"…the book that gave me the most unadulterated delight this year was nonfiction, Richard Holmes's Falling Upwards: How We Took to the Air. The book is nominally a history of the hot air balloon, but it would be more accurate to describe it as a history of hope and fantasy—and the quixotic characters who disobeyed that most fundamental laws of physics and gave humans flight." —Chloe Schama, The New Republic, Best Books of 2013

"Out of an ostensibly placid, dreamy activity, hot air ballooning, Holmes conjures an extraordinarily vivid, violent, thrilling history, full of bizarre personalities, narrow escapes and fatal plunges. A peerless prose artist, infectiously curious, Holmes revives such forgotten heroes as Sophie Blanchard, Napoleon's official aeronaut, and James Glaisher, who in 1862 rode a balloon to 29,000 feet without oxygen in the name of science, and Thaddeus Lowe, who flew over Civil War battlefields, doing aerial reconnaissance for the Union" —Time Magazine, Top 10 Nonfiction Books of the 2013

"A book as delightful as it is unexpected, one that is a testament to the sheer pleasures of writing about what you know, about what excites you and what gives you joy. And what more joyous a topic than the hilarious insanities of 'Falling upwards'!.... Richard Holmes's extraordinary cabinet of drifting aerial wonderment, a book that will linger and last, as it floats ever upward in the mind." —Simon Winchester, The Wall Street Journal

"No writer alive and working in English today writes better about the past than Holmes….The stories themselves are remarkable." —Paul Elie, The New York Times Book Review
 
"Throughout his book, Holmes' love for the balloon (a 'mixture of power and fragility in constant flux' is his description for it) is obvious. It's a fine addition to his already extraordinary oeuvre." —Mark Gamin, Cleveland Plain Dealer
 
"British biographer Holmes' passion for the topic comes through in this rich and often entertaining chronicle of intrepid vertical explorers who risked (and in many cases lost) their lives lifting human flight out of the realm of mythology and into the air." —Braenna Draxler, Discover
 
"Holmes is a charming and impassioned guide…his prose often reaches a moving pitch." —Tom Beer, Newsday

"An unconventional history of ballooning, this quirky, endearing, and enticing collection melds the spirit of discovery with chemistry, physics, engineering, and the imagination." —Publishers Weekly

"Gripping…Meticulous history illuminated and animated by personal passion, carried aloft by volant prose." —Kirkus  

"In the same month that Julian Barnes published Levels of Life, with its melancholy meditations on balloon flight, Richard Holmes presents a full-blown, lyrical history of the same subject, investigating the strangeness, detachment and powerful romance of 'falling upwards' into a seemingly alien and uninhabitable element. Holmes lovingly charts a course from the Montgolfier brothers' first hydrogen-fuelled flights in the 1780s to the use of balloons by fugitive East Germans in the 1970s and the latest forays by polar explorer David Hempleman-Adams, a history full of awe and inefficiency…Holmes is a truly masterly storyteller ." —London Evening Standard

"Ballooning was among the numerous bold scientific adventures outlined in Holmes's multi-award-winning best seller, The Age of Wonder. Here Holmes details its history and consequences, starting in the late 1700s and proceeding to the seven-mile-high flights of James Glaisher, FRS, which launched the new science of meteorology." —Library Journal

"(Holmes) has a rare and infectious capacity for wonderment…dazzling…I felt I was flying—with the sensations of hilarity, ecstasy and terror that are rightly provoked by our escape from gravity…while I was reading Holmes's heady, swoopingly, aerodynamic book." —The Observer
 
"Richard Holmes's captivating and surely definitive history of the madness of pre-Wright brothers ballooning." —The Times
 
"This is a book in which the delight the author clearly took in researching and writing it carries over to the reader…puckish is its pleasure in its details and in its gusts of digression…he has a lovely wit and ease of address…above all what Holmes teases out…is the very interesting idea that ballooning gave us, quite literally, a different point of view….it offers a wholly novel experience of sublimity…This exhilarating book, wonderfully written, generously illustrated and beautifully published, captures all that and more." —The Spectator
 
"In this charming, witty and insightful account of windblown ideas and adventures Holmes succeeds neatly in matching his form to his subject." —Sunday Telegraph
 
"It is a tragic tale, punctuated with ghastly accidents, but thanks to Holmes's enthusiasm and eager curiosity it remains valiantly airborne." —Sunday Times
 
"enthralling, picaresque history…Holmes cuts his thrilling set-pieces with haunting images…Appropriately his prose is lighter than air elegantly traversing aviators and eras. It means that as his balloonists embark on journeys full of danger and wonder the reader is suspended in the basket alongside them." —Financial Times
 
"Endlessly exhilarating…FALLING UPWARDS is packed full of swashbuckling stories, as well as fascinating historical accounts of the use of balloons…It is also a singularly beautiful book, wonderfully designed and illustrated and quite clearly a product of love." —Mail on Sunday
 
"his enthusiasm is one of the book's many pleasures…it is hard not to discern something similarly joyous in this second-hand account (of ballooning narratives)…a spirited work." —The Economist
 
"(Richard Holmes's) wonderful history of the early years of ballooning." —Daily Telegraph
 
"Beautifully written and lovingly researched." —Country Life
 
"Holmes is a distinguished biographer with a fine sense of how individual lives reflect and redirect the larger forces that flow through and around them…the aeronauts of the heroic age …seem glamorous and admirable in their pursuit of knowledge, fame, fortune, military superiority and sheer excitement." —The Guardian

"Full of surprises….a book to seek out." —Toby Lester, American Scholar Review
 
"The human drama…is marvelously handled. Holmes is an astute biographer, and has already shown with The Age of Wonder…that he can write about multiple subjects just as well as he can about an individual….He has made a subtle and captivating whole of this series of aerial adventures." —Lily Ford, TLS
Friday, Nov 15, 2013
In Falling Upwards, writer Richard Holmes tells the story of early balloon flight--and of the nervy scientists who risked life and limb to take their experiments into the air. Among their discoveries? Insect migration and the stratosphere. Falling Upwards chronicles the balloonists who took science into the stratosphere. More at NPR.org