The Water's Lovely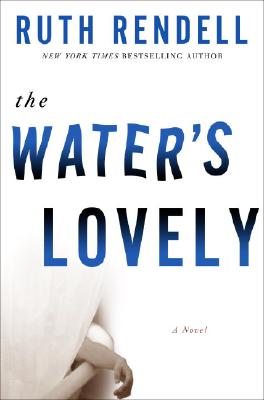 The Water's Lovely
Crown, Hardcover, 9780307381361, 352pp.
Publication Date: July 17, 2007
* Individual store prices may vary.
Buy at Local Store
Enter your zip code below to purchase from an indie close to you.
or
Not Currently Available for Direct Purchase
Description
The award-winning author of The Babes in the Wood and The Rottweiler brings us another terrifically paced, richly drawn novel of suspense and psychological intrigue.

Weeks went by when Ismay never thought of it at all. Then something would bring it back or it would return in a dream. The dream always began in the same way.

She and her mother would be climbing the stairs, following Heather's lead through the bedroom to what was on the other side, not a bathroom in the dream but a chamber floored and walled in marble. In the middle of it was a glassy lake. The white thing in the water floated towards her, its face submerged, and her mother said, absurdly, "Don't look!"
The dead man was Ismay's stepfather, Guy. Now, nine years on, she and her sister, Heather, still live in the same house in Clapham. But it has been divided into two self-contained flats. Their mother had lived upstairs with her sister, Pamela. And the bathroom, where Guy had drowned, had disappeared.

Ismay worked in public relations, and Heather in catering. They got on well. They always had. They never discussed the changes to the house, still less what had happened that August day. . .

But even lives as private as these, where secrets hang in the air like dust, intertwine with other worlds and other individuals. And, with painful inevitability, the truth will emerge.
About the Author
Ruth Rendell has won many awards, including the Crime Writers' Association Gold Dagger for 1976's best crime novel with A Demon in My View; a second Edgar in 1984 from the Mystery Writers of America for the best short story, The New Girl Friend; a Gold Dagger award for Live Flesh in 1986. She was also the winner of the 1990 Sunday Times Literary Award, as well as the Crime Writers' Association Cartier Diamond Dagger. In 1996 she was awarded the CBE and in 1997 became a Life Peer.
Praise For The Water's Lovely…
"She is one of the marvels of crime fiction. Forty years after her first book, Ruth Rendell is still producing work that puts her head and shoulders above most other writers."
–Sunday Telegraph

"Ruth Rendell is back to her creepy best. She has always been wonderful at exploring the dark corners of the human mind, and the way private fantasies can clash and explode into terrifying
violence."
–Daily Mail

"No contemporary writer of suspense stories tries to vary the form's boundaries more than Ruth Rendell."
–Guardian

"Rendell's eerie capacity to comprehend disturbed criminal minds continues to astonish."
–The Times

"A haunting, taut and perfectly woven mystery that can easily be devoured in a single sitting."—Associated Press
"A deft, sneaky and complicated book, a novel rish with parallels and shadows. . . . [Rendell] draws her characters with an insightful yet light touch. . . . The main mystery presented by The Water's Lovely is how an author so relentlessly prolific . . . can do such buoyant, impeccable work. . . . [TWL] is one of her most gleefully energetic efforts. And its powers of description and characterization place it far beyond the limits of a genre novel. This book is less a conventional crime story than a sly social comedy in which not everybody dies of natural causes."—New York Times
"The Water's Lovely is one of Rendell's most virtuosic [stand-alone novels], shifting seamlessly from tart Barbara Pym-style social comedy to black comedy, to gothic horror, to romance, then back again. . . . As in all her work, this novel is grounded in spot-on, grave observations of human nature. Rendell writes marvelously here….A-, EW Pick"—Entertainment Weekly
"Ruth Rendell, Britain's best, offers up another well-crafted tale of psychological suspense."—San Diego Union-Tribune
"[Rendell's] writerly decorum masks a darkness and horror that Agatha Christie never touched."—New York Magazine
"The creepiest thing in Ruth Rendell's latest mystery, The Water's Lovely, isn't the murder . . . but the deep chill that can pervade human interactions."—O Magazine
"Chills from a master."—People
"The queen of the psychological suspense novel. . . .This [is a] subtly horrifying story."–New York Times Book Review

"Rendell is in absolute top form here. The Water's Lovely is as suspenseful as any crime novel she has written, but it also has the generous humanity of her best Inspector Wexford cases. . . . Rendell provides the reader with many pleasures: her intelligence and humanity, her sculpted sentences, her jokeless wit. . . . What a sneaky mind the woman has."–Washington Post Book World