Mason-Dixon Knitting Outside the Lines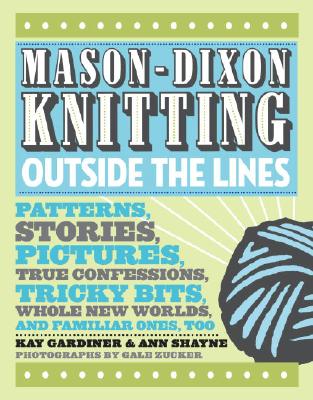 Mason-Dixon Knitting Outside the Lines
Patterns, Stories, Pictures, True Confessions, Tricky Bits, Whole New Worlds, and Famili
Potter Craft, Hardcover, 9780307381705, 160pp.
Publication Date: September 16, 2008
* Individual store prices may vary.
Buy at Local Store
Enter your zip code below to purchase from an indie close to you.
or
Not Currently Available for Direct Purchase
Description
Dear Fellow Knitter,
Welcome Come on in. Have a seat we ve been waiting for you.
Ever since our first book, "Mason-Dixon Knitting: The Curious Knitters Guide," we ve been exploring techniques and ideas that we once thought were the sort of thing that only brilliant knitters could do.
Our conclusion: We are all brilliant knitters
None of this is rocket science If you can knit a garter stitch scarf, you ve figured out the hard part. Now it's time for the fun to start. You hold in your hands the result of our odyssey. It's a new collection of 30 delicious projects that we hope will take you on your own knitting adventures.
Decorating Yourself: A collection of beautiful things to make for your most demanding (and forgiving) client.
The Fairest Isle of All: A simple, quick introduction to a sort of knitting you may not have considered, with surprising, modern projects.
Covering the Small Human: Pint-sized knits, including baby hats, dreamy dresses, and a cool pullover for the ultimate challenge: the Older Child.
Occasional Knitting: Projects for the special occasions in life holidays, housewarmings, picnics.
The Sophisticated Kitchen: New uses for one of our favorite yarns: kitchen cotton.
We have filled this book with luscious photographs, stories, tips, rules, and hints. You ll read how we arrived at these projects and the discoveries we have made along the way, and you will discover shocking things about us.
At all times, we have kept in mind Mason-Dixon Knitting Rule Number 1: Knitting is spoze to be fun. Fasten your seatbelt it's going to be a fabulous ride
Love,
Kay and Ann.
About the Author
KAY GARDINER and ANN SHAYNE met on an online knitting message board years ago, and their correspondence has grown into a community of more than 150,000 knitters who regularly log on to www.masondixonknitting.com.

KAY GARDINER learned to knit as a child, but put aside her needles for twenty years to obtain a law degree from Columbia, become an Assistant United States Attorney in Manhattan, and start a family. Lucky for knitters everywhere, she returned to knitting with a vengeance.

After a stint in the New York publishing world, ANN SHAYNE returned to her hometown of Nashville to edit BookPage. She has since chosen to devote her time to her family, to writing—and to knitting.
Praise For Mason-Dixon Knitting Outside the Lines…
"The dynamic duo of the knitting blogosphere return for their second book of best-knitting pal chitchat and practically perfect designs."
—Knit Simple

"My favorite knitting books are the ones that make you feel like you're sinking into a comfy chair and having tea and a chat with a knitting crony. You come away from the experience energized, excited to knit and bursting with new enthusiasm and ideas. Kay Gardiner and Ann Shayne's latest, Mason-Dixon Knitting Outside the Lines, available Sept. 16, fits the bill...Beyond the patterns, the tips and the ruminations make this book a keeper. Honestly, how can you fail to love a book in which one of the authors describes a fisherman's gansey as 'the Gore-Tex of its day'? And describes getting sucked into the wonderful world of sock knitting thusly: 'Life had turned into an endless infomercial where the product was socks, and I couldn't change the channel'?"
—The Portland Oregonian/Oregonlive.com

"Mason Dixon Knitting: Outside the Lines is a great addition to any knitter's library. Wearable patterns, excellent instructions, readable stories, wonderful tips and techniques, and a big shot of humor equal a fantastic knitting book."
—Blogcritics.org


Praise for Mason-Dixon Knitting: The Curious Knitters' Guide
"Imagine the stories and good company of the best knitting circle. Sandwich all that between hardcovers with 30 projects that don't look like something Granny's cat dragged in. Add clear instructions, and you've got Mason-Dixon Knitting."
—Parade

"Like their blog, [Mason-Dixon Knitting] is filled with patterns, advice, personal stories and loopy humor …"
—Family Circle

"Mason-Dixon Knitting is a rare find indeed. Ann and Kay's infectious camaraderie, joie de vivre and irreverent humor translate well to the printed page, where they encourage readers to connect life and knitting."
—Nashville Scene