Nefertiti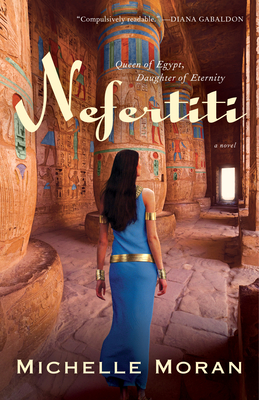 Nefertiti
Three Rivers Press (CA), Paperback, 9780307381743, 480pp.
Publication Date: May 27, 2008
* Individual store prices may vary.
Buy Now
or
Shop Local
Enter your zip code below to purchase from an indie close to you.
Description
A National Bestseller
Meticulously researched and richly detailed . . . an engrossing tribute to one of the most powerful and alluring women in history.
"Boston Globe"
Nefertiti and her younger sister, Mutnodjmet, have been raised in a powerful family that has provided wives to the rulers of Egypt for centuries. Ambitious, charismatic, and beautiful, Nefertiti is destined to marry Amunhotep, an unstable young pharaoh. It is hoped that her strong personality will temper the young ruler's heretical desire to forsake Egypt's ancient gods.
From the moment of her arrival in Thebes, Nefertiti is beloved by the people but fails to see that powerful priests are plotting against her husband's rule. The only person brave enough to warn the queen is her younger sister, yet remaining loyal to Nefertiti will force Mutnodjmet into a dangerous political game; one that could cost her everything she holds dear.
About the Author
Michelle Moran is the internationally bestselling author of seven historical novels, including "Rebel Queen", which was inspired by her travels throughout India. Her books have have been translated into more than twenty languages. A frequent traveler, Michelle currently resides with her husband and two children in the US. Visit her online at MichelleMoran.com.
Praise For Nefertiti…
"A stunning debut-I can't believe it's her first novel-what a thrilling read! I found the whole book rich and compelling, exciting and haunting. Nefertiti is a fine creation, both appealing and frightening, and she's surrounded by a thoroughly satisfying cast of characters, too. The whole world of Anceient Egypt comes to life."
- Rosalind Miles, bestselling author of I, Elizabeth

"There haven't been two more fascinating or outrageous siblings since the Boleyn sisters...Nefertiti is obsessive reading."
- Robin Maxwell, author of The Secret Diary of Anne Boleyn

"An engrossing page-turner, Nefertiti brings ancient Egypt to life as two royal sisters struggle to find fulfillment and happiness- one craving ultimate political power, the other desiring only to follow her heart. A strong debut novel of passion and intrigue, Nefertiti kept me up way too late!"
- India Edghill, author of Wisdom's Daughter

"A provocative portrait of limitless power in an ancient land of limitless fascination."
- Ki Longfellow, author of The Secret Magdalene

"Nefertiti is a fascinating window into the past, a heroic story with a very human heart. Compulsively readable!"
–Diana Gabaldon, #1 New York Times bestselling author of A Breath of Snow and Ashes

"Though sometimes big events are telegraphed, Moran, who lives in California and is making her U.S. debut, gets the details just right, and there are still plenty of surprises in an epic that brings an ancient world to life."
- Publishers Weekly

"Beautifully written and completely engrossing, this first novel should enjoy wide readership."
- Library Journal

"A wonderful, beautifully written, and well researched novel, Nefertiti is a page-turner filled with amazing visuals of a dazzling historical period."
-Jani Brooks - Romance Reviews Today