The Black Count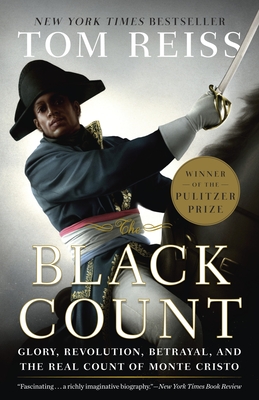 The Black Count
Glory, Revolution, Betrayal, and the Real Count of Monte Cristo
Broadway Books, Paperback, 9780307382474, 414pp.
Publication Date: May 14, 2013
* Individual store prices may vary.
Buy at Local Store
Enter your zip code below to purchase from an indie close to you.
or
Buy Here
Description
WINNER OF THE 2013 PULITZER PRIZE FOR BIOGRAPHY

General Alex Dumas, is a man almost unknown today, yet his story is strikingly familiar—because his son, the novelist Alexandre Dumas, used his larger-than-life feats as inspiration for such classics as The Count of Monte Cristo and The Three Musketeers.
     But, hidden behind General Dumas's swashbuckling adventures was an even more incredible secret: he was the son of a black slave—who rose higher in the white world than any man of his race would before our own time. 
     Born in Saint-Domingue (now Haiti), Alex Dumas made his way to Paris, where he rose to command armies at the height of the Revolution—until he met an implacable enemy he could not defeat.
     TIME magazine called The Black Count "one of those quintessentially human stories of strength and courage that sheds light on the historical moment that made it possible." It is also a heartbreaking story of the enduring bonds of love between a father and son.  
About the Author
Tom Reiss has written about politics and culture for "The New York Times," "The Wall Street Journal," "The New Yorker," and elsewhere. He lives with his wife and daughters in New York City.
"From the Hardcover edition."
Praise For The Black Count…
Winner of the 2013 Pulitzer Prize for Biography!

"Tom Reiss wrings plenty of drama and swashbuckling action out of Dumas' strange and nearly forgotten life, and more: The Black Count is one of those quintessentially human stories of strength and courage that also sheds light on the flukey historical moment that made it possible."
—Time

"A remarkable and almost compulsively researched account…The author spent a decade on the case, and it shows."
—Christian Science Monitor

"Fascinating…a richly imaginative biography."
—New York Times Book Review

"It would take an incredibly fertile mind to invent a character as compelling, exciting and unlikely as Gen. Alexandre (Alex) Dumas [hence] you might forget, while reading, that The Black Count is a work of nonfiction; author Tom Reiss writes with such narrative urgency and vivid description, you'd think you were reading a novel…The Black Count reminds us of how essential stories, whether true or invented, can be."
—National Public Radio
 
"Vibrant…Sometimes the best stories are true.  This is one of them."
—Ebony
 
"Reiss details the criminal forgetting of Alex Dumas…This remarkable book stands as his monument."
—Washington Post
 
"Superb... as improbable and exciting as [Dumas's] best books… but there is much more to this book than that."  
—Newsweek/The Daily Beast
 
"Lush prose and insightful details make The Black Count one of the best biographies of 2012…a tale that is as easily engrossing as one of Dumas' page-turning and timeless works."
—Essence
 
"Impressively thorough…Reiss moves the story on at an entertaining pace…fascinating."
—Wall Street Journal
 
"To tell this tale, Reiss must cover the French Revolution, the Haitian Revolution, and the rise of Napoleon toward Empire; he does all that with remarkable verve."
—Boston Globe
 
"Fascinating [and] swashbuckling...meticulously evokes the spirit of Revolutionary and Napoleonic France...Dumas comes across as something of a superhero...a monument to the lives of both Dumas and his adoring [novelist] son."
—The Seattle Times
 
"A piece of detective work by a prize-winning author...brilliantly researched."
—The Daily Mail (U.K.)
 
"Sometimes real life does, indeed, trump even the wildest of fiction…With a narrative that is engaging and entertaining, Reiss sets the literary table for one of the most satisfying adventure stories of the autumn.  Richly detailed, meticulously researched and beautifully written, this is the unlikely true story of the man behind one of the greatest books in literature."
—Tucson Citizen
 
"Triumphant…Reiss directs a full-scale production that jangles with drawn sabers, trembles with dashing deeds and resonates with the love of a son for a remarkable father."
—The Herald (U.K.)
 
"Fascinating….Reiss argues that Dumas is an important, criminally neglected figure [and] it's difficult to argue with him…A truly amazing story."
—NPR.org
 
"A story that has everything…The Black Count has its own moving narrative thread, made compelling by Reiss's impassioned absorption with the general's fate."
—The Literary Review
 
"A thoroughly researched, lively piece of nonfiction that will be savored by fans of Alexandre Dumas.  But The Black Count needs no partner: It is fascinating enough to stand on its own."
—Bookpage
 
"A compelling new work by literary detective Reiss, author of The Orientalist, tracks the wildly improbable career of [Count of Monte Cristo author] Alexandre Dumas' mixed-race father…Reiss eloquently argues the General's case."
—Kirkus Reviews
 
"Alex Dumas, an extraordinary man whose sensational life had been largely lost to history solely because of his race, takes the spotlight in this dynamic tale…Reiss capitalizes on his subject's charged personality as well as the revolutionary times in which he lived to create an exciting narrative."
—Publishers Weekly
 
"Thrilling…Reiss makes clear that Alex lived a life as full of adventure, triumph, and tragic loss as any of his son's literary creations…This absorbing biography should redeem its subject from obscurity."
—Booklist

"From pike-wielding mobs to prisoners locked in a fortress tower, The Black Count is as action-packed as The Count of Monte Cristo. Unlike Dumas's famous adventure novel, however, Reiss's incredible tale is true."
—Candice Millard, New York Times bestselling author of The River of Doubt and Destiny of the Republic
 
"Tom Reiss has literally drilled into locked safes to create this masterpiece…. His portrait of a man who was arguably our modern age's greatest unknown soldier is remarkable."
—James Bradley, New York Times bestselling author of Flags of Our Fathers and Flyboys
 
"A masterful biography, richly detailed, highly researched, and completely absorbing. The Black Count is a triumph."
—Amanda Foreman, New York Times bestselling author of A World on Fire and Georgiana
 
"It's hard to imagine a more colorful or engaging subject than the man who inspired The Count of Monte Cristo and The Three Musketeers. In the wonderful hands of Tom Reiss, Alex Dumas comes to vivid life, illuminating far-flung corners of history and culture. This is a terrific book."
—Jon Meacham, Pulitzer Prize-winning author of American Lion and Franklin and Winston
 
"The Black Count is a dazzling achievement. I learned something new virtually on every page. No one who reads this magnificent biography will be able to read The Count of Monte Cristo or any history of slavery in the New World in the same way again."
—Henry Louis Gates Jr., director of the W.E.B. Du Bois Institute, Harvard University
 
 "Rousing and thought-provoking, The Black Count is an adventure like no other. I marveled at every twist and turn of this remarkable true story, brought to life with the charm and personal touch that has become the trademark of Tom Reiss."
—Laurence Bergreen, New York Times bestselling author of Columbus and Over the Edge of the World
 
"A riveting, beautifully written and well-researched story of the seemingly impossible. It could never have happened in the United States, and with great skill, Reiss shows how the moment that produced Alex Dumas was lost with the rise of nineteenth-century racism."
—Annette Gordon-Reed, winner of the Pulitzer Prize and National Book Award for
The Hemingses of Monticello
 
 "In the early 1800s, General Alex Dumas was purposefully disappeared by his enemies, and for too long his story has remained silenced. The Black Count vividly vindicates the great general, restoring him to his rightful place at the center of the Age of Revolution. Carrying us from the plantations of the Caribbean to Paris, the Alps, and Egypt, Reiss tells an engrossing tale of a life of social struggle, adventure, and courage—and of the frustrations and joys of a researcher on the trail of a forgotten truth."
—Laurent Dubois, author of Haiti: The Aftershocks of History
 
"A tale worthy of Dumas himself—of impossible odds, shrinking before the irresistible forces of daring, ingenuity and in-your-face talent."
—Ted Widmer, author of Ark of the Liberties
 
"The real-life history of General Alex Dumas is as poignant and swashbuckling a tale as any his novelist son could have dreamed. Tom Reiss has the dramatist's sense of setting and scene, the reporter's persistence, and the historian's eye for truth. Would that the imprisoned Count of Monte Cristo had a copy of this book!"
—Darrin M. McMahon, author of Enemies of the Enlightenment and Happiness: A History
 
"Tom Reiss can do it all: gather startling research and write inspired prose; find life's great stories and then tell them with real brilliance. In The Black Count the master journalist-storyteller opens the door to the truth behind one of literature's most exciting stories, and opens it wide enough to show the delicate beauty of the lives within."
—Darin Strauss, National Book Critics Circle Award–winning author of Half a Life
 
"Tom Reiss tells this amazing story, largely unknown today, with verve, style, and a nonpareil command of detail."
—Luc Sante, author of Low Life, Evidence, and The Factory of Facts
 
"The Black Count is a complex work of political and social history gallantly masquerading as a fantastic adventure story. As he did in The Orientalist, Tom Reiss has traveled far to stalk a forgotten legend, and has recovered for us a vivid, dramatic tale that delights, moves, and inspires."
—Gideon Lewis-Kraus, author of A Sense of Direction
 
"The Black Count is totally thrilling—a fascinating, beautifully written, and deeply researched biography that brings to life one of history's great forgotten characters: the swashbuckling, flamboyant, and romantic mulatto count whose true life belongs in a Hollywood movie or Alexandre Dumas story."
—Simon Sebag Montefiore, author of Jerusalem: The Biography and Young Stalin
 
"Tom Reiss tells the incredible story of Alex Dumas with the same excitement about uncovering history that he brought to The Orientalist."
—Nina Burleigh, New York Times bestselling author of Mirage: Napoleon's Scientists and the Unveiling of Egypt
 
 "We believe we know the glories of the French Revolution and the Napoleonic Wars. We believe we understand the horror of slavery and the oppression of Africans. But what is the relationship between the grand goal of liberation and the deep tragedy of racism? As Reiss shows us, answers can be found in the extraordinary life of a forgotten French hero of the great revolutionary campaigns—a hero who was black."
—Timothy Snyder, author of Bloodlands and The Red Prince
 
"Reiss combines the talent of a thorough English detective with the literary flair of a French novelist to produce a story that is as fresh as today's headlines but as old as the Greek classics."
—Jack Weatherford, New York Times bestselling author of Genghis Khan and the Making of the Modern World
 
"Colorful and utterly captivating . . . This is history that is vibrant, gripping, and tragic."
—William Dietrich, Pulitzer Prize–winning journalist and New York Times bestselling author of Napoleon's Pyramids and The Emerald Storm
 
 
 More Praise for Tom Reiss
 
THE ORIENTALIST 
 
"A wondrous tale, beautifully told… mesmerizing, poignant and almost incredible."   
—The New York Times
 
"Spellbinding history… part detective yarn, part author biography, part travel saga… completely fascinating."  
—The Dallas Morning News
                                                                
 "Thrilling, novelistic and rich with the personal and political madness of early twentieth-century Europe."  
—Entertainment Weekly
 
"An elaborate wonder-cabinet… as page–turningly compelling as any fiction."  
—The Los Angeles Times 
 
 "Exhilarating… an endlessly inventive saga." 
—San Francisco Chronicle
 
"A brainy, nimble, remarkable book." 
—Chicago Tribune