Made in Spain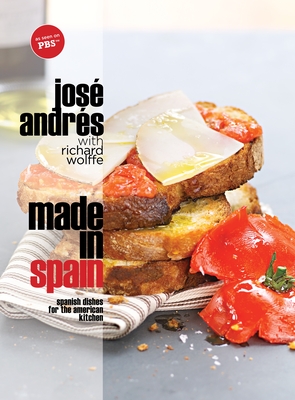 Made in Spain
Spanish Dishes for the American Kitchen
Clarkson Potter Publishers, Hardcover, 9780307382634, 256pp.
Publication Date: November 4, 2008
* Individual store prices may vary.
Buy at Local Store
Enter your zip code below to purchase from an indie close to you.
or
Buy Here
Description
Americans have fallen in love with Spanish food in recent years, and no one has done more to play matchmaker than the award-winning chef Jose Andres.
In this irresistible companion volume to his public television show Made in Spain, Jose reminds us in the most alluring and delicious way that the food of his native Spain is as varied and inventive as any of the world's great cuisines. To prove it, Jose takes us on a flavorful tour of his beloved homeland, from Andalucia to Aragon. Along the way, he shares recipes that reflect not just local traditions but also the heart and soul of Spain's distinctive cooking.
In the Basque Country, we discover great fish dishes and the haute cuisine of some of the finest restaurants in the world. In Cantabria, famous for its dairy products, we find wonderful artisanal cheeses. In Valencia, we learn why the secret to unforgettable paella is all in the rice. And in Castilla La Mancha, Jose shows us the land of the great Don Quixote, where a magical flower produces precious saffron.
The dishes of "Made in Spain" show the diversity of Spanish cooking today as it is prepared in homes and restaurants from north to south from casual soups and sandwiches to soul-warming dishes of long-simmered beans and artfully composed salads. Many dishes showcase the fine Spanish products that are now widely available across America. Many more are prepared with the regular ingredients available in any good supermarket.
With more than one hundred simple, straightforward recipes that beautifully capture the flavors and essence of Spanish cooking, "Made in Spain "is an indispensable addition to any cookbook collection.
About the Author
Jose Andres, protege of Ferran Adria of El Bulli in Spain, is the chef-owner of seven restaurants in the Washington, D.C., area: Jaleo; Jaleo Bethesda; Jaleo Crystal City; Cafe Atlantico; minibar; Oyamel; and Zaytinya, which was named one of the best new restaurants in the world by "Conde Nast Traveler," He was named Best Chef in the Mid-Atlantic region in 2003 by the James Beard Foundation, and has been profiled in "Gourmet, Saveur, Bon Appetit, Food & Wine, Wine Spectator," the "Washington Post," the "New York Times, USA Today," and other publications. Jose travels widely as a guest chef, teacher, and fundraiser at charity events, and is the host of a television cooking show that airs in Spain. He grew up in the Asturias region of Spain, and now lives in Washington, D.C., with his wife, Tichi, and their three daughters. This is his first book.
Richard Wolffe is Senior White House Correspondent for "Newsweek" magazine. In his spare time, he eats Jose's food and cowrites his food magazine stories. He lives close to Jose in Washington, D.C., with his wife, Paula, and their three children. His first book was "The Victim's Fortune" (HarperCollins, 2002); this is his first cookbook.
Richard Wolffe is U.S. diplomatic correspondent for the Financial Times and deputy bureau chief in Washington, D.C.
Over the last few years he has reported extensively on the presidential election, concentrating on the Bush campaign. Other stories he has covered in depth include the Microsoft antitrust trial and the campaign for Holocaust compensation.
Richard joined the Financial Times in 1994. Before moving to DC, he worked as a national reporter in the UK covering a wide news beat, including the 1997 general election and IRA terrorist attacks on the mainland.
A graduate from Oxford University, his career prior to the Financial Times included news reporting for London's Daily Mail and Daily Telegraph as well as regional news reporting in Brighton, Sussex.
His freelance work includes CNN, the BBC and The New Republic. He has also appeared on The NewsHour on PBS, MSNBC and Fox News, as well as a series of international media including CBC and Deutsche Welle.
Richard lives in Washington with his wife, Paula Cuello, and their young daughter, Ilana. Born in September 1968, he grew up in Birmingham, England.