You Don't Have to Be Wrong for Me to Be Right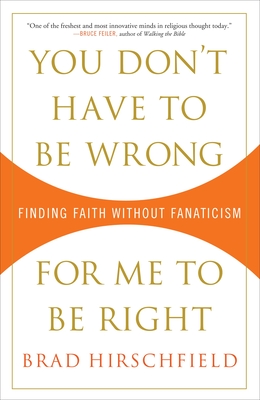 You Don't Have to Be Wrong for Me to Be Right
Finding Faith Without Fanaticism
Three Rivers Press (CA), Paperback, 9780307382986, 276pp.
Publication Date: March 10, 2009
* Individual store prices may vary.
Buy at Local Store
Enter your zip code below to purchase from an indie close to you.
or
Buy Here
Description
Conflict is an opportunity to learn and grow-and often to grow closer to one another.
Brad Hirschfield knows what it means to be a fanatic; he was one. A former activist in the West Bank, he was committed to reconstructing the Jewish state within its biblical borders. Now he is devoted to teaching inclusiveness, celebrating diversity, and delivering a message of acceptance. In "You Don't Have to Be Wrong for Me to Be Right," Rabbi Hirschfield uses his own spiritual journey to help people of all faiths find acceptance and tolerance, as well as a path to peace, understanding, and hope that will appeal to the common wisdom of all religions.
About the Author
Rabbi Brad Hirschfield is Director of Leadership and Communities at CLAL. He received ordination from the Institute of Traditional Judaism and his M.A. and M.Phil. in Ancient Jewish History from the Jewish Theological Seminary.
Praise For You Don't Have to Be Wrong for Me to Be Right…
"In a world that has experienced wars and terrorist attacks on a gigantic scale in the name of religion, a book like this is timely and important. Rabbi Hirschfield advocates dialogue instead of warfare, conflict resolution through debate and discussion, faith without fanaticism." –Association of Jewish Libraries

"A wise and important story, engagingly told. I hope everyone, from the most piously committed to the most militantly atheist, reads it and absorbs its lessons."
—Rabbi Harold S. Kushner, author of When Bad Things Happen to Good People

"Brad Hirschfield is one of the freshest and most innovative minds in religious thought today. From the ashes of Ground Zero to the summits of global leaders, he has pioneered a philosophy of using ancient texts to create coalitions of understanding and hope. Anyone committed to religious tolerance today must understand his ideas—and must put them to work."
—Bruce Feiler, author of Walking the Bible and Where God Was Born

"Spiritual sojourners of all faiths seeking sincerity and authenticity of religion will benefit greatly from Rabbi Hirschfield's candid testimony of his life's journey. His visionary first-person narrative reveals that the man who makes the voyage—to the human core of tolerance, respect, generosity, and peace—discovers that the voyage makes the man."
—Imam Feisal Abdul Rauf, author of What's Right with Islam Is What's Right with America

" 'Through you all the families of the earth will be blessed,' God says to Abraham in the Bible. Yet, for so much of history, the different religions have often turned the hardest of hearts to those who don't accept all their teachings. Brad Hirschfield brings a unique understanding—forged in years of theological study and personal interreligious dialogues—of where so many great faiths have gone wrong, and what can be done to guarantee that the blessing God bestowed on Abraham can, after almost four thousand years, finally be achieved."
—Joseph Telushkin, author of Jewish Literacy and A Code of Jewish Ethics