Where Men Win Glory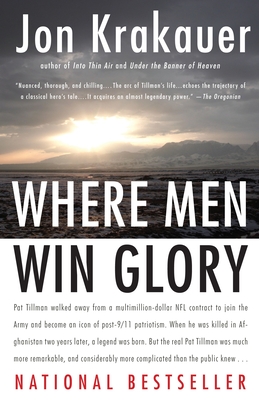 Where Men Win Glory
The Odyssey of Pat Tillman
Anchor Books, Paperback, 9780307386045, 480pp.
Publication Date: July 27, 2010
* Individual store prices may vary.
Buy at Local Store
Enter your zip code below to purchase from an indie close to you.
or
Buy Here
Description
This edition has been updated to reflect new developments and includes new material obtained through the Freedom of Information Act.

Pat Tillman walked away from a multimillion-dollar NFL contract to join the Army and became an icon of post-9/11 patriotism. When he was killed in Afghanistan two years later, a legend was born. But the real Pat Tillman was much more remarkable, and considerably more complicated than the public knew...

A stunning account of a remarkable young man's heroic life and death, from the bestselling author of Into the Wild, Into Thin Air, and Under the Banner of Heaven.
About the Author
Jon Krakauer is the author of "Eiger Dreams, Into the Wild, Into Thin Air, "and" Under the Banner of Heaven" and is the editor of the Modern Library Exploration series.
Praise For Where Men Win Glory…
"Nuanced, thorough, and chilling. . . . The arc of Tillman's life . . . echoes the trajectory of a classical hero's tale. . . . It acquires an almost legendary power." —The Oregonian

"The fallen man at the heart of Where Men Win Glory quickly emerges as a classic Krakauer character. A charismatic athlete possessed of an insatiably curious mind, Tillman spurned the riches of life . . . to pursue old-fashioned notions of honor and sacrifice. He's Into the Wild's Chris McCandless gone to war." —Outside Magazine
 
"Riveting. . . . Krakauer's gripping book about this extraordinary man who lived passionately and died unnecessarily sets the record straight." —USA Today
 
"Talk about an inspired pairing of subject and author. . . . [Where Men Win Glory] reveals a far more complex and emotional character than the mythical American 'hero.'" —O, The Oprah Magazine
 
"Everyone (hawks, doves, patriots, subversives) can find something to celebrate in Pat Tillman. . . . A detailed portrait of a complicated hero." —Sports Illustrated
 
"Gripping, heartbreaking reading. . . . At once unique and universal. . . . A fitting tribute." —The Christian Science Monitor

"The first deeply reported book about Tillman by a first-rate journalist." —San Francisco Chronicle
 
"A riveting examination of another American idealist's startling path and haunting death." —The Daily Beast
 
"The combination of Krakauer and Tillman seems hard to resist. . . . Krakauer is a masterly writer and reporter. . . . [He] skillfully sketches Tillman's singular personality." —The New York Times Book Review
 
"Jon Krakauer has done his job well. . . . He has made [Tillman's story] compelling and passionate. . . . The man who emerges is an iconoclast who is comfortable with challenging the status quo but hardly an angel." —The Denver Post
 
"Krakauer brilliantly turns investigative reporter. . . . [A] wrenching account of the life and death of NFL star Pat Tillman." —People, 4 out of 4 stars
 
"It's tough to think of a better match than Jon Krakauer . . . and the story of Pat Tillman." —Men's Journal
 
"[A] riveting book. . . . No mere hagiography, this is investigative reporting at its best." —The Village Voice, A Best Book of the Year
 
"Compelling. . . . [An] exceptional life. . . . The definitive version of events surrounding Tillman's death." —The Los Angeles Times
 
"Jon Krakauer seeks out what people like to call American characters. Independent . . . guided by something powerful and beautiful. . . . [Tillman] was fearless and possessed of a remarkable sense of justice from the time he was born." —GQ
 
"Tillman reveals himself to be an intelligent, inquisitive, principled, and tolerant young man with a zest for life. . . . [His story] is rendered with alarming clarity and chilling details." —Boston Globe
 
"I read—devoured, actually—the Jon Krakauer book about Pat Tillman. . . . [Tillman] is a true alpha male, naturally pulling in others to follow his lead as if drawn by magnetic force. He was intensely curious, always challenging the status quo and interested in everyone. . . . Perhaps we can look to Pat Tillman for an enduring resolution to leave our comfort zones and step up when opportunities arise." —Andrew Brandt, The Huffington Post
 
"A page-turning narrative. . . . Krakauer has found his most fascinating character to date."  —Lincoln Journal-Star
 
"The account of Tillman's final hours is harrowing, and, at times, grisly. But it also resonates with what seems to be the unmistakable ring of truth." —The Philadelphia Inquirer
 
"[Krakauer] is thoroughly at home when it comes to writing about elusive alpha males and the chances they choose to take in forbidding territory. . . . Heart-rending." —Louisville Courier Journal
 
"The Tillman who emerges from Krakauer's account is a disciplined, ferociously inquisitive skeptic. . . . Krakauer has performed an important service." —The Detroit Free Press
 
"Pat Tillman is just the kind of tough, smart, off-the societal-grid kind of character to attract Krakauer. . . . [A] deeply reported, fascinating account." —The Boulder Daily Camera
 
"Engaging storytelling. . . . Krakauer has a knack for weaving in great detail while moving the story along. . . . [He] stich[es] together the soldier's complex persona, depicting the highly motivated athlete who thrived on David vs. Goliath challenges. . . . Restores the late Pat Tillman's humanity." —Pittsburgh Post-Gazette
 
"Krakauer seamlessly pieces together the interviews, the testimony and the journals to tell the story of an extraordinary man faced with extraordinary circumstances."  —The News Sun (Chicago)
 
"Jon Krakauer has made a name for himself by writing about impassioned individuals and the incredible lengths to which they go in pursuit of their goals. . . . [He] confronts a most perplexing subject in Pat Tillman, a bright, highly principled and complex man." —The San Jose Mercury News
 
"An affecting portrait . . . combining empathy and extensive reporting. . . . The facts speak eloquently."  —Bloomberg News