The Last Station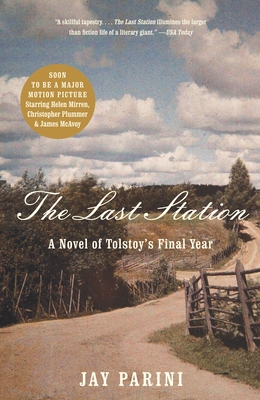 The Last Station
A Novel of Tolstoy's Final Year
Anchor Books, Paperback, 9780307386151, 290pp.
Publication Date: November 10, 2009
* Individual store prices may vary.
Buy at Local Store
Enter your zip code below to purchase from an indie close to you.
or
Buy Here
Description
SOON TO BE A MAJOR MOTION PICTURE
A "New York Times "Notable Book
As Leo Tolstoy's life draws to a tumultuous close, his tempestuous wife and most cunning disciple are locked in a whirlwind battle for the great man's soul. Torn between his professed doctrine of poverty and chastity and the reality of his enormous wealth and thirteen children, Tolstoy dramatically flees his home, only to fall ill at a tiny nearby rail station. The famous (and famously troubled) writer believes he is dying alone, unaware that over a hundred newspapermen camp outside awaiting hourly reports on his condition.
Jay Parini moves deftly between a colorful cast of characters to create a stunning portrait of one of the world's most treasured authors. Dancing between fact and fiction, The Last Station" "is a brilliant and moving literary performance.
About the Author
Michael Hoffman is a filmmaker known for creating complex and layered stories with great attention to detail and character. A skilled writer and director, he has worked on both feature films and documentaries, including A Midsummer Night's Dream, The Emperor's Club, Game of Six, and the ESPN documentary Out of the Blue. The Last Station is his most recent film.
Jay Parini is a professor of English & Creative Writing at Middlebury College in Vermont. A writer and academic, he is best known for his novels and poetry. He is the author of the novel The Last Station, which is now a major motion picture from Sony Classics.
Praise For The Last Station…
"A skillful tapestry. . . . The Last Station illumines the larger than fiction life of a literary giant."
—USA Today
 
"Utterly satisfying. . . . A loving and thoughtful rendering of the complex character of Leo Tolstoy. . . . Parini captures marvelously the paradoxical nature of this genius whose mind and body seemed ever to be at war."
—Washington Post Book World
 
"Fascinating. . . . Parini has made a valuable contribution to our understanding of Tolstoy."
—Los Angeles Times Book Review
 
"A subtle masterpiece. . . . Tolstoy himself would probably have recognized the work of a true artist."
—The Times Literary Supplement
 
"One of those rare works of fiction that manages to demonstrate both scrupulous historical research and true originality of voice and perception. . . . What lifts this book high above most historical novels is Jay Parini's remarkable ability to enter the minds of his characters."
—The New York Times Book Review
 
"A powerful story. . . . Witty [and] immensely moving. . . . Parini draws the reader into the tumult of the Tolstoy household."
—Christian Science Monitor
 
"One of the best historical novels written in the last twenty years."
—Gore Vidal
 
"Vivid and moving. . . . It is to Jay Parini's credit that he has been able to flesh out the saga and make it ever new, to give it a shape and resonance we might have thought unimaginable."
—Newsday
 
"This wonderful book combines scholarship and sensitive re-creation of a man's struggle to be true to himself and to others."
—Dallas Morning News
 
"The Last Station offers proof that the historical novel has a lot left to say to and about literature. And any novel with as perfectly beautiful a final sentence as this one deserves to be read all the way through."
—Philadelphia Inquirer
 
"Poets who write novels are a strange and wonderful breed, in love with language as well as character. In The Last Station, Jay Parini has tackled an awesomely ambitious novel and succeeded brilliantly."
—Erica Jong
 
"Tolstoy imagined—and illuminated."
—Boston Globe

"[A] coup of period re-creation. . . . [Parini] is very good at showing how an artist or visionary can be at once idealistic, mundane and incompetently avaricious."
—Chicago Tribune 

"Jay Parini has written a stylish, beautifully paced and utterly beguiling novel."
—The Sunday Times (London)
 
"Entertaining. . . . A three-dimensional portrait of a complex literary figure. . . . Biographers have described the events of Tolstoy's life in great detail, but none so insightfully and eloquently as Jay Parini in The Last Station."
—The Atlanta Journal-Constitution
 
"A gem of a historical novel. . . . A novel with a lyric tone that manages to extract excitement from an unlikely subject."
—Newark Star-Ledger
 
"A searching view of the last year in the life of the author of War and Peace. . . . A kaleidoscopically rich and skillful novel."
—Publishers Weekly
 
"An impressively knowing and sensitive performance, a wistful late twentieth-century tribute to the giant conflicts of a more titanic age."
—The Observer (London)