The Passages of H.M.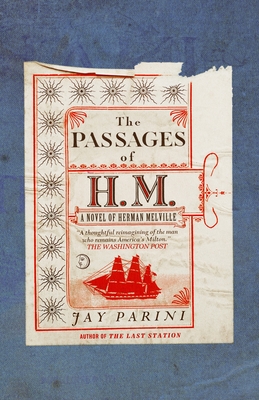 The Passages of H.M.
A Novel of Herman Melville
Anchor Books, Paperback, 9780307386199, 454pp.
Publication Date: November 1, 2011
* Individual store prices may vary.
Buy at Local Store
Enter your zip code below to purchase from an indie close to you.
or
Buy Here
Description
With the same masterly touch that made The Last Station so powerful, Jay Parini penetrates the mind and soul of another literary titan.
 
Through the eyes of his long-suffering wife, Lizzie, we are introduced to an aging, angry, and drunken Herman Melville. He is decades past his flourishing career as a writer of bestselling tales of seagoing adventures. His epic but ungainly Moby-Dick was meant to make him immortal, but critics scoffed and readers fled. He spends his days trudging the docks of New York as a customs inspector and contemplating his malign literary fate. But within him is stirring, perhaps, one great work yet. . . . In a narrative that shifts seamlessly between Lizzie's personal account and evocative snapshots of Melville's crowded life, Parini manages to humanize a giant of letters, while illuminating the source of his matchless creativity.
About the Author
Jay Parini is a poet, biographer, and critic who has published seven novels, most notably The Last Station, which was made into an Academy Award-nominated film in 2009 and translated into over twenty-five languages. He is the D. E. Axinn Professor of English and Creative Writing at Middlebury College, and the author of Promised Land: Thirteen Books that Changed America.
Praise For The Passages of H.M.…
"A thoughtful re-imagining of the man who remains America's Milton."
—The Washington Post

"Gripping. . . . Part literary biography, part novel, The Passages of H.M. turns the author's life into an adventure of its own."
—Entertainment Weekly

"Parini gives flesh and soul to a great author who gained immortality by resolving never to be ordinary. . . . [His] Melville is a writer whose heart will not be restrained."
—The Seattle Times
 
"Deeply absorbing. . . . A literary novel in every sense of the word. . . . It adds strongly to Melville's posthumous presence."
—Los Angeles Times

"One of the most interesting works of fiction about a writer since The Last Station, Parini's novel about Tolstoy."
—Alan Cheuse, San Francisco Chronicle
 
"An admirable attempt to map not only the wild sojourns but also the turbulent mind of his subject. The fabled events of Melville's life are . . . ecstatically depicted in Parini's adoring re-creation."
—The Boston Globe
 
"Fearless. . . . Just as Parini's previous novels focused on their doomed subjects in moments of flight, The Passages of H. M. is concerned with Melville's obsessive travels. He hones in on Melville's oceanic life, and the dynamic interplay of his many kinds of voyages."
—The New Republic
 
"Splendid. . . . This novel shimmers. It lures us into strange places of the world and human psyche."
—Providence Journal
 
"A fascinating portrait of an artist who was unappreciated in his lifetime, but is revered now that he's gone."
—Associated Press
 
"Who would have thought it would have taken until now, the twenty-first century, to get a clear view of America's most mysterious novelist, Herman Melville? We have it now, through the magic of Jay Parini's superior novel, The Passages of H.M."
—Gore Vidal
 
"Imaginative, diligent, and meticulous. Parini sensitively, insightfully presents a complex life."
—Buffalo News
 
"Even if you've read none of Melville, or remember only echoes from readings long ago, the narrative is complete, the literary facts clear enough to sustain a powerful drama."
—The Plain Dealer
 
"What is most rewarding about this richly detailed book is Parini's ability to frame a story of heroic failure with the knowledge that its subject will one day triumph. . . . He is America's foremost biographical novelist."
—The Sunday Times (London)
 
"Parini's eminently readable narrative convincingly fills in hitherto dark places. . . . It is very well done."
—Financial Times
 
"A labor of love and inspiration."
—Kansas City Star
 
"As he did in The Last Station, Parini once again penetrates into the mind of a great writer."
—The Daily Beast
 
"Parini's novel is a bravura and often engrossing attempt to blend the disparate strands of Melville's art and life in two perspectives."
—Philip Hoare, The Guardian (London)
 
"Catching fire the closer he comes to Melville's molten core, Parini's bold and mesmerizing novel ultimately deepens the mystery of Melville's incandescent genius."
—Booklist
 
"A splendidly entertaining, beautifully written, and constantly surprising novel about one of the most complex and talented writers this country has produced."
—Burlington Free Press
 
"[Parini] has gone some way to plumbing the depths of this vexing and brilliant man's heart and soul."
—The Irish Times