The Iraq Study Group Report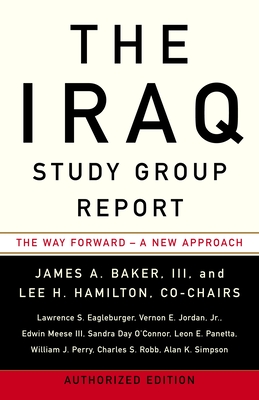 The Iraq Study Group Report
The Way Forward - A New Approach
Vintage Books USA, Paperback, 9780307386564, 142pp.
Publication Date: December 6, 2006
* Individual store prices may vary.
Buy at Local Store
Enter your zip code below to purchase from an indie close to you.
or
Not Currently Available for Direct Purchase
Description
On March 15, 2006, members from both parties in Congress supported the creation of the bipartisan Iraq Study Group to review the situation on the ground and propose strategies for the way forward. For more than eight months, the Study Group met with military officers, regional experts, academics, journalists, and high-level government officials from America and abroad. Participants included George W. Bush and members of his cabinet; Bill Clinton; Jalal Talabani; Nouri Kamal al-Maliki; Generals John Abizaid, George Casey, and Anthony Zinni; Colin Powell; Thomas Friedman; George Packer; and many others. This official edition contains the Group's findings and proposals for improving security, strengthening the new government, rebuilding the economy and infrastructure, and maintaining stability in the region. It is a highly anticipated and essential step forward for Iraq, America, and the world.
About the Author
James A. Baker, III has served in senior government positions under three Presidents: as Under Secretary of Commerce for Gerald Ford, as White House Chief of Staff and Treasury Secretary for Ronald Reagan, and as Secretary of State, White House Chief of Staff, and Senior Counselor for George Bush. Baker has also managed campaigns for the Presidency by all three of these Presidents.

Lee H. Hamilton was U.S. Representative from Indiana from 1965 to 1999, a member of the House's Committee on International Relations for his entire tenure, ranking Democrat on that committee for ten years, and chairman of the committee for two. He is now director of the Woodrow Wilson International Center for Scholars in Washington, D.C., and director of the Center on Congress at Indiana University. Jordan Tama, until recently special assistant to the director at the Woodrow Wilson Center, is a graduate student at the Woodrow Wilson School of Public and International Affairs at Princeton University