The World That Never Was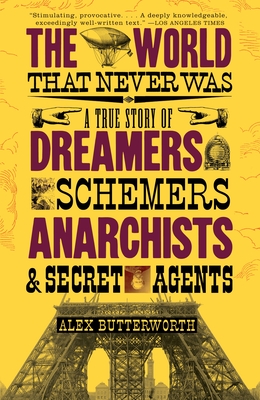 The World That Never Was
A True Story of Dreamers, Schemers, Anarchists and Secret Agents
Vintage Books, Paperback, 9780307386755, 518pp.
Publication Date: August 9, 2011
* Individual store prices may vary.
Buy at Local Store
Enter your zip code below to purchase from an indie close to you.
or
Not Currently Available for Direct Purchase
Description
In the late nineteenth century, nations the world over were mired in economic recession and beset by social unrest, their leaders increasingly threatened by acts of terrorism and assassination from anarchist extremists.
 
In this riveting history of that tumultuous period, Alex Butterworth follows the rise of these revolutionaries from the failed Paris Commune of 1871 to the 1905 Russian Revolution and beyond. Through the interwoven stories of several key anarchists and the secret police who hunted them, Butterworth vividly describes how a movement born in idealism turned increasingly to desperate acts of terrorism and murder. Rich in anecdote and with a fascinating array of supporting characters, The World That Never Was offers a revelatory portrait of an era with uncanny echoes of our own.
About the Author
ALEX BUTTERWORTH is a popular historian living in Britain. He is the co-author of "Pompeii: The Living City" and author of "The World That Never Was: A True Story of Dreamers, Schemers, Anarchists, and Secret Agents".
Praise For The World That Never Was…
"Stimulating, provocative. . . . A deeply knowledgeable, exceedingly well-written text."
—Los Angeles Times

"Exhilarating. . . . A headlong gallop through the history of anarchism. . . . Almost any paragraph packs more action than an entire Dan Brown novel. . . . The globe-girdling energy of these itinerant schemers is dizzying."
—Financial Times
 
"Stocked with vivid characters. . . . Butterworth shows how political violence committed by disorganized cells of anarchists, socialists, and nihilists fuelled fears of an international conspiracy and justified reactionary crackdowns."
—The New Yorker
 
"Thorough. . . . Compelling. . . . It leads one to ask if anarchism might again (or, perhaps, still) be lurking at the fringes of society."
—The Washington Post

"A timely tale of a vicious cycle in which violence begets violence—and innocence, idealism and justice are the victims . . . [Butterworth] brings to life the social and intellectual ferment of the late 19th century."
—Kansas City Star
 
"Painstakingly researched. . . . Butterworth charts this tangled terrain with authority and rigor. . . . [His] tale crosses paths with most of the era's most important figures, from monarchs to literary giants, while presenting some of the fascinating characters in the anarchist movement. Many of the latter couldn't have been dreamed up by the most inventive novelist."
—Milwaukee Journal Sentinel
 
"Fascinating. . . . A historical pot-boiler. . . . Butterworth charts the odyssey of these European revolutionaries as they fought to build a new society, and the furious maneuvers by security services to thwart them."
—The Boston Globe
 
"In this rich and passionate account of the world's first international terrorist campaign . . . the disquieting echoes of our times are impossible to ignore. . . . Underpinned by impressive research and a genuine argument . . . this is a thrilling and important book—not least for its unmasking of the forces of reaction."
—The Sunday Times (London)
 
"Chillingly familiar. . . . Butterworth strikes a rare balance; he doesn't flinch from moral judgment, but he's not about to succumb to the propagandizing instinct himself by glossing over the radicals' many flaws and impracticalities. . . . The World That Never Was has much of value to impart, from the understanding that today's radicals may be tomorrow's sensible visionaries to the unanticipated perils of both terrorism and counterterrorism."
—Salon

"Exceptionally astute. . . . One of the most absorbing depictions of the dark underside of radical politics in many years. . . . A riveting account, teeming with intrigue and adventure and packed with the most astonishing characters."
—New Statesman
 
"Conveys the labyrinthine coils of conspirators and spies with graphic panache. . . . Butterworth has created an impressive work which will captivate those unfamiliar with anarchist history and teach even specialists much that they did not know before."
—The Independent (London)
 
"Butterworth writes lucidly, in fine detail, seeking answers that must sometimes prove elusive. . . . It's a formidable task, formidably (and entertainingly) accomplished."
—The Observer (London)
 
"Ingenious. . . . Butterworth, in this wide-ranging account of nineteenth century anarchist activity, does justice to both sides of the picture—the glowing ideal, its shady enactment."
—The Sunday Telegraph (London)