Tuna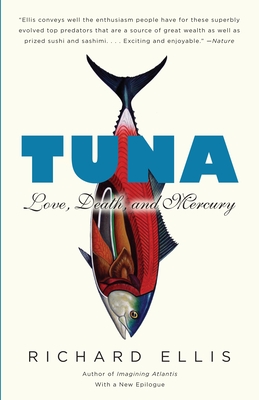 Tuna
Love, Death, and Mercury
Vintage Books USA, Paperback, 9780307387103, 346pp.
Publication Date: July 14, 2009
* Individual store prices may vary.
Not Currently Available for Direct Purchase
or
Shop Local
Enter your zip code below to purchase from an indie close to you.
Description
Famed marine researcher and illustrator Richard Ellis brings us a work of scientific achievement that will forever change the way we think about fish, fishing, and the dangers inherent in the seafood we eat.

The bluefin tuna is one of the world's biggest, fastest, and most highly evolved marine animals, as well as one of its most popular delicacies. Now, however, it hovers on the brink of extinction. Here Ellis explains how a fish that was once able to thrive has become a commodity—and how the natural world and the global economy converge on our plates. With updated information on mercury levels in tuna, this is at once an astounding ode to one of nature's greatest marvels and a serious examination of a creature and world at risk.
About the Author
Richard Ellis is recognized as one of America's foremost writers and painters on marine natural history. Among his many books are The Book of Sharks, The Book of Whales, Dolphins and Porpoises, The Search for the Giant Squid, Great White Shark, Imagining Atlantis, and The Empty Ocean. He lives in New York City.
Praise For Tuna…
"Ellis conveys well the enthusiasm people have for these superbly evolved top predators that are a source of great wealth as well as prized sushi and sashimi. . . . Exciting and enjoyable." —Nature "This book tells you what you need to know about mercury poisoning and the dangers of eating the large, long-lived predators such as tuna." —Jane Hightower, author of Diagnosis Mercury "Provocative and engaging." —The Miami Herald"Ellis shows himself to be a prodigious talent.... Captures the essence of a great creature while it still exists in the flesh."—San Francisco Chronicle"Ellis knows his stuff. And this is only the latest in his collection of information-rich, gee-whiz books on the marine world."—Los Angeles Times Book Review"With all the authority and grace for which his writings are renowned, Richard Ellis offers up an impassioned plea to protect and save one of the deep ocean's loveliest creatures. His scrupulously considered view--that our very modern craving for sushi and sashimi have caused us to love the endangered Atlantic bluefin tuna unwisely and much too well--needs to be firmly remembered."--Simon Winchester, author of The Map that Changed the World"If there is any hope for the endangered, majestic bluefin, it lies in Richard Ellis's extensively researched, carefully written, and beautifully illustrated call to action."--John McCosker, Chair of Aquatic Biology, California Academy of Sciences"Our foremost contemporary ocean chronicler, Richard Ellis, offers here an impassioned plea to consider the grandeur–and the tragic demise–of the swiftest, strongest fish that migrate across our water planet. While fully documenting the unique biology and fascinating history of the tuna species, Ellis casts clear light on the practice of 'tuna ranching' aimed at keeping humans sushi-supplied despite the disappearance of wild bluefin populations. This is nature writing at its best, from the heart."–Dick Russell, author of Eye of the Whale and Striper Wars"Richard Ellis is surely the most vivid, thoughtful and loving recorder of the splendors and travails of the ocean. This time he has cast his net wide and come up with a riveting story of the heartless destruction of the 'wildest, fastest, most powerful fish in the sea.' This glorious, angry book made me weep, but gave me a lot of insight and even a ray of hope."--Joe MacInnis, author of Breathing Underwater: The Quest to Live in the Sea"Richard Ellis has long been the indisputable champion among writers of the sea and its creatures. In Tuna: A Love Story, his best book yet, he takes us from the succulent red square of maguro to the tragic truth about giant bluefin tuna that will forever change the way we order a meal in a sushi bar."--Brad Matsen, author of Fishing up North: Stories of Luck and Loss in Alaskan Waters"Eminently readable and reliably authoritative, Tuna: A Love Story, is one of the best 'single'-fish species books ever written." –Tim M. Berra, author of Freshwater Fish Distribution"By far, the most comprehensive, documented and balanced analysis on the fate of Tuna I have read so far." –Roberto Mielgo Bregazzi, CEO, Advanced Tuna Ranching Technologies